Four months ago I started writing to update the BLBS tribe on my monthly results.
The reason I have this dashboard is to check in monthly with myself and the BLBS organization to make sure we are heading in the right direction.
I am able to do this because I have built a strong vision for the next 3-years.
If you could use some help building your vision, then I'd love to work with you this summer.
If today's post is helpful to you, I hope you consider trying it out yourself. If you do send me a copy of your dashboard my way ([email protected]).
Overall, February was a good month. I was surprised to see book sales up (which I do nothing to promote other than share a link here and there — no ads). My productivity stayed the same. I was happy to see revenue up as well. Everything else was slightly down which wasn't a big deal for a shorter month.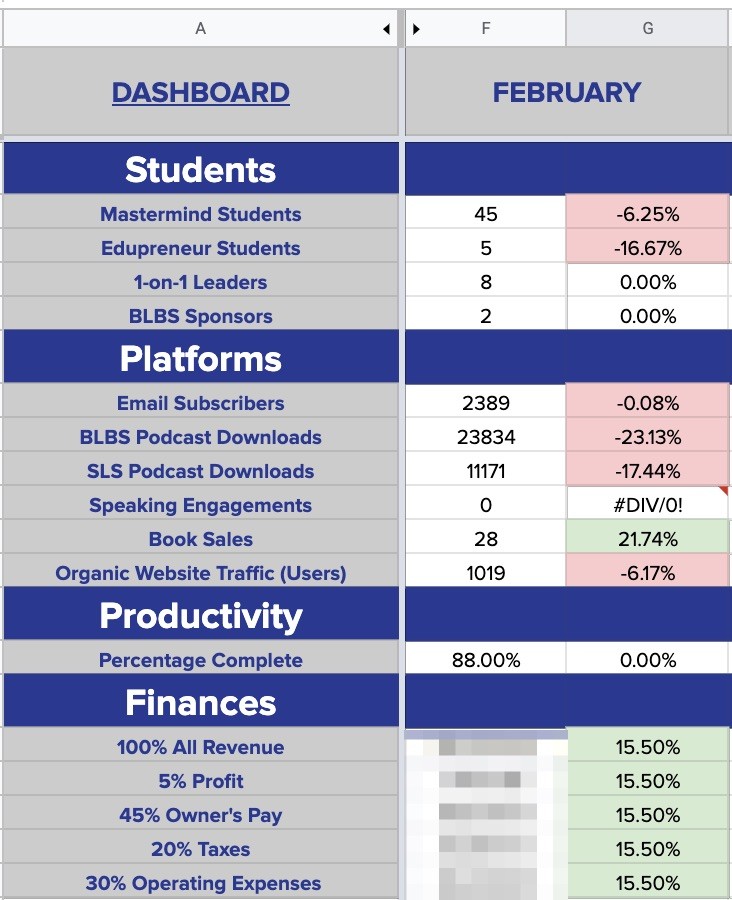 If you enjoyed this post, then you'll love this post on goal setting and attainment.
And based on the dashboard above you can help me out in a few different ways:
Join the world's best PD for school leaders here
Are you an "Edupreneur"? Our mastermind is by invite only. Feel free to email me for a convo to see if you're right for us.
Email me if you'd like to work 1:1
Subscribe to The Better Leaders Better Schools Podcast on iTunes.
Subscribe to The School Leadership Series on iTunes
Buy my book (print or audio) here
Follow me on Twitter
Connect on LinkedIn
Email me if you'd like to sponsor the show.
(Visited 35 times, 1 visits today)