Two months ago I started writing to update the BLBS tribe on my monthly results.
I started this habit as a way to lead with transparency and show you how dashboards make a difference in decision making.
These metrics are what's important to me.
In November, I deleted two vanity metrics (Twitter and LinkedIn followers) who cares about how many followers I have!
This month I deleted a few more:
BLBS new coach. Kelly has moved on (but for a good reason — her Amazon business is booming!). So in the near short term I have no desire to grow the mastermind past 4 cohorts of 60 leaders total.
I also deleted podcast clients and Go! Community because I'm not trying to grow those areas. I don't enjoy producing other people's podcasts and the Go! Community doesn't have as much interaction as I'd like to see. So in 2020, I'll focus on short sprints like this one.
So now I have 4 categories containing 17 metrics.
Simpler. Better.
Since it was December you can see my end of month totals, but you can also see my monthly average and end-of-year growth (if applicable).
December was down month overall, but the end-of-year results were better than 2018.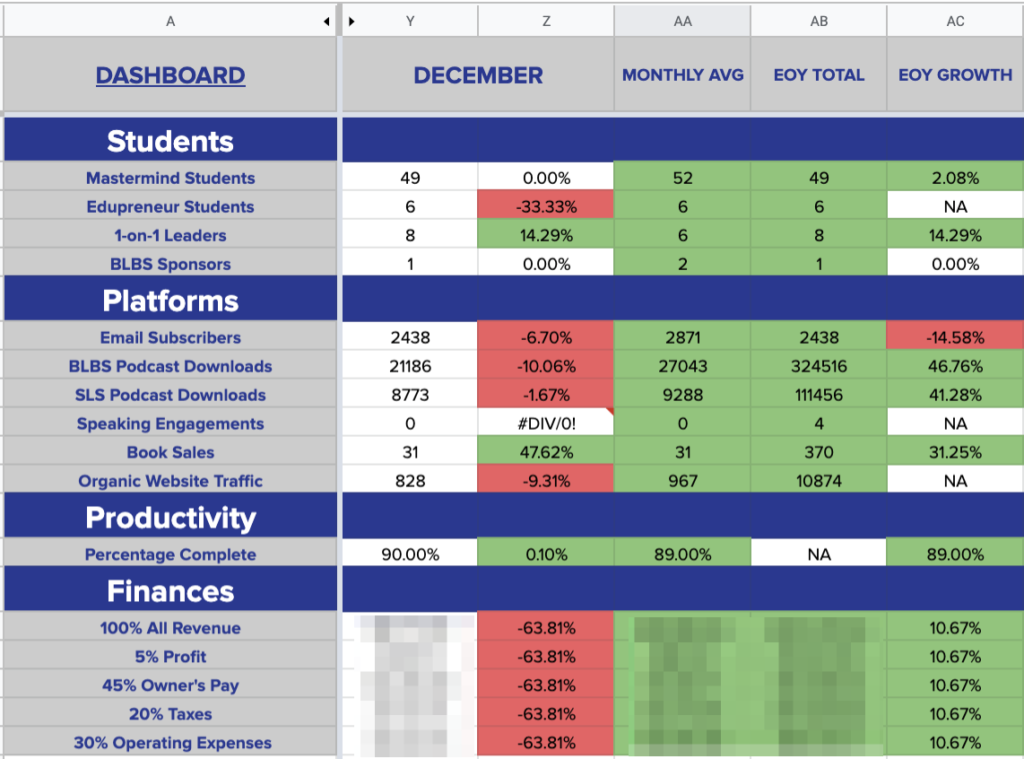 If you enjoyed this post, then you'll love this post on goal setting and attainment.
And based on the dashboard above you can help me out in a few different ways:
(Visited 51 times, 1 visits today)