I love this quote from Derek Sivers:
"What is ordinary to you is extraordinary to me."
And it's with that spirit I craft today's post. The following are the tools "ordinary" to me, but maybe, just maybe, they'll be extraordinary to you.
I organized this post into four categories:
Systems
Physical tools
Digital Tools
Mindset
If you get value from this post, It would mean a lot if you shared on social media.
Systems
In this section I'll share 3 systems you can set up to be a more effective leader. These structures will support better decision making and help you create more value for your community each day.
An ideal week (with a strategic block and plenty of white space)
High-performers know exactly what they are doing and when. This is not to say they plan each day to the minute, but they have a plan.
I've written extensively on how to build an ideal week, but for now I want to highlight two aspects: strategic blocks and white space.
Strategic blocks are important because so many leaders I know are frustrated because of a "lack of time" to do the things they really want to do.
It's not a lack of time. It's a lack of intentionality.
A strategic block is a 90-minute sprint when a leader works on something only she can do. This is the time to work on all the dreams you have for your organization.
White space is important because it allows flexibility in a week organized by constraints. When emergencies occur (and the will) you can move the blocks around because white space exists in your calendar.
A 3-year vision
A Harvard Study done ages ago found that only 3% of their MBA students had a vision and plan after finishing their degree.
The same study also found that those 3% with a vision out-earned and out-performed their peers.
It literally pays to have a vision
If you don't know where to start, check out this meaty post.
Or join me in New Mexico, where we can work on the vision together.
An org chart
"Stay in your lane."
It's helpful to know the chain-of-command and who is responsible for what, even in a "flat organization."
Boundaries are a good thing. Clearly communicating job roles is even better. Knowing where to send people with a problem that needs solving is the best.
It's on my to-do list, so I'll create a blog post soon where I'll teach you how to create an org chart and let you download mine for free. But until then, here is a picture of my org chart: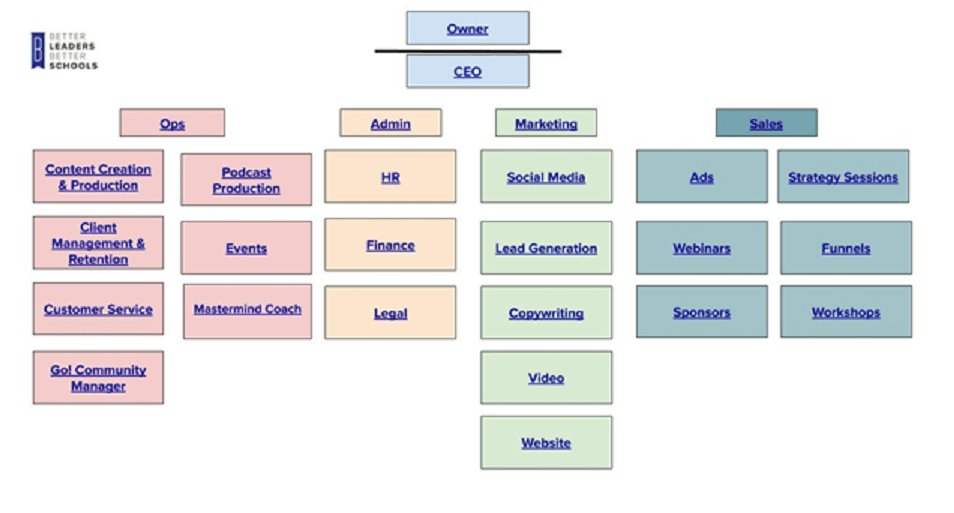 You buckets will look different, but this is my business on one page.
Imagine the clarity you would have with each division and role represented.
[bctt tweet="Check out these helpful tools that all school leaders should have!
#education #blbs #HustleForGood #RuckusMaker"]
TOP 25 EBOOK
Download how 25 thought leaders would build their dream school here!
Physical Tools
I love technology and I also know some physical tools cannot be beat. Here are 3 physical tools that every school leader needs.
A Journal
Journaling is the foundational habit that allows me to have a successful day.
 If I don't journal in the morning, I don't do the other habits I value (meditate, exercise, eat well, etc.).
 A few months ago I stepped on the scale and weighed the most I've been in over a year.
 What happened?
 I experienced a terrible toothache (needed a route canal) and traveled to Cyprus, NYC, Boston, and NOLA. 
So I was in terrible pain and totally out of my routine.
I also gained weight and was generally more irritable.
I can't blame the toothache or travel. The problem was that I stopped journaling. 
Journaling is key for leaders. It helps me set the intention for the day and practice gratitude.
Journaling is a signal to my mind that "today is going to be an amazing day."
Books from outside of education
If you're an educator you already read enough about education.
So I'm challenging (or giving you permission) to stop.
As an added benefit, reading from other disciplines makes you smarter because you now have a multi-disciplinary approach to problems.
Charlie Munger would call it a latticework:
"What is elementary, worldly wisdom? Well, the first rule is that you can't really know anything if you just remember isolated facts and try and bang 'em back. If the facts don't hang together on a latticework of theory, you don't have them in a usable form."
If you are looking for great books to read outside of education:
Check out this post on "What we're reading in the mastermind"

Or this post on "What books should I read as an educator?"
Great shoes
As an educator and leader, you're on your feet a lot!
Don't be cheap. Invest in some good shoes.
 My favorite to walk around in are made by Ecco, Cole Haan (I recommended the Zero Grand Oxford to my pal Nick), or these stylish Adidas trainers (available in Europe).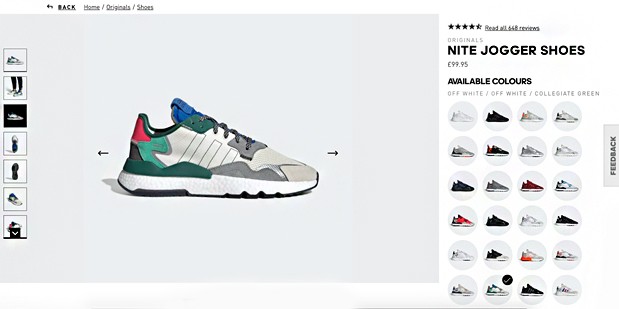 My wife loves these brands too and she has better fashion sense than me, so these recommendos work for anyone
[bctt tweet="Check out these helpful tools that all school leaders should have!
#education #blbs #HustleForGood #RuckusMaker"]
TOP 25 EBOOK
Download how 25 thought leaders would build their dream school here!
Digital Tools
Technology has opened many doors to help leaders be more effective. This is the longest section describing 10 tech tools I could not do without. Most have free trials. All offer a paid upgrade version which unlock advanced features.
Sanebox
I love this tool.
It has saved me hours every single week filtering my email — what should I pay attention to?
If email is a soul crushing distraction for you, then you need SaneBox.
SaneBox's AI monitors your inbox.
Automagically, it removes unimportant and puts it in your SaneLater folder.  All that's left is the important stuff, peace and calm, and your smile.
It is the best money I've ever spent on myself for a digital tool.
Click here to start a free trial of Sanebox and get a $25 credit toward your subscription.
(Sanebox is a sponsor of BLBS. I was a subscriber long before they became a sponsor)
Todoist
The book Getting Things Done is heralded as a productivity masterpiece. 
Personally, I found it really wordy and hard to engage with, but it did offer one idea that has changed everything for me — closing open loops.
Have you ever been restless in bed worried about something that needs to be done at work?
That's because you have an open loop.
I use Todoist to constantly clear my head and it is my brain dump receptacle for all my tasks.
Todoist works like magic because it's tagging features are so smart.
Watch this 3 minute video below on some of my favorite Todoist features.
I hope you can see from the video how I'm able to close all my open loops by using this app as a place to hold all my todos (instead of my head).
I also pay for a Todoist subscription. It's absolutely worth it.
Calendly
One thing I dislike is going back-and-forth scheduling meetings!
In some instances, I still rock it old-school and I suggest 3 times in a week where I can meet. This works incredibly well with people that I am reaching out to connect with.
But if it is someone that wants my time for a podcast interview or a coaching call, I find it much easier to automate those repetitive meeting requests with Calendly.
The automated system works with follow up emails, calendar invites, and optional text messaging that you can personalize.
Here are the events I automate with Calendly:
Podcast interviews

Mastermind intro calls

Coaching sessions
When I was a principal I used Calendly to schedule:
Parent/Student/Staff meetings

Debrief meetings

Vendor meetings
You can start with a free account and create one event or jump in with a paid membership. I use their paid for membership.
Trello
Todoist manages concrete tasks and the stuff that just needs to get done daily.
I use Trello as a high level, 30,000 foot view of my major goals.
The most important use of Trello for me is helping me focus on my OKRs. That's a huge topic and you can read more about OKRs here.  
(this in-depth post will kick your goal setting and achievement into gear)
Here is a pic to give you a sense of what Trello looks like: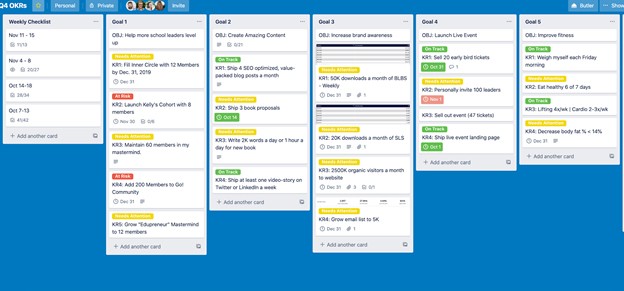 You may notice that I have a weekly checklist in Trello too. Here I transfer the most important tasks aligned to my goals from Todoist to Trello.
Yes, it is double work and it also helps me focus on what is most important. I have other tasks that I do throughout the day, but the major ones get transferred to Trello.
Other projects I manage with Trello:
I produce 5 podcasts. So I use a Trello board to communicate with my team and visually move each podcast through our workflow.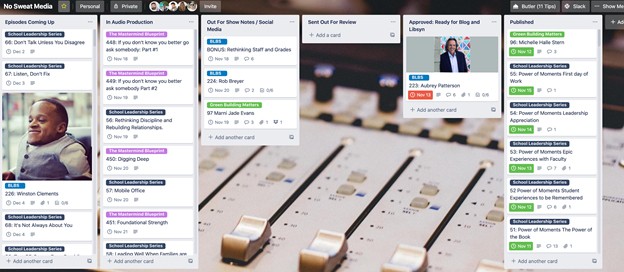 My partner-in-crime (Kelly) shares her OKRs with me (and I share mine with her).

I keep track of my communication with leaders that apply to the mastermind, edupreneurs, and leaders I meet on LinkedIn.

I write most of my content for the Weekend Resource months in advance.
Maybe I'll do a video on Trello at some point, but it is a fab tool for managing projects and teams. 
Trello has a paid for membership, but the free account has worked just fine for me.
Meditation apps
Emotional intelligence is an advantage available to all leaders, but rarely developed. Leaders with high EQ perform better and earn more in salary compared to leaders with lower EQ.
These facts are shared in the fantastic book, Emotional Intelligence 2.0 which we read in the mastermind. It was a member favorite because of the practical skills it teaches.
Meditation is one skill that will level up your EQ, especially your internal awareness.
Over the years I have used a number of apps.  
Currently, I am subscribed to the app Waking Up and Ten Percent Happier.
I've subscribed to Headspace and Calm in the past.
Oak is a great free option.
Each app has taught me something different and valuable.
They're all good so I recommend trying out each free version and sticking with the one that is right for you.
Loom
This is a free or paid tool and is an absolute must for leaders interested in video.
It is not a robust video editor, but has some basic features.
I use the free version to do two things:
Make helpful tutorials where I can record the screen

Record personal videos to let people know I'm thinking of them
The second point is important. The nice thing about Loom is that if you paste the link in Gmail the video shows up and animates itself as a gif (which increases the desire for people to click it). 
Here is an example of what a video looks like if you use it for a personal touch:
https://www.loom.com/share/e65cfecbfe134f5e95808bc9a831efac
Here is an example of a tutorial video recording your screen:
https://www.loom.com/share/cb38fc57db8e4ea695295c59de2b30b2 
If I was still a principal here are a few ways I would use Loom:
Share a positive message to staff after an observation/meeting.

Prime the staff for what to expect for an upcoming meeting/event.

Share with parents/students/staff to tell them "I appreciate you."

Welcome new students/families/staff to the school.

Record my screen to share with my community how to use an app/document/tool.

Record training videos for new staff.

Create tutorial videos for your successor.
Slack
I first learned about Slack doing the "leadership sprint" in 2015 with Seth Godin. After that, I was hooked. Interestingly, Seth runs a big part of the altMBA on Slack and the altMBA coaches message each other there daily. 
I started using Slack as an AP with my school. I piloted it with a small group of teachers to see if we could decrease the amount of email going back-and-forth about students.
We set up "channels" for individual students and I added the appropriate teachers to the channel. That way we were all on the same page about a student who was struggling. We could share files and updates.  
Essentially, slack allowed us to wrap-around struggling students and keep communication centralized. It worked.
The other way I envisioned using Slack was to update appropriate stakeholders on different projects. This would have also been organized through channels.
The final way I predict Slack could be used in schools is as an alternative to staff newsletters. Certain channels could be available and optional for staff.
Everyone would be in the academics channel, but not everyone might be interested in the sports or performing arts channel.
You could literally set up channels for any topic that is important to your school and people could opt-in to hear about the topics they care about.
This is superior to a weekly newsletter because you save your staff time sifting through information they might not need nor care about.
Running multiple businesses I use Slack in a few ways:
Coordinate BLBS activities with my team

Manage podcast communication

altMBA coach communication

Communicate with a CEO of a green building architecture firm I coach
Slack for team communication and Sanebox for external email communication is a powerful combo.
Podcast app / Audible
I definitely prefer learning by reading a physical book because of the advantage of annotating the text and creating a commonplace book.  
I also talk about commonplace books in this post (with 12 awesome quotes you'll enjoy).
But the point here is that audio is also a great way to learn.
Turn your commute, the chores, a walk into a powerful PD session, by popping in your earbuds and turning on a great podcast or audio book.
My favorite podcast app is Overcast. I listen to my audio books on Audible.
Brain.FM
Brain.fm is an interesting app. It leverages science to help you focus and get more done.
From the website:
"Brain.fm holds patents on key processes for creating functional music, including technology to elicit strong neural phase locking—allowing populations of neurons to engage in various kinds of coordinated activity—and technology to remove distraction in sound."
I've been using it for years.
I put on my headphones, select focus, and sprint for 60 minutes. You can try it for free before becoming a paid subscriber. I use it in my web browser, but there is also an iPhone app.
Zapier
Hello automation ? 
Zapier is the definition of working smarter, not harder. This tool connects 1000s of apps — ones that don't usually "talk" to each other and makes them work.  
One simple way I use it is for podcasting. 
In a Google sheet I add an episode number, release date, title, guest name, and link to the show note.
Then Zapier creates a new card in my Trello board and my team knows there is a new podcast to produce. Voila!
My friend Chris Jones (Website | Twitter) uses Zapier this way as a principal:
"We have a school wide hashtag (#WHPantherPride) used on every tweet promoting what our students are doing at school. I use Zapier to collect all those tweets into a spreadsheet (with a link to the tweet) so that I may access them in a more efficient way.
 

At the end of each week I take all the tweets, screenshot them, and then make a video called "Our Story". The video is a replay of the things that went on over the previous week. It goes out on the community Facebook pages, Twitter, and in the newsletter.

Zapier makes this possible by saving me time, which gives me the ability to do it at all.

Zapier is hands down one of the best tools I have come across for streamlining processes, working while I focus on something else, and offering me the added comfort of not feeling as if I am missing something."
Check out Zapier. Think about all the ways you use technology and I bet there is a more streamlined and efficient opportunity available.
[bctt tweet="Check out these helpful tools that all school leaders should have!
#education #blbs #HustleForGood #RuckusMaker"]
TOP 25 EBOOK
Download how 25 thought leaders would build their dream school here!
Mindset
You can't purchase these mindset tools; they are a posture that competent leaders stand in each day. They are simple to understand but not easy to implement. It will take courage and grit (and you can do it).
Notifications off
The device in your hand is making you stupid.
A Microsoft Study found that emails and IM, distracted workers from serious mental tasks. It took an average of 15 minutes to get back on task. 
A 2005 study found that 28% of a professional's time spent on interruptions and recovery (11/40 hours per week).
Each time your phone or computer dings you become distracted. Each time a visual notification pops up you become distracted. Each time you become distracted, your brain experiences something called attention residue. The result — it takes 10-15 minutes to get back to where you were in your work.
If you seriously care about being productive, then you turn notifications off … all the time.
If you are especially brave — take social media and email off your phone. Only access it at a computer.
You'll be amazed at how much more you accomplish.
Choice Map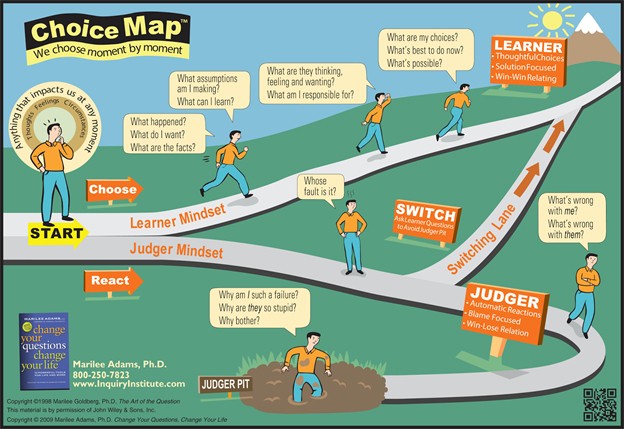 As a leader we have a choice regarding every situation we face.
We can stay curious and take the stance of a learner or we can be close-minded and become a judger.
This book is amazing, the map is revolutionary, and adopting a leadership mindset will improve your leadership.
The Choice Map comes from the book, Change Your Questions, Change Your Life and is one of my favorite leadership resources.
12 Practices
I formed a new LLC that will own BLBS, my podcast company (No Sweat Media), and each company I create in the future.
The idea came from my all-time favorite book: The Art of Possibility.
This text reveals 12 practices that you can incorporate into your life to make it more satisfying, successful, and significant.
I won't summarize 12 practices in this post (you should read the book … actually the audio is amazing, performed by the authors).
I will describe 2 of the the 12 practices below (Rule #6 and Giving an A).
A Powerful PLN
Yes, PLNs exist on Twitter, FB, LinkedIn, Insta and other social channels. But they lack depth (and won't push you to really grow).
Top performers around the world hire coaches to improve their performance and you should too (I do).
And if you're not convinced about having a coach or a mastermind — read Atul Gawande's argument on achieving your personal best.
At Better Leaders Better Schools we have 3 options for you to form a powerful PLN and go deeper with your leadership development:
The Go! Community was started to challenge leaders and share resources in a private community.The Go! Community was started to challenge leaders and share resources in a private community.
The Mastermind is for leaders really ready to accelerate their leadership development. This is for those committed to excellence and aren't afraid to put skin in the game. We've served over 100+ leaders since 2016. Or you can work with me, or another expert BLBS coach 1:1. Email me for details.
I hope you enjoyed this post on tools every school leader should have. If you learned something here today, please tell a friend by sharing on social media ❤️
(Visited 1,410 times, 1 visits today)