Leaders are selling an idea to their staff, supervisor, students, or community every day.
But what if they're not buying the idea?
One way to give people confidence in moving forward with something new is to remove some friction.
Another great way to remove fear is by assuming all the risk.
In today's post, we'll look at three businesses (including my own) and some ideas for Ruckus Makers to apply to your school.
An avocado that make you feel good
When I moved to New York, I did my research and asked my wife if we could get what I determined to be a great mattress. The brand was called Avocado.
They are a B-Corporation which means they are driven more by ethics than profits as a company. They commit to using sustainable materials that are better for the environment. This is important to me. And of course, they provide an amazing mattress.
The mattress was $1500. Is that too much for a mattress? Just right? Not enough?
Two things helped me convince my wife this was the right mattress for us:
It was ranked as the most comfortable mattress by Consumer Reports.
The mattress had a 1-year money back guarantee.
Avocado assumes all the risk. They call it their "1-year sleep trial." New mattress owners must test the mattress for 30-days and after that if you don't love it, they arrange everything for the return. There are no charges for restocking or pickup.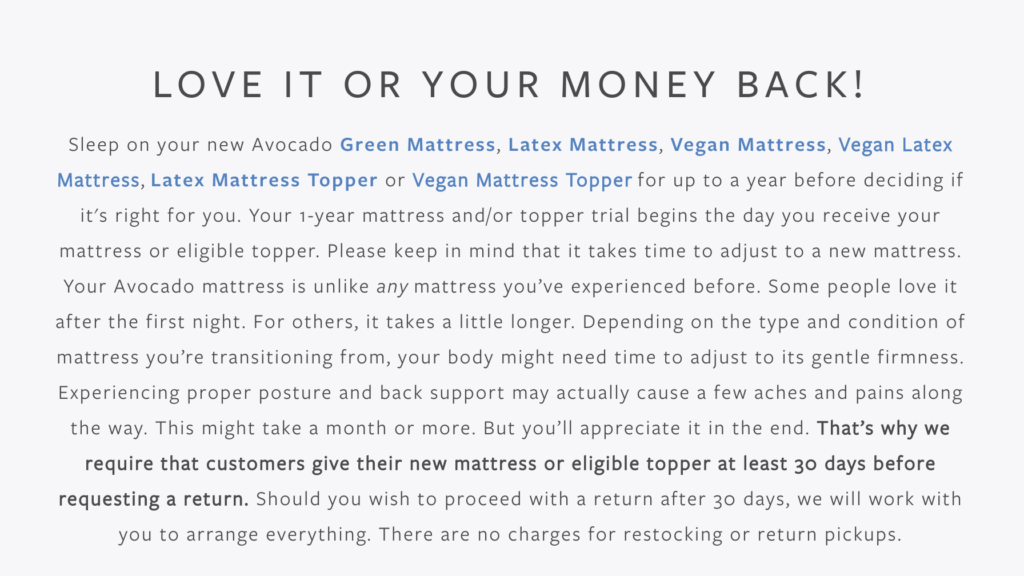 All non-damaged and returned mattresses get donated to non-profits, verified charities, or people in need. The whole process oozes with integrity.
To make a policy like Avocado does, you have to have a lot of confidence in the quality of product you are bringing to market.
These boots were made for walking …
Living in Upstate NY I also had to invest in some "Bean Boots" or my license would be revoked and I would be forced to move south.
It snows a lot in Upstate. In fact, it snowed today, April 1st. I guess the joke is on me. No spring just yet!
Each year I'm guaranteed tons of snow and it's important to keep my feet both dry and warm.
L. L. Bean is where everyone buys their winter boots.
Bean Boots also come with a 1-year guarantee.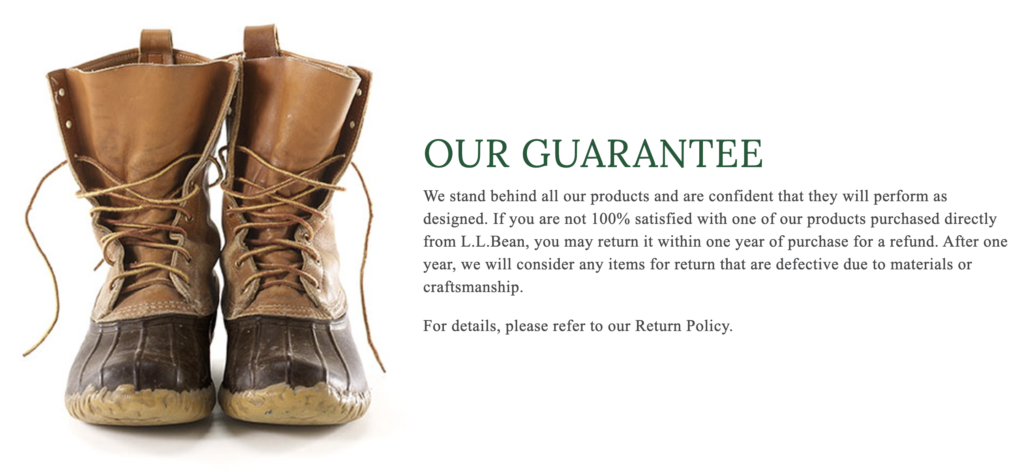 I actually had to take them up on their guarantee and return the pair I bought. They recommend buying a size down from your normal size and after a few months of testing, I returned my boots for my normal (and larger size).
The process was painless to return. The new boots fit better. I'll buy from L.L. Bean again (and again).
The mastermind guarantee
The mastermind is an excellent professional development opportunity for school leaders. It's not uncommon for our members to note that "The mastermind is the best professional development I've ever experienced."
Because we have so much confidence in how we support school leaders, the mastermind also has a 90-day money back guarantee.
That's right. Test it out. If you don't grow as a leader in 90-days, we'll happily return all of your investment. There is no catch, but there is one agreement.
To qualify for a full refund, members agree to:
have excellent attendance (how can you grow if you don't engage?)
take action (how can you grow if you don't do something different and apply what we teach?)
Apply to the mastermind today.
What can schools guarantee?
An idea I'm noodling on today …
What if schools had to guarantee the quality of their curriculum, instruction, development, and safety of their students?
Where could they apply this business promise to the world of education?
An example: How would an AP class operate differently, if the school provided a money back guarantee on AP test scores?
You'd need a lot of confidence in the quality of education that you are offering your students each day.
Do you?
(Visited 224 times, 1 visits today)