Welcome to the Better Leaders Better Schools podcast.  This is a weekly show for ruckus makers — What is a ruckus maker?  A leader who has found freedom from the status quo. A leader looking to escape the old routine. A leader who never, ever gives up.
Nobody is born with ownership and resilience. It is a muscle one needs to build. How do you go about building the resilience and ownership? In today's episode, we are joined by Winston Clement. He will be taking us through the process of developing the ownership and resilience muscle. 
We hope you enjoy the podcast. All the highlights, resources, and next steps can be found below. Listen to the full episode here and learn more at betterleadersbetterschools.com
Key Talking Points
Introduction of Winston Clement

The victim mentality

Managing change, stress and mental health

The power of having a morning routine

How does Winston measure success?

Winston's dream school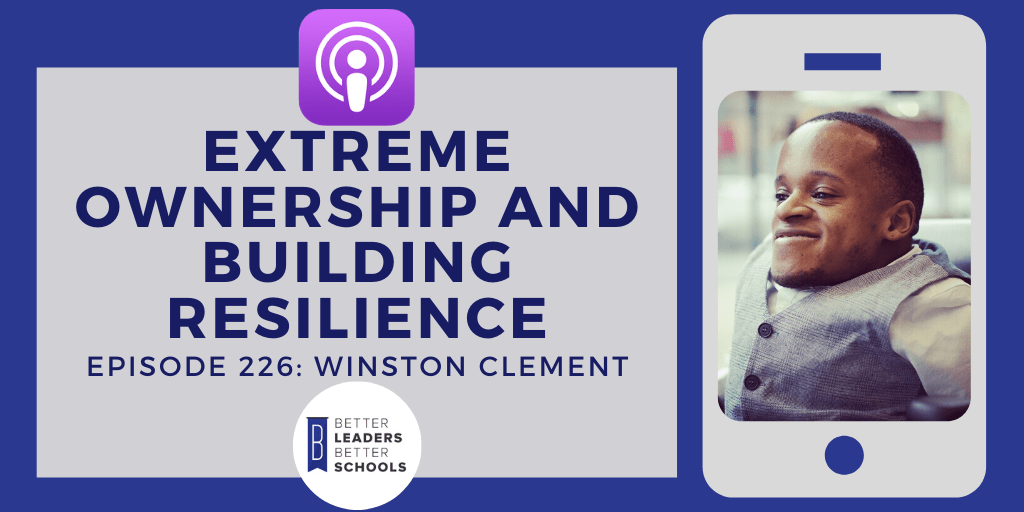 Key Milestones of the Episodes
[04:56] Getting to know Winston
[08:21] Dealing with the victim mentality
[12:46] Managing change, stress and mental health
[14:47] Stepping out of the comfort zone and being proactive
[19:14] What keeps Winston in check?
[20:13] Importance of a morning routine
[25:08] How does Winston measure success?
[31:57] What message would Winston have on a school marquee?
[34:56] Winston's dream school
Key Quotes
"Your dreams start before you're ready."

"People crazy enough to think that they can change the world are the ones who actually do."

"You almost have to be a little bit crazy to believe that you can do something so audacious."

"It's no longer about Winston it's about the impact and hopefully, my journey of leaving this world a better place."

"Be creative and find ways to win even when those causes are not dealt in your favor."

"We are always seeking ways to develop and not getting comfortable, which I believe is almost the enemy of progress."

"It feels good to be the big baby when things don't go your way because now you have all the attention."
About Our Guest
Winston Clement is a speaker and trainer, empowering audiences worldwide to break through their own barriers. Winston's mission is to inspire 1 billion people to enlist their full human potential. In 2018 he delivered a TEDx talk titled, your limitations are an illusion. They had a massive impact. Mine.
Contact Winston at:  [email protected] 
Tip of the Week
Take pictures. Make sure you have somebody with you, whether it be a student or a staff member or somebody you can rely on to take pictures. It's so important because you need to capture those memories with the kids and you need to be able to have something in a file somewhere when it's time to do celebrations or for graduation that you could put together a video slideshow quickly.
SHOW SPONSORS:
Organized Binder is an evidence-based RTI2 Tier 1 universal level solution

Focuses on improving executive functioning and noncognitive skills

Is in direct alignment with the Universal Design for Learning (UDL) framework

Is an integral component for ensuring Least Restrictive Environments (LRE)
You can learn more and improve your student's success at https://organizedbinder.com/
Copyright © 2018 Better Leaders Better Schools
[bctt tweet="Building of Efficient System for Teachers. Listen to the full podcast here. #blbs #podcasts #OrlyFriedman" username="alienearbud"]
(Visited 83 times, 1 visits today)