Welcome to the Better Leaders Better Schools podcast.  This is a weekly show for ruckus makers — What is a ruckus maker?  A leader who has found freedom from the status quo. A leader looking to escape the old routine. A leader who never, ever gives up.
Did you know that you can borrow ideas from other industries and implement them in your schools? Some people have tried, and they have succeeded. 
One of those people is Maria Piccolo Mattoon, who happens to be our guest today.
She is the first person from the Learning Community to be interviewed on the show. Maria is a board member at Birla public school in Qatar.
We hope you enjoy the podcast. All the highlights, resources, and next steps can be found below. Listen to the full episode here and learn more at betterleadersbetterschools.com
Key Talking Points 
Maria's introduction

Learning from other industries and implementing in schools

OODA Loop

How are promotions done at Birla School?

Retaining top talents

Happiness KPIs

Importance of partnership building with the local community

Maria's dream school
Key Milestones of the Episodes
[03:50]  Tip of the Week
[06:07]  Maria's introduction
[07:47]  Implementing ideas borrowed from other industries
[09:27]  OODA loop reflection technique
[10:31]  The department of capacity building
[12:07]  How are promotions done at Birla School?
[13:05]  Pitfalls to avoid when promoting from within
 [14:13] The secret to retaining top talent
[17:57]  Happiness KPIs
[21:17]  What is the most important thing when creating local partnerships?
[25:06]  Maria's dream school
Key Quotes
"The person with the fewest blind spots wins."

"You need to go to bed early, make yourself do it. You will be more productive during the day, and you will get more things done. At six o'clock, you should shut it off."

"From being in a variety of industries, you expose yourself to a variety of risk profiles."

"Our team is like a family."

"We invest in our people's professional development and growth and advancement for all of them, all members of our team across all levels."

"We like to look at unusual places to see what insights can be gleaned from there as well."

"Our life is only limited by our own imagination, not the imagination of others."

"We have an amazing generation, and they can do really great things if they can imagine that act based on their own imagination and what they want for their own life."

" Children are so different and so unique, and it'd be nice to cater to all of them. "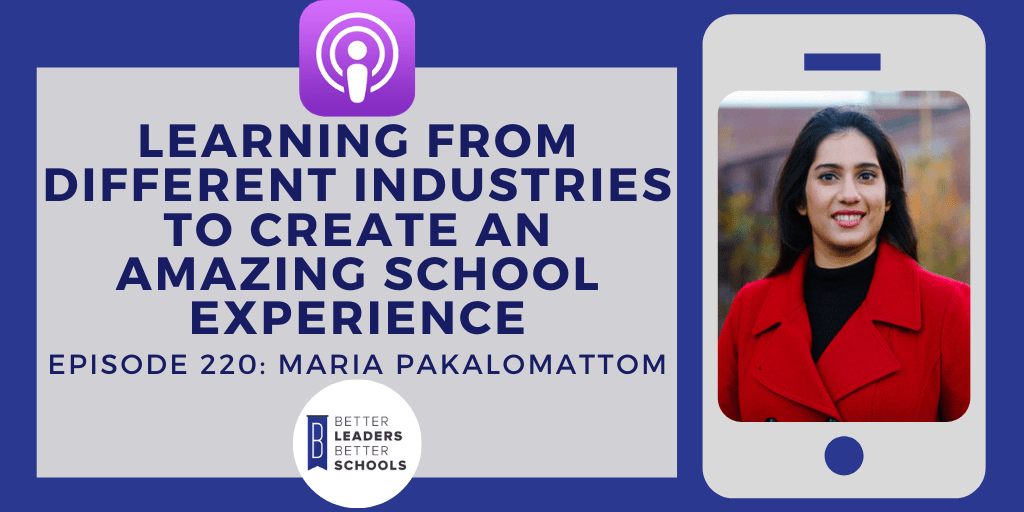 Key Resources
About Our Guest
Maria Pakalomattom is a Board member at Birla Public School, a private school with over 7500 students in Qatar. She has led various initiatives at the school covering the strategic, academic, operational and financial aspects. Maria has investments in ventures across sectors as an entrepreneur, but education is her favorite. Maria studied at Columbia University, where she focused on finance and entrepreneurship.
Tip of the Week
Go to bed early.  Just like eating right and exercising, there is immense value in getting appropriate rest.  I make terrible decisions when I'm tired and i'm no fun to be around. I love Michael Hyatt's post on the importance of rest.
SHOW SPONSORS:
SHOW SPONSORS
Organized Binder is an evidence-based RTI2 Tier 1 universal level solution

Focuses on improving executive functioning and noncognitive skills

Is in direct alignment with the Universal Design for Learning (UDL) framework

Is an integral component for ensuring Least Restrictive Environments (LRE)
You can learn more and improve your student's success at https://organizedbinder.com/
The Conrad Challenge unleashes the potential of students to solve the world's most difficult problems.
Register until November 1, 2019 at The Conrad Challenge
Copyright © 2019 Better Leaders Better Schools
(Visited 228 times, 1 visits today)