Welcome to the Better Leaders Better Schools podcast.  This is a weekly show for ruckus makers — What is a ruckus maker?  A leader who has found freedom from the status quo. A leader looking to escape the old routine. A leader who never, ever gives up.
Do you know students can advise you in ways that you cannot imagine?  Dr. Marcus Campbell tells us how his students helped him come up with the dress code for the school.  Additionally, Dr. Campbell tells us how his school changed the status quo and got more students to the AP classes regardless of their race.
We hope you enjoy the podcast. All the highlights, resources, and next steps can be found below. Listen to the full episode here and learn more at betterleadersbetterschools.com
Key Talking Points 
How Marcus implemented dressing code in his school

Race vs. Gender

Breaking the status quo of the AP classes

Being a better decision maker
Key Milestones of the Episodes
[05:10]  The history of dress codes
[06:15]  Adopting the Oregon chapter
[10:59]  What shift happened to the dress code?
[17:02]  Access and equity to AP classes
[24:47]  How Marcus makes decisions
[27:41]  Self-care
Key Quotes
"There's nothing worse than being inconsistent."

"If you say you're going to do something, follow through."

"Authentic leadership is a leader's ability to lead with their mind their heart and their feet."

"If learning is our focus, let's focus on the learning and leave the dressing."

"Do what you have to do when you have to do it regardless of how you feel."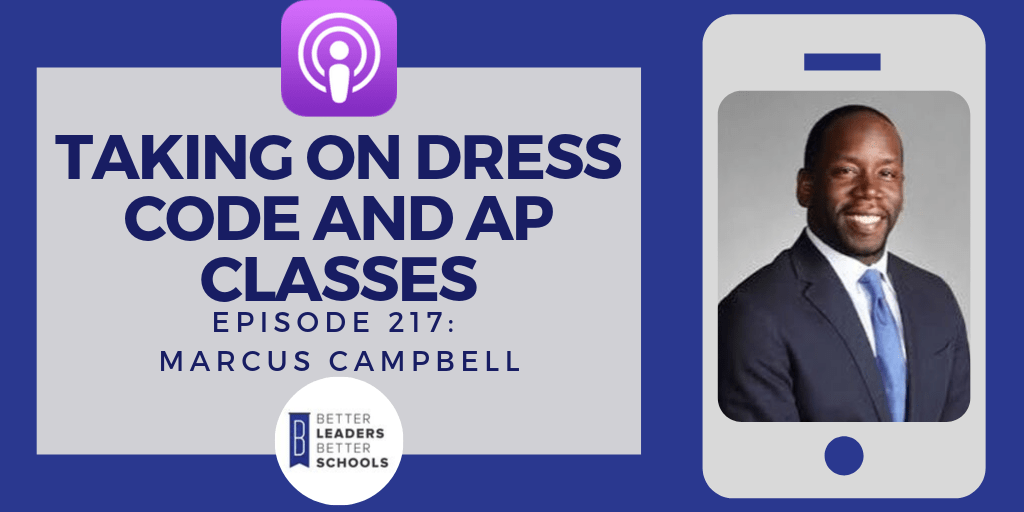 Key Resources
Frederick Douglas by Dr. David Blight
About Our Guest
Dr. Campbell earned his Ed.D. in Educational Leadership at National College of Education, National Louis University in the fall of 2015.
Marcus Campbell also serves as the Assistant Superintendent/Principal at ETHS since 2013. In this role, he serves as the educational leader and chief administrator of all school operations at Evanston Township High School and is responsible for implementing and managing the policies, regulations, and procedures of the Board of Education to ensure that all students are educated and supported in a safe, equitable, culturally relevant and student-centered learning environment.
Join the BLBS Mastermind 
What kind of leader makes a good mastermind member?  Danny asks members that he already serves and this it what they said about their peers: 
Mastermind members are supportive, wise and not afraid to kick your butt! ~Eileen, Deputy Head of Schools in China
Courageous, risk takers and learners are how I describe my mastermind peers. ~Chris, VP in Canada
Mastermind members are generous, driven and are never satisfied with the status quo. ~Melody, Principal in Kentucky
If that sounds like you or people you want to surround yourself with apply today at https://betterleadersbetterschools.com/mastermind/
**Our 5th mastermind cohort is launching and is hands down the best professional development a leader can engage in.  Join Today!**
Tip of the Week
Be Consistent:  Consistency leads to trust.  Make sure you are doing what you say you are going to do each day.  Follow through and be consistent with your teachers. Your authentic leadership depends on it.   People love a leader who they trust.
SHOW SPONSORS:
SHOW SPONSORS
Organized Binder is an evidence-based RTI2 Tier 1 universal level solution

Focuses on improving executive functioning and noncognitive skills

Is in direct alignment with the Universal Design for Learning (UDL) framework

Is an integral component for ensuring Least Restrictive Environments (LRE)
You can learn more and improve your student's success at https://organizedbinder.com/
The Conrad Challenge unleashes the potential of students to solve the world's most difficult problems.
Register until November 1, 2019 at The Conrad Challenge
Copyright © 2019 Better Leaders Better Schools
(Visited 258 times, 1 visits today)