Welcome to the Better Leaders Better Schools podcast.  This is a weekly show for ruckus makers — What is a ruckus maker?  A leader who has found freedom from the status quo. A leader looking to escape the old routine. A leader who never, ever gives up.
Most of us associate writing in a journal with a school assignment or something to do when you get the time. But a journal can be a lot more.
A journal can be a practical tool to help you be a better leader.
In this talk, Aaron Morris shares why a journal can be a powerful tool to help you reinvent, reflect, and redirect your professional life so you can be a better leader …especially when your life changes in ways that you didn't expect
We hope you enjoy the podcast. All the highlights, resources, and next steps can be found below. Listen to the full episode here and learn more at betterleadersbetterschools.com
Key Talking Points 
    Being a leader after you get promoted instead of your coworkers

    How to reinvent yourself when an opportunity opens

    Giving yourself permission to be authentic as a leader

    Using a journal to gain more clarity about your life

    "Journal hacks" – How to use your journal for smarter reflection & insight

    Being comfortable with yourself

    The cost and value of "entering the arena" as a leader
Key Milestones of the Episodes
[5:40] How did you reinvent yourself?
[12:50] How do you even start reinventing yourself?
[14:35] Journal Hack: Using a journal to be a mind dump & detachment tool for clarity
[15:47] Additional ways to detach
[17:03] More journal hacks: Focusing on the mundane, making the "shift", and more
[25:50] Being authentic & courageous as a leader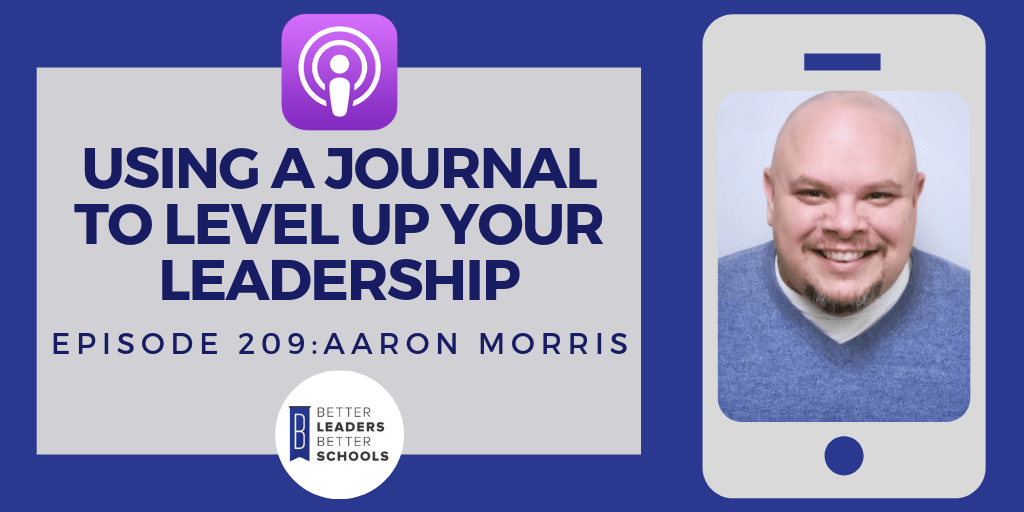 Key Quotes
"The one thing that has really been an AHA is continuously reflection on who I am.."
 I keep asking myself, "Do I really want to be the person that didn't leap?"
"Courageous is contagious…"
"Reflection is the key.."
Key Resources
Dare to Lead: Brave Work. Tough Conversations. Whole Hearts
Don't forget to catch more episodes and resources at the Better Leaders Better Schools website.
About Our Guest
Aaron Morris is a former math teacher (despite having an English degree), who made a transition to a new school after being moved up to assistant principal. When he is not leading,, connecting, or reflecting, he is working on going back to Disney or with his family.
SHOW SPONSORS:
Organized Binder is an evidence-based RTI2 Tier 1 universal level solution

Focuses on improving executive functioning and noncognitive skills

Is in direct alignment with the Universal Design for Learning (UDL) framework

Is an integral component for ensuring Least Restrictive Environments (LRE)
You can learn more and improve your student's success at https://organizedbinder.com/
Empowers teachers with feedback on student engagement

A fitbit for teachers that measures student engagement

Research shows that the more students speak in class, the more they learn, and the better they perform on standardized tests.

Use your phone or laptop to analyze your class, and the app's artificial intelligence (AI) algorithm tracks your talk ratio automatically, with no extra work from you or an instructional coach.

The idea is to give teachers a useful barometer of student engagement you can check every day!
You can learn more and improve your student's success at https://teachfx.com/
Copyright © 2018 Better Leaders Better Schools
(Visited 89 times, 1 visits today)