Welcome to the Better Leaders Better Schools podcast.  This is a weekly show for ruckus makers — What is a ruckus maker?  A leader who has found freedom from the status quo. A leader looking to escape the old routine. A leader who never, ever gives up.
How do you create a school-wide change that impacts the students, teachers, staff and community….without fundraising?  Be proactive like Adam Drummond.
Adam Drummond created an innovative school-wide "economy" where students applied for jobs, were paid a "salary" and couly buy items and experiences.
In this episode of Better Leaders Better Schools, Dr. Drummond shares the mindset behind this innovative economy and his lessons on transforming the entire culture of school for the positive.
We hope you enjoy the podcast. All the highlights, resources, and next steps can be found below. Listen to the full episode here and learn more at betterleadersbetterschools.com
Key Talking Points
Creating your own school-wide economy

Practical leadership lessons from"The Instructional Change Agent"you can do in less than 5 minutes

What is student-centered decision-making?

What does "perspective on impact" mean?
Key Milestones of the Episodes
[5:00] The school-wide economy experiment
[7:50] What unexpected good things happened during your experiment?
[9:00] Partnerships with the community and local businesses-How did you get buy-in from the community for your experiment?
[17:30] What is student-centered decision-making and what does it look like?
[20:21] Creating change you believe in with management
[25:00] One practical exercise listeners can make to be a stronger leader
[29:00] The story of Joanne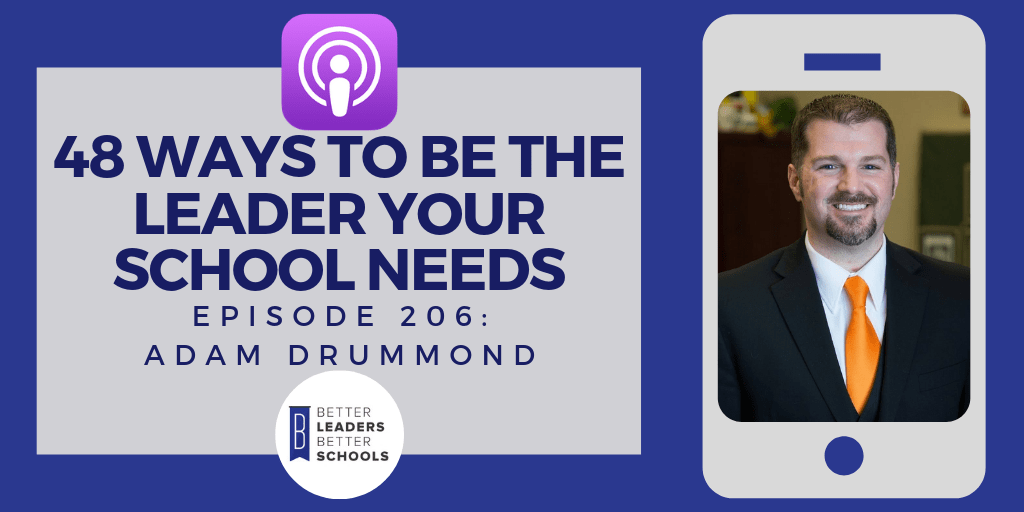 Key Quotes
"We wanted kids to do the right thing because it was the right thing to do. Others needed some of that extrinsic motivation."
"It really starts with building out relationships."
"It's [The education industry] really become this competitive landscape."
"I think the power of success happens within the opportunities we create for kids."
Key Resources
The Instructional Change Agent: 48 Ways to Be the Leader Your School Needs
Don't forget to catch more episodes and resources at the Better Leaders Better Schools website.
Read the Better Leaders Better Schools Roadmap
Other resources
Find you local Chamber of Commerce
About Our Guest
Adam Drummond, EdD is the director of Professional Learning for the International Center for Leadership in Education (ICLE), a keynote speaker, and author with leadership experience at levels of education.
Tip of the Week
Holding Office Hours: Hold office hours one day a week for an hour before school starts. This gives the staff uninterrupted time to meet with you and discuss important issues without having to worry about a class starting or getting home to feed the kids.
SHOW SPONSORS:
Organized Binder is an evidence-based RTI2 Tier 1 universal level solution

Focuses on improving executive functioning and noncognitive skills

Is in direct alignment with the Universal Design for Learning (UDL) framework

Is an integral component for ensuring Least Restrictive Environments (LRE)
You can learn more and improve your student's success at https://organizedbinder.com/
Empowers teachers with feedback on student engagement

A fitbit for teachers that measures student engagement

Research shows that the more students speak in class, the more they learn, and the better they perform on standardized tests.

Use your phone or laptop to analyze your class, and the app's artificial intelligence (AI) algorithm tracks your talk ratio automatically, with no extra work from you or an instructional coach.

The idea is to give teachers a useful barometer of student engagement you can check every day!
You can learn more and improve your student's success at https://teachfx.com/
Copyright © 2018 Better Leaders Better Schools
(Visited 227 times, 1 visits today)