Welcome to the Better Leaders Better Schools podcast.  This is a weekly show for ruckus makers — What is a ruckus maker?  A leader who has found freedom from the status quo. A leader looking to escape the old routine. A leader who never, ever gives up.
In this episode, Danny speaks with repeat guest, Mike Roberts who offers some words of wisdom about persistence, pursuing excellence, and leveraging success as a school leader. Mike shares his experiences running marathons, teaching 8th grade English, and presenting leadership lessons to other teachers.
We hope you enjoy the podcast. All the highlights, resources, and next steps can be found below. Listen to the full episode here and learn more at betterleadersbetterschools.com
Key Talking Points
How Mike went from a weekend warrior to a marathon runner…starting with his failed first race

Why chasing micro-goals is a strategy for success

Why you don't need to be great at everything, just 1% better to achieve more success in your life

Understanding the foundations in the student/teacher and teacher/principal relationship

Battling competition envy and reframing success to help you get 1% better

Ways to make your life as a teacher 1% better

Why we shouldn't run away from failure…

The power of moving toward 1% better as a school and as an industry
Key Milestones of the Episodes
[4:28] Mike's transformation from a man who couldn't run one mile into an ultra marathoner
[9:41] Why Mike didn't quit
[12:37] Getting 1% better
[18:15] Dealing with Comparison Envy
[26:47] You learn the most from difficult things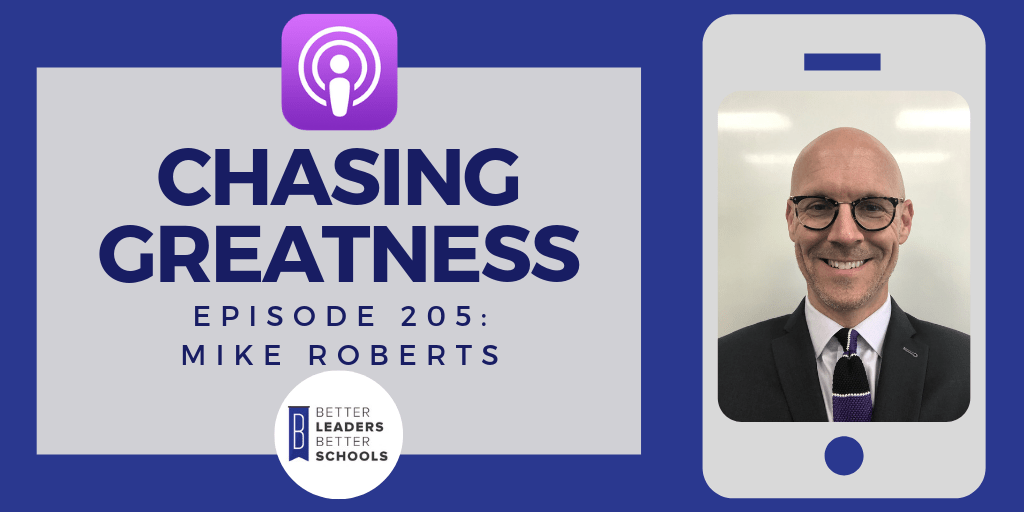 Key Quotes
"Giving up is the easiest thing to do."
I want you to look at me as a person who teaches and I'm going to look at you as a person who is a student "
"As educators, the more consistent we can be with who we are…the better off it is for our school community."
"I don't think next year is going to be easier than next year. I expect it to be tougher…but you build up those skills…along the way from the challenges."
Key Resources
Chasing Greatness: 26.2 Ways Teaching is Like Running a Marathon
Don't forget to catch more episodes and resources at the Better Leaders Better Schools website.
Other resources
Billionaire CEO Sara Blakely Says These 7 Words Are the Best Career Advice She Ever Got
Tip of the Week
Eat Well & Exercise: If you want to optimize your performance mentally and physically you will prioritize eating well and you'll start or continue exercising.  Exercise is a great stress relief and some of your best ideas will be generated while outside of the office or while lifting or running. Make Eating well and exercising a part of your daily schedule.
SHOW SPONSORS:
Organized Binder is an evidence-based RTI2 Tier 1 universal level solution

Focuses on improving executive functioning and noncognitive skills

Is in direct alignment with the Universal Design for Learning (UDL) framework

Is an integral component for ensuring Least Restrictive Environments (LRE)
You can learn more and improve your student's success at https://organizedbinder.com/
Empowers teachers with feedback on student engagement

A fitbit for teachers that measures student engagement

Research shows that the more students speak in class, the more they learn, and the better they perform on standardized tests.

Use your phone or laptop to analyze your class, and the app's artificial intelligence (AI) algorithm tracks your talk ratio automatically, with no extra work from you or an instructional coach.

The idea is to give teachers a useful barometer of student engagement you can check every day!
You can learn more and improve your student's success at https://teachfx.com/
Copyright © 2018 Better Leaders Better Schools
(Visited 37 times, 1 visits today)