Welcome to the Better Leaders Better Schools podcast.  This is a weekly show is for ruckus makers — What is a ruckus maker?  A leader who has found freedom from the status quo. A leader looking to escape the old routine. A leader who never, ever gives up.
Up next you can hear Daniel Bauer's wife Miriam interview him in this twist of events.  They discuss multiple facets of their relationship in this special episode.
We hope you enjoy the podcast. All the highlights, resources, and next steps can be found below. Listen to the full episode here and learn more at betterleadersbetterschools.com
Daniel Bauer is the founder of Better Leaders Better Schools, an organization that helps school administrators develop their leadership skills. His podcast is the most-downloaded show for leaders in education and ranks in the TOP 0.5% of all shows (in any industry) worldwide. Daniel is also the author of the best-selling book Mastermind: Unlocking Talent Within Every School Leader.
The Good and Bad Qualities of Daniel Bauer
Daniel and Miriam begin the podcast by poking fun. Miriam begins by talking about her pet peeves from Daniel's actions. She brings up how Daniel's idea of cleaning is similar to taking a pile of dust and spreading it around the counter evenly, and also how he drips water onto the floor every time he washes his hands. Then they move on to the good qualities, as Miriam describes their marriage as a great adventure. They have a lot in common, and that makes their relationship exciting and fun. Miriam says she loves how supportive Daniel is when things get tough. Miriam credits Daniel for taking the leap, and working hard to achieve his dreams.
"You've been working so hard for the past few years, I've seen you go through the best of times and some really challenging times. You've stayed on course and I'm so proud of you for that." -Miriam Bauer
Daniel's Motivation
When talking about his motivation, Daniel recalls a quote that really pushes him everyday. "Everybody wins when the leader gets better." This provoked deep thought about Daniel's leadership development. He felt like he was doing a decent job as a leader, but definitely wanted to improve. There are always ways to improve in anything, and Daniel was constantly finding ways to become a better leader.
"If it's true that everybody wins when the leader gets better, then it's my duty to do as much as I could to develop myself to serve the community, because everyone would be impacted in a positive way." -Daniel Bauer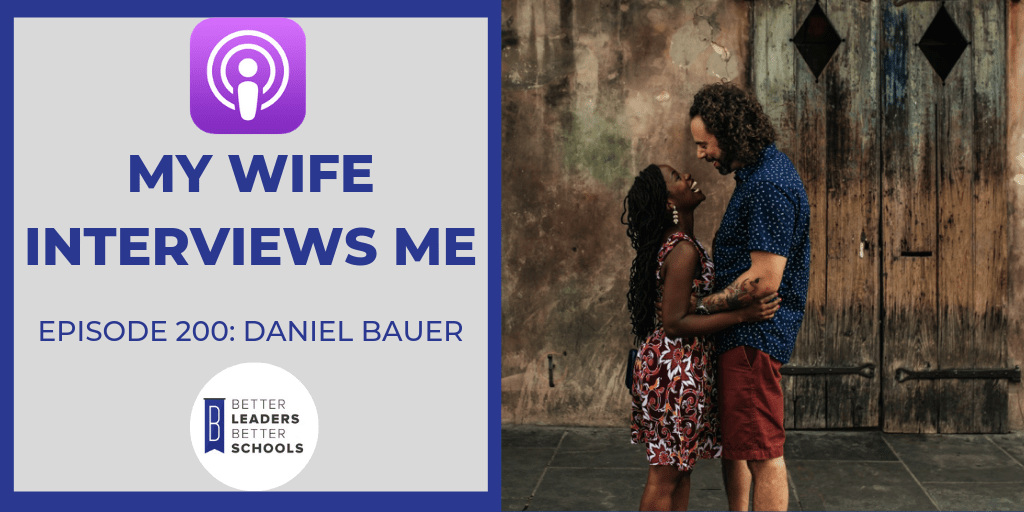 Confidence to Take the Leap
Daniel talks about where he got his confidence, and how he used that to take the leap. He says it is like double sided coin. One side has all of the fear and anxieties, and the other has the success and confidence. If you let the fear and anxieties win, the confidence and success will lose. Daniel says this analogy has allowed him to be more confident, because he doesn't want fear and anxiety to ever win this battle.
"You don't want to get to your grave and have all these regrets and what ifs."  – Daniel Bauer
Working Through Problems
Daniel mentions how he has a much greater understanding of unconditional love with his wife. If Daniel and Miriam run into problems, they usually figure it out quickly and move on. Any differences they have are settled by the mutual trust they have with each other.  Daniel didn't expect to find somebody that would be in his corner as much as Miriam has been. This allows him to focus on improving himself and his flaws.
"If you're not careful that neediness or affirmation that everything will be okay, that can really get in the way of intimacy, trust, and relationships."  – Daniel Bauer
Daniel Bauer's Resources:
Daniel Bauer's Contact Info:
Show Some Love
We help school leaders fight isolation and frustration via a
leadership community
in order to gain clarity and find solutions to their greatest challenges.
SHOW SPONSORS:
Organized Binder is an evidence-based RTI2 Tier 1 universal level solution

Focuses on improving executive functioning and noncognitive skills

Is in direct alignment with the Universal Design for Learning (UDL) framework

Is an integral component for ensuring Least Restrictive Environments (LRE)
You can learn more and improve your student's success at https://organizedbinder.com/
Empowers teachers with feedback on student engagement

A fitbit for teachers that measures student engagement

Research shows that the more students speak in class, the more they learn, and the better they perform on standardized tests.

Use your phone or laptop to analyze your class, and the app's artificial intelligence (AI) algorithm tracks your talk ratio automatically, with no extra work from you or an instructional coach.

The idea is to give teachers a useful barometer of student engagement you can check every day!
You can learn more and improve your student's success at https://teachfx.com/
Copyright © 2018 Better Leaders Better Schools
(Visited 112 times, 1 visits today)