Meet an amazing Ruckus Maker, Chuck Warfield. Husband, dad, principal, and raving Phillies fan!
Like seriously raving …
On his FB feed I see the days counting down for spring training, and now that baseball is here, Chuck is counting the days until a Phillies World Series!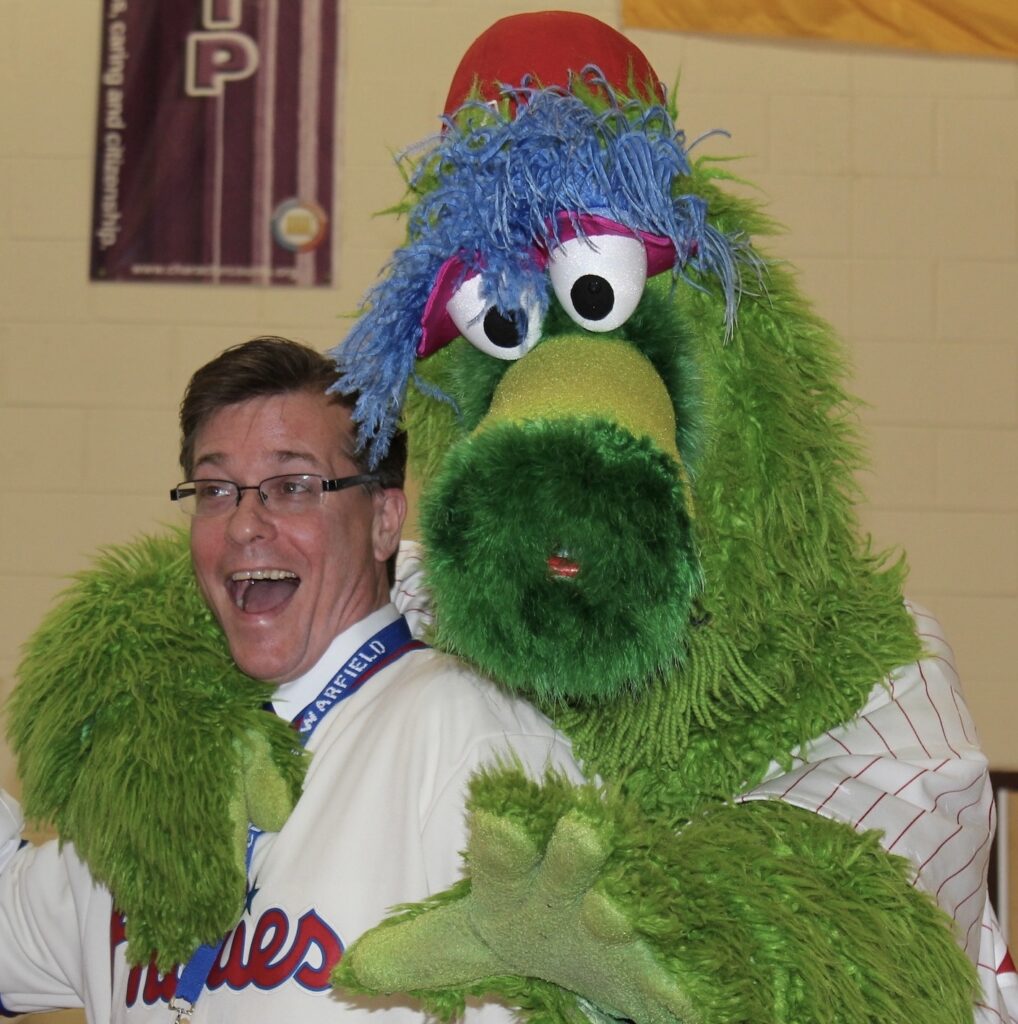 When I met Chuck he was looking for a space that would offer candid, honest feedback.
You see, Chuck has been faithfully serving in the same community for years. That is wonderful. Certainly a testament to his commitment to his district.
But anyone who has stuck around any organization for years will tell you getting an outside perspective is really hard to do …
Not impossible though!
Chuck said, "I'm almost 20 years in my school and learn something every time I participate in the Mastermind."
It's just very difficult (as you probably know too).
The level of trust and open-mindedness required to take a real critical look at "the way we do things here" often means bringing in costly consultants.
Some of whom have NEVER spent a day in a classroom (let alone the principal's chair).
And then one day Chuck's phone rang.
It was his pal, Kirk who said something to the effect of, "I'm in this Mastermind group. I told Gene you would be great, so he's going to call you and invite you. So pick up the phone." 
It was Gene who told him, "You're going to love it, you're gonna be perfect for this. It is awesome. You'll fit right in with the group. Your personality is the type of personality we need to be part of this."
So Chuck told his wife about the mastermind and he would like to give it a shot and "see what happens …"
Here's what happened …
Chuck found that his mastermind colleagues were candid both sharing personal challenges and professional challenges. He also found that his peers were willing to help him and really get to know him.
In Chuck's words, "That was really surprising for me. After a few months, this group of 'strangers' became like 'family.' The sense of belonging in the mastermind is both very real and important."
Chuck's first BIG win was welcoming students back to school.
"We worked really hard to make it happen and get the kids back. It was something I talked to my mastermind group about … to see what everybody else was doing and how they were feeling, and how they were addressing the teachers that were coming into their offices crying. The first normal day … a normal feeling day, was a significant win for me. I think that was supported by the enthusiasm that everyone was feeling. We know it's not normal, but we're back."
But it wasn't all puppies and rainbows for Chuck.
There have been challenges to participating in the mastermind.
He's been exhausted.
And when the days started to get darker, earlier, it became harder to run outside with daylight (something important to Chuck).
But instead of quitting the mastermind, he decided to modify his schedule to incorporate daylight runs and still make the mastermind meetings.
When I asked Chuck for any last words of wisdom he said, "Find your people. If you're someone who's interested in continuing to grow as a person, as a leader, as an educator … definitely consider joining the BLBS Mastermind.
Don't make yourself isolated.
It can be very lonely as a principal. You often have to make tough decisions.
It's invaluable to have a group where you can bounce your ideas off of, have the conversations, work through the what, and make the best decisions that you can."
Ready to "Find Your People"?
Learn more about the mastermind and apply today!
(Visited 235 times, 1 visits today)