Jordan Mareno is a Partnerships Manager at Project Invent, a nonprofit that empowers high school and middle school students to invent technology for community impact. Jordan gravitates towards questions about and celebrations of human purpose, and believes that young people should be given chances — often and early — to wrestle with their own understandings of meaning.
Show Highlights
Energy and ethos leaders desire for their schools. 

A

pivot point and catalysis for identifying as a Ruckus Maker. 

Create community partnerships and design thinking with Project Invent.

A question all students

find purpose and meaning in the education system.

Assist students with making a backpack of belonging. 

Support teachers who want to make a ruckus get off isolation island. 

Unlock talent and push people to believe they are talented. 

The value in crosscutting conversations with students and teachers.

Close the distance students feel between the real world and the classroom.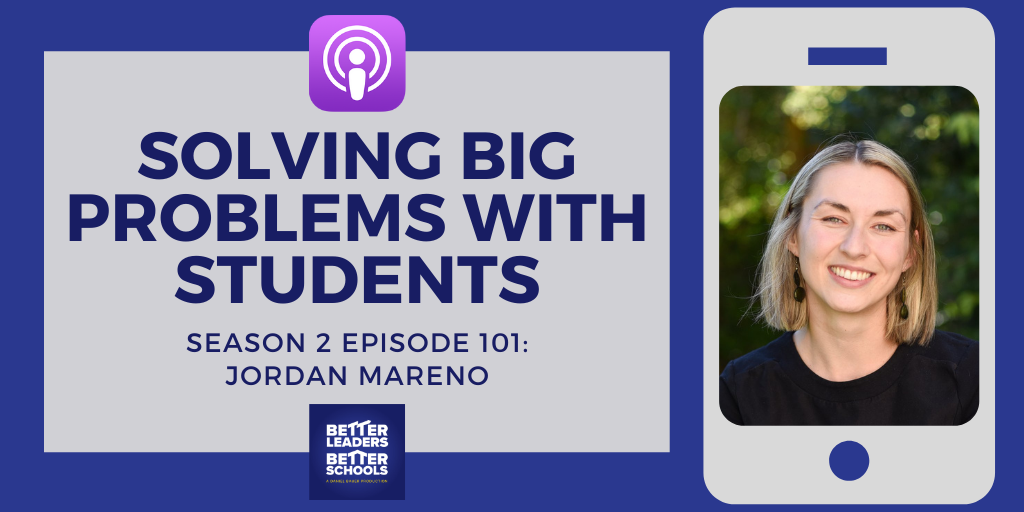 "How old were you when you realize everything was invented? I think everybody has that moment or maybe you don't and those are the unlucky ones. You realize the world was designed and it can be redesigned and redesigned and redesigned and reinvented. We hope our students have that realization early on in their experience with us that everything around them was designed and they actually can be a part of that."
– Jordan Mareno
Jordan Mareno's Resources & Contact Info:
Looking for more?
Download the podcast transcript here!
Oops! We could not locate your form.
SHOW SPONSORS:
HARVARD GRADUATE SCHOOL OF EDUCATION
Transform how you lead to become a resilient and empowered change agent with Harvard's online Certificate in School Management and Leadership. Grow your professional network with a global cohort of fellow school leaders as you collaborate in case studies bridging the fields of education and business. Apply today at http://hgse.me/leader.
School leaders know that productive student talk drives student learning, but the average teacher talks 75% of class time! TeachFX is changing that with a "Fitbit for teachers" that automatically measures student engagement and gives teachers feedback about what they could do differently. 
Learn more about the TeachFX app and get a special 20% discount for your school or district by visiting teachfx.com/blbs.
Organized Binder is the missing piece in many classrooms. Many teachers are great with the main content of the lesson. Organized Binder helps with powerful introductions, savvy transitions, and memorable lesson closings. Your students will grow their executive functioning skills (and as a bonus), your teachers will become more organized too. Help your students and staff level up with Organized Binder.
Copyright © 2022 Twelve Practices LLC
(Visited 156 times, 1 visits today)