Tanya Sheckley is the Founder and President of UP Academy, a progressive elementary lab school in San Mateo, California. UP Academy is reinventing education by customizing learning for each student, integrating project-based learning throughout its curriculum, and supporting students with disabilities to attend alongside able-bodied students in mixed-age classrooms.
Inspired by the will, drive, and desire of her daughter, Eliza, who was born in 2009 with cerebral palsy, UP Academy is proving that it's possible to celebrate differences, change what's broken in the American education system, and provide all children with a rigorous, well-rounded education.
Tanya also hosts the Rebel Educator podcast, speaks across the country on the future of education, and leads professional development programs for school administrators and educators.
Show Highlights
Champion Project Based Learning with a "changemakers unit"

Every Ruckus Maker needs a Rebel Educator to make a ruckus 

Effective marketing and business messaging for school leadership 

Up Academy is changing what's broken in the American education system

Stop robbing children of education inside school buildings

Break the free of the 3 Ps that handcuff education

Consistently give students more agency and responsibility to build executive functioning skills

Powerful things a school leader could do to break down the silos

Deep juicy questions to ignite deeper learning 

S

tudent agency, inclusion, and equity is at the foundation of  integrated

experience.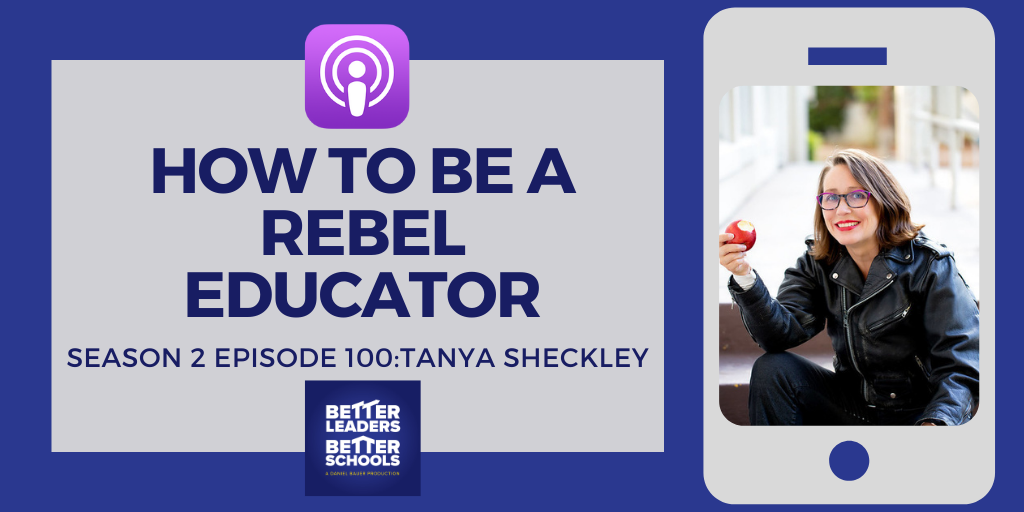 "Try something new, different, innovative and creative. Startle your students with something that they haven't had an opportunity to do before, or a different side of you,  they haven't gotten a chance to see or know."
– Tanya Sheckley
Tanya Sheckley's Resources & Contact Info:
Looking for more?
Download the podcast transcript here!
Oops! We could not locate your form.
SHOW SPONSORS:
HARVARD GRADUATE SCHOOL OF EDUCATION
Transform how you lead to become a resilient and empowered change agent with Harvard's online Certificate in School Management and Leadership. Grow your professional network with a global cohort of fellow school leaders as you collaborate in case studies bridging the fields of education and business. Apply today at http://hgse.me/leader.
School leaders know that productive student talk drives student learning, but the average teacher talks 75% of class time! TeachFX is changing that with a "Fitbit for teachers" that automatically measures student engagement and gives teachers feedback about what they could do differently. 
Learn more about the TeachFX app and get a special 20% discount for your school or district by visiting teachfx.com/blbs.
Organized Binder is the missing piece in many classrooms. Many teachers are great with the main content of the lesson. Organized Binder helps with powerful introductions, savvy transitions, and memorable lesson closings. Your students will grow their executive functioning skills (and as a bonus), your teachers will become more organized too. Help your students and staff level up with Organized Binder.
Copyright © 2022 Twelve Practices LLC
(Visited 225 times, 1 visits today)