Show Highlights
The #1 productivity secret

​​Set fire to the house to know which door to open for your

mental health 

Stop being a time traveler to lead and live in the present moment 

Develop honest, sincere relationships with emotional intelligence skills.

Motivational leaders touch people with sincere candor

Give yourself permission to take action and choose yourself 

Be the first person to buy what you're selling

Have a "dumping ground" for your ideas

Tweet going down the stairs to have better quality leadership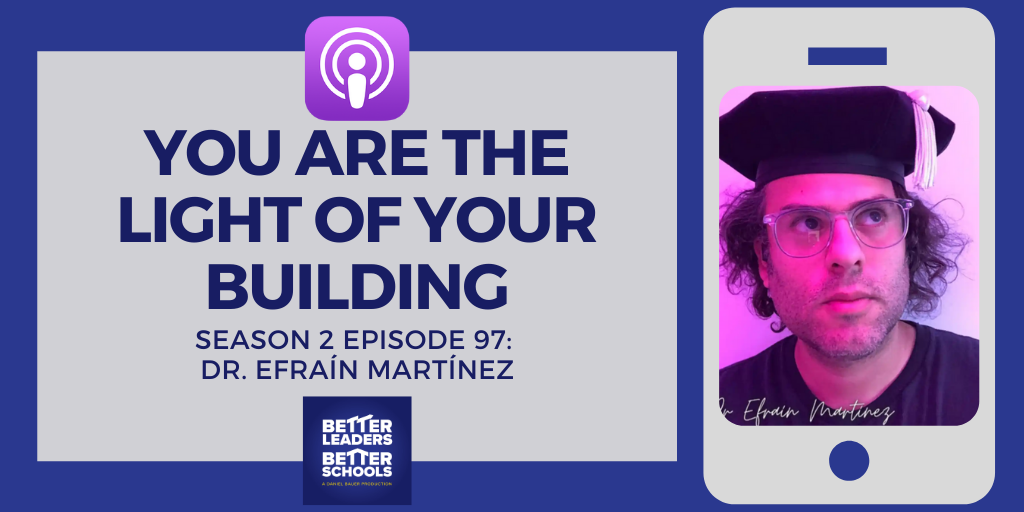 "When we sanctify something by not talking about it, we are defending it instead of tackling face forward."
– Dr. Efrain Martinez
Dr. Efrain Martinez's Resources & Contact Info:
Looking for more?
Oops! We could not locate your form.
SHOW SPONSORS:
HARVARD GRADUATE SCHOOL OF EDUCATION
Transform how you lead to become a resilient and empowered change agent with Harvard's online Certificate in School Management and Leadership. Grow your professional network with a global cohort of fellow school leaders as you collaborate in case studies bridging the fields of education and business. Apply today at http://hgse.me/leader. 
School leaders know that productive student talk drives student learning, but the average teacher talks 75% of class time! TeachFX is changing that with a "Fitbit for teachers" that automatically measures student engagement and gives teachers feedback about what they could do differently. 
Learn more about the TeachFX app and get a special 20% discount for your school or district by visiting teachfx.com/blbs.
Organized Binder is the missing piece in many classrooms. Many teachers are great with the main content of the lesson. Organized Binder helps with powerful introductions, savvy transitions, and memorable lesson closings. Your students will grow their executive functioning skills (and as a bonus), your teachers will become more organized too. Help your students and staff level up with Organized Binder.
Copyright © 2022 Twelve Practices LLC
(Visited 383 times, 1 visits today)