Vicki Philips is a former teacher. Life-long teacher champion. Avid reader. Lover of geography. Committed to empowering the next generation of solution-seekers, planetary stewards and changemakers.
She is driven by a fierce determination to help all students realize their dreams. Over the past four decades, she has worked at all levels of education to champion students' rights to a high-quality education, including as a teacher, superintendent of schools, state chief of basic and higher education, nonprofit CEO, and director of K-12 education for the Bill and Melinda Gates Foundation.
She joined the National Geographic Society in 2019 to lead the organization's global education strategy, focused on transforming the classroom experience for millions of students and educators. As chief education officer at the National Geographic Society, Vicki Phillips oversees the Society's education strategy and programs focused on inspiring the next generation of planetary stewards. Phillips has been in education for more than 30 years, and has served as a teacher, state-level policymaker, nonprofit leader, superintendent of schools, chief state school officer, and K-12 education director.
[fusebox_track_player url="https://traffic.libsyn.com/secure/better/Leading_with_an_explorers_mindset.mp3″ artist="Vicki Philips" title="Leading with an explorer's mindset" social_twitter="true" social_facebook="true" social_linkedin="true" social_pinterest="true" social_email="true" ]
[fusebox_transcript]
Show Highlights
A weekly tip and challenge to help you thrive. 

Memorable insights that have educators showing up differently in the future.

Be a Cosigner to the teacher's needs and how they're experiencing things. 

Developing an explorer's mindset and an empowered voice. 

Nat Geo provides a door for learners to understand the interconnected world around them.

90 miles for a global perspective that minimizes inequities between people. 

Nat Geo's superpowers, solutions, and impact around issues we care about.

Find yourself ahead of the curve in your educational career.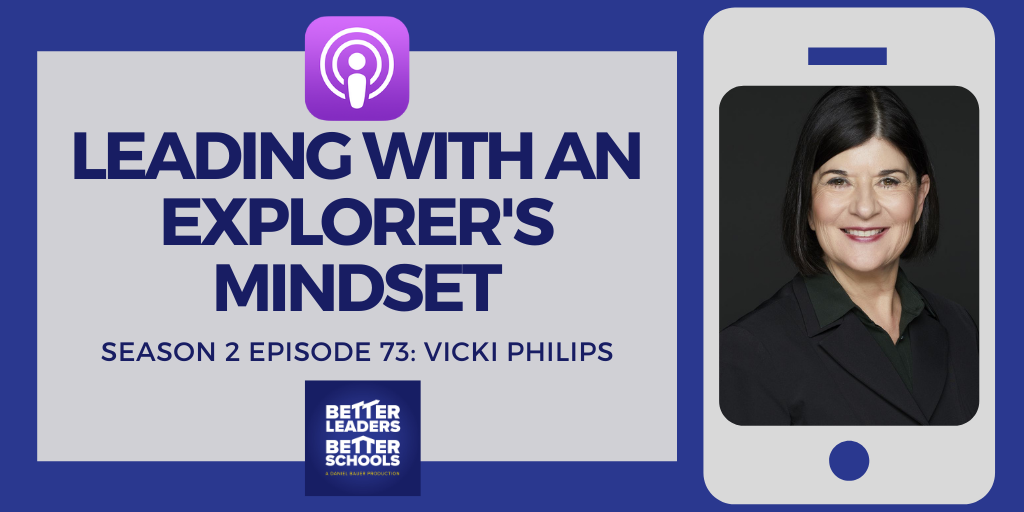 "If ever there was a discipline suited to problem solving, it's 21st century kinds of notions around geography. Where you're studying how things came to be and the way they are. You're taking those insights and thinking about what that means for what's happening to the earth and the inhabitants of it. Whether those activities are helpful or harmful and how you could be a part in changing that. It's that ability to think like a geographer that might be one of the most important skills that we can give young people now, along with having an Explorer mindset. Being curious about the world and your place in it."
"Victory is in the classroom. Victory is where the learners are. You can't claim success if you're not impacting learners. The bond between teachers and learners is so powerful. I always felt that the job that I had as an administrator, whether I was at a school level, a district level, a state level, even when I was acting as a philanthropist, I always felt that it was my job to power that bond. It's the job of principals and district superintendents and others, to make sure that that bond between teachers and students is as powerful as it can be. That's where the magic of learning happens."
– Vicki Philips
Vicki Phillips' Resources & Contact Info:
Looking for more?
SHOW SPONSORS:
HARVARD GRADUATE SCHOOL OF EDUCATION
Transform how you lead to become a resilient and empowered change agent with Harvard's online Certificate in School Management and Leadership. Grow your professional network with a global cohort of fellow school leaders as you collaborate in case studies bridging the fields of education and business. Apply today at http://hgse.me/leader.
School leaders know that productive student talk drives student learning, but the average teacher talks 75% of class time! TeachFX is changing that with a "Fitbit for teachers" that automatically measures student engagement and gives teachers feedback about what they could do differently. 
Learn more about the TeachFX app and get a special 20% discount for your school or district by visiting teachfx.com/blbs.
Organized Binder is the missing piece in many classrooms. Many teachers are great with the main content of the lesson. Organized Binder helps with powerful introductions, savvy transitions, and memorable lesson closings. Your students will grow their executive functioning skills (and as a bonus), your teachers will become more organized too. Help your students and staff level up with Organized Binder.
Copyright © 2021 Twelve Practices LLC
(Visited 408 times, 1 visits today)