Sharla Stevens transform schools into anti-racist, thriving institutions for academic excellence and social justice! She develops school leaders to bring out the best in students of color and help deter white students from sustaining or embracing white supremacy. Your school will be transformed for the better as a result of her coaching. Schedule a call and  explore possibilities. 
[fusebox_track_player url="https://traffic.libsyn.com/secure/better/Addressing_racism_in_schools.mp3″ artist="Sharla Stevens" title="Addressing racism in schools" social_twitter="true" social_facebook="true" social_linkedin="true" social_pinterest="true" social_email="true" ]
[fusebox_transcript]
Show Highlights
Historical context of the opportunity gap vs the achievement gap

Blind spots of racism embedded in the culture of your school

Address the racist elephant in the room with Sharla's 5 step playbook

Create spaces that "see"  black and brown students experience and pain

Promote students to take agency and advocate on their behalf is essential education 

Create a ruckus and break ALL traditions

Put your budget where your commitment is

Hire those who know how to clean the dirty draws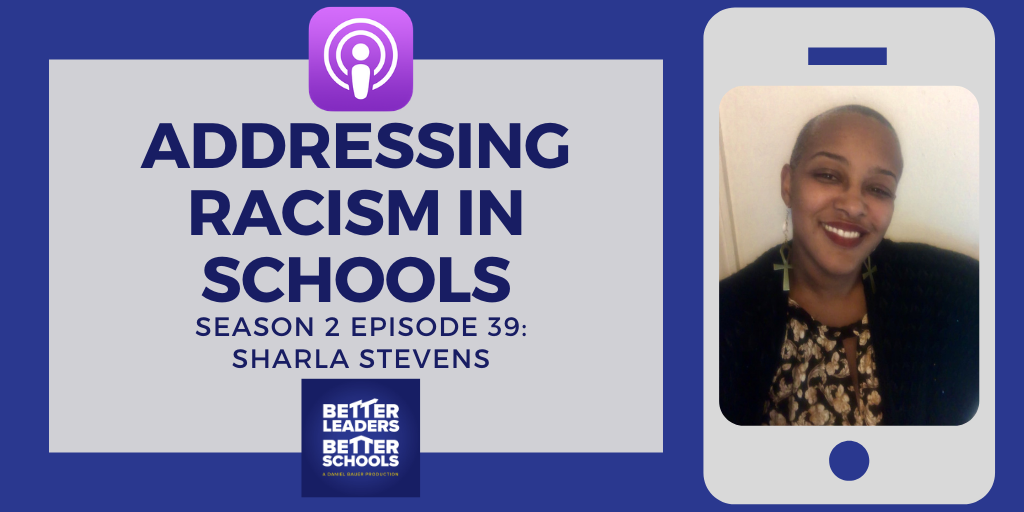 "It's important for us to understand what our kids are trying to navigate and make sense of. For us to do our best, to speak to it, regardless of how uncomfortable we are. The only wrong way to do this work is not to do it. We need to understand that mistakes will be made. It's good for us to be humble about that because people like humility. We don't want perfection. We don't want you to be perfect. We can't see ourselves in perfection, but when people make mistakes and are able to take ownership of that mistake and then just learn from it, that's how we learn and grow. Yes, mistakes will be made, but we need to see the pain of our students, the trauma of our students, and then also do our best to facilitate opportunities for joy."
– Sharla Stevens
Sharla Stevens' Resources & Contact Info:
Looking for more?
SHOW SPONSORS:
HARVARD GRADUATE SCHOOL OF EDUCATION
Transform how you lead to become a resilient and empowered change agent with Harvard's online Certificate in School Management and Leadership. Grow your professional network with a global cohort of fellow school leaders as you collaborate in case studies bridging the fields of education and business. Apply today at http://hgse.me/leader.
The SMART Learning Suite Online allows teachers to create, store, and deliver lessons from anywhere – no SMART Board required – and your students can access and engage with your content from any web browser on any device. And it connects with tools you already use like Google Classroom and Microsoft Teams.
The research-backed EdTeach Assessment Tool will help Ruckus Makers discover their strengths and best area of focus across 5 different modules, including leadership and remote learning. You'll get a personalized report that shows where you stack up against other leaders, and maps some areas of focus that will have the greatest impact for you. 
Organized Binder is the missing piece in many classrooms. Many teachers are great with the main content of the lesson. Organized Binder helps with powerful introductions, savvy transitions, and memorable lesson closings. Your students will grow their executive functioning skills (and as a bonus), your teachers will become more organized too. Help your students and staff level up with Organized Binder.
Copyright © 2021 Twelve Practices LLC
(Visited 426 times, 1 visits today)