Would you start a business with someone you've only met in person once and talked to for about 5 minutes?
Spotlight Trust co-founders Lisa Lambert of Rule Number Six and Rick Kitagawa of Kaiju Coaching did. That's the power of trust.
Lisa and Rick first met while working remotely as leadership coaches (later head coaches) in Seth Godin's altMBA. They had the chance to very briefly meet in-person in New York City, but collaborating on Spotlight Trust wasn't even a seed of an idea at the time.
They later had the chance to work more closely together (remotely) on several initiatives within the Akimbo Workshops and recognized the value in uniting each other's different perspectives and experiences to tackle a recurring theme in both their paths and one that felt more important than ever: trust. 
Bringing deep leadership experience in their own respective fields and having coached thousands of leaders around the world independently as well as through the altMBA other Akimbo Workshops, Lisa and Rick took the leap to co-found Spotlight Trust in late 2019. Spotlight Trust combines their forces and insights to bring a practical framework for developing trust to leaders and the organizations and communities that rely on those leaders.
Rick Kitagawa brings his creative entrepreneurial background, out-of-the-box thinking, and executive coaching experience and mixes it with his experience of teaching and designing curricula at the university level to the Spotlight Trust.  His ability to unlock the leadership potential in people is only matched by his open mind, his flair for the dramatic, and his love of monsters and mythical creatures.
Lisa Lambert  brings her experience leading special projects and strategic communications on the frontiers of science, technology, and innovation as well as her award-winning facilitation skills to Spotlight Trust. Her ability to navigate complexity, catalyze collaboration, and transform organizations is only matched by her thoughtfulness, her passion for adventure, and love for her two puppers, Bebop and Rocksteady.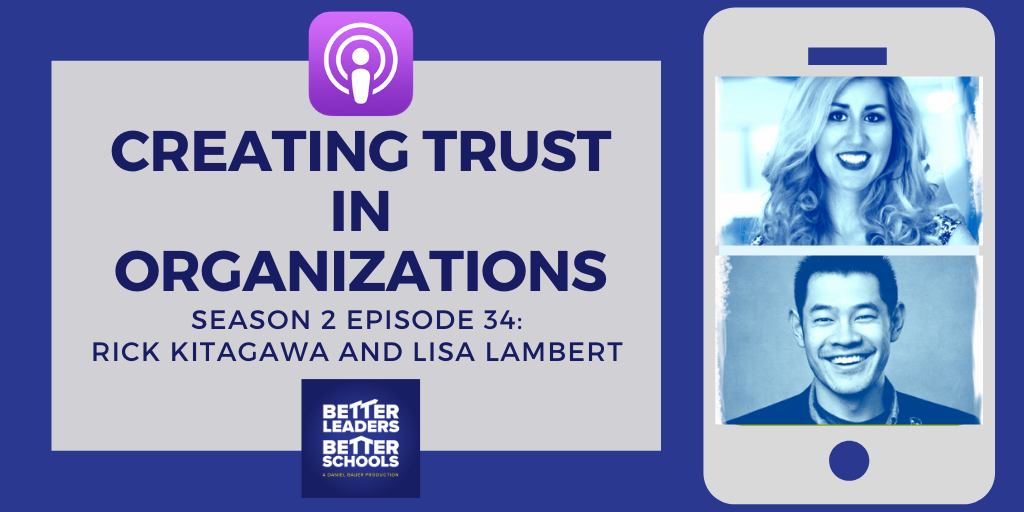 Show Highlights
Measuring Trust and the importance of belonging

Avoid

thinking

your building trust and other pitfalls

Trust Framework: Five facets of trust in 3D

Uncertain times reveals your leadership and provides opportunities to co-create the future

Know the difference between checking in and checking up on people

Spotlight Trust future proofs your organization. 

Questions behind the questions illuminate what you need to be working on at a very practical, measurable level. 
"There's a lot of leaders that are maybe centering around a norm of politeness that's getting in the way from having these really important conversations around a shared purpose. Around where we're seeking to go together.  I would really encourage the leaders. It's not about being polite, it's about being kind, and that kind comes in being direct, being respectful, but sharing that feedback with others, engaging in those conversations, and building that path pathway forward together, and also being really gracious and receiving feedback."
– Lisa Lambert
Rick and Lisa's Resources & Contact Info:
Looking for more?
SHOW SPONSORS:
HARVARD GRADUATE SCHOOL OF EDUCATION
Transform how you lead to become a resilient and empowered change agent with Harvard's online Certificate in School Management and Leadership. Grow your professional network with a global cohort of fellow school leaders as you collaborate in case studies bridging the fields of education and business. Apply today at http://hgse.me/leader.
The SMART Learning Suite Online allows teachers to create, store, and deliver lessons from anywhere – no SMART Board required – and your students can access and engage with your content from any web browser on any device. And it connects with tools you already use like Google Classroom and Microsoft Teams.
The research-backed EdTeach Assessment Tool will help Ruckus Makers discover their strengths and best area of focus across 5 different modules, including leadership and remote learning. You'll get a personalized report that shows where you stack up against other leaders, and maps some areas of focus that will have the greatest impact for you. 
Organized Binder is the missing piece in many classrooms. Many teachers are great with the main content of the lesson. Organized Binder helps with powerful introductions, savvy transitions, and memorable lesson closings. Your students will grow their executive functioning skills (and as a bonus), your teachers will become more organized too. Help your students and staff level up with Organized Binder.
Copyright © 2021 Twelve Practices LLC
(Visited 150 times, 1 visits today)