Alexs has had a diverse career bringing an innovative eye and heart to the areas of education, literature, business and race. He is an award winning author and a passionate proponent for the renovation of the American public education system by infusing our schools with a focus on the innocence and goodness of their marginalized students, especially students of color. This theme, above all others is interwoven in all of his  literary works as well as his consultative efforts with public and private organizations.
Given an opportunity–one that few writers, scholars and intellectuals are given–to bring an idea that emanated from theoretical work into actual practice, he created the innovative and successful Innocent Classroom™. It brings common sense, empathy, redemptive energy and honesty together and into the classroom.
His  dynamic approach to working with teachers, an approach that enables us to ultimately understand and empathize more effectively with our students, has been honed through more than fifteen years as a energetic and passionate professor. And the professional and effective presentation of his work belies experience in the private sector.
But at the core of this work is a deep belief that our children can be given a quality education in spite of the dire realities both within schools and in the world around them.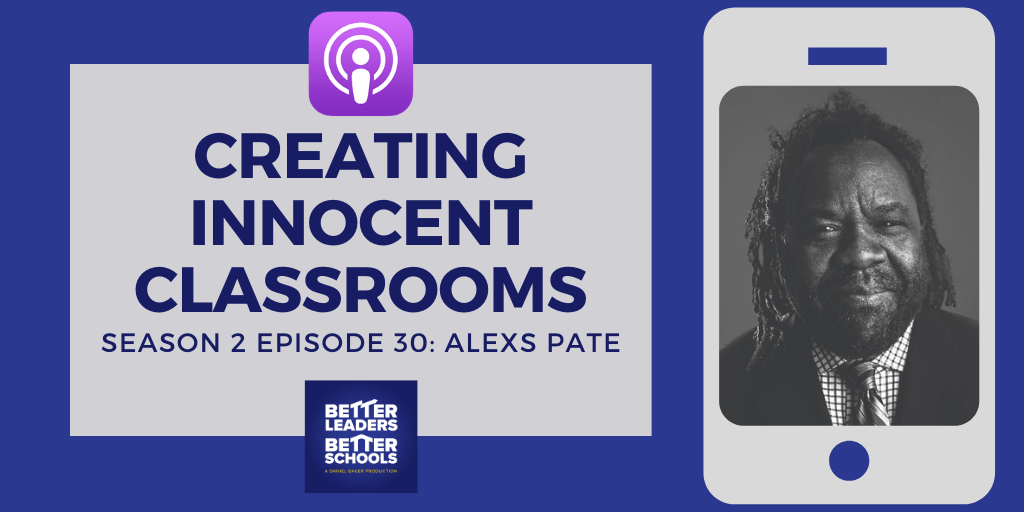 Show Highlights
Eliminate racial stereotypes in schools through authentic relationships 

Powerful Pivot moments that matter 

Practical changes to make help to "free" your learning community

Get children to drop involuntary stereotypes that construct their realities 

Find the source of behavior with strategies to embrace and engage the child 

Alexs provides a powerful way to "see your children for the first time." 

Avoid common adult phrase that misrepresent a child

"The only valid resistance to

Innocent Classroom

is if you don't care."
"I think first of all, it's recognizing that our children are burdened in an enormous way with the negative ideas, iconography, narrative, and images that they're confronted with. And that is bestowed on them as they walk out into the world all the time. One of the first things that we do with educators in our training is to ask them, what does America tell you about students of color, who are sitting in your class? And that list? I mean, we were just asking for one word adjectives at that point. And that list is a horrible, horrible list. Even the positive things don't look good in that list."
–Alexs Pate
"I'm saying in the case of young kids of color, you're not looking at the real problem. The real problem is almost wholly contained in that child's life. That child came to you with challenges, and then I'm suggesting the American culture has put on them. Your job is to sort of sweep all that away and find that true child. What happens is when a teacher sees a child's goodness, they're good. The thing for which all else has done, they see something different. They see a desire to be cared for. They'd see a desire to feel connected. They see a desire to feel like I belong somewhere to be seen or to be heard, to feel safe."
–Alexs Pate
Alexs Pate's Resources & Contact Info:
Looking for more?
SHOW SPONSORS:
Organized Binder is an evidence-based RTI2 Tier 1 universal level solution

Focuses on improving executive functioning and noncognitive skills

Is in direct alignment with the Universal Design for Learning (UDL) framework

Is an integral component for ensuring Least Restrictive Environments (LRE)
You can learn more and improve your student's success at https://organizedbinder.com/
SMART Technologies is the proud sponsor of Better Leaders Better Schools and has two amazing offer for Ruckus Makers.
The SMART Learning Suite Online allows teachers to create, store, and deliver lessons from anywhere – no SMART Board required – and your students can access and engage with your content from any web browser on any device. And it connects with tools you already use like Google Classroom and Microsoft Teams.
Learn more at http://www.smarttech.com/learningsuite
The research-backed EdTeach Assessment Tool will helps Ruckus Makers discover their strengths and best area of focus across 5 different modules, including leadership and remote learning.  The tool inspires collaboration with your colleagues, and provides massive value whether you complete one or all five of the modules. 
You'll get a personalized report that shows where you stack up against other leaders, and maps some areas of focus that will have the greatest impact for you. 
Take the assessment at http://www.smarttech.com/profile
Copyright © 2020 Twelve Practices LLC
(Visited 409 times, 1 visits today)