Rex Miller is a futurist by training. He began his career as a project manager in the architecture and construction department for Southwestern Bell now AT&T, in 1978. He has spent decades helping organizations leverage their environments as a catalyst to healthy cultures and clear missions.
Rex turns hopelessly stuck situations into transformation and growth.He is among a rare group of proven practitioners that also have a deep academic foundation. He is an award winning author and trained in Improv Comedy and uses these techniques to enhance workshop experiences.
This breadth of experience is why leaders chose Rex to move the needle.
[fusebox_track_player url="https://traffic.libsyn.com/secure/better/Humanizing_the_education_machine.mp3″ artist="Rex Miller" title="Humanizing the Education Machine" social_twitter="true" social_facebook="true" social_linkedin="true" social_pinterest="true" social_email="true" ]
[fusebox_transcript]
Show Highlights
"Tackling wicked problems" 

The pit bull trait that will hold you up when the world is upside down 

SEL is educating the brain in the heart. How schools prepare mental health and SEL needs.

Pandemic reinvention is an

adventure

50% teachers burnout

Form a barn raising strategy for peer to peer support

Co-create the future for the kids with a 21st century education, not a 19th century education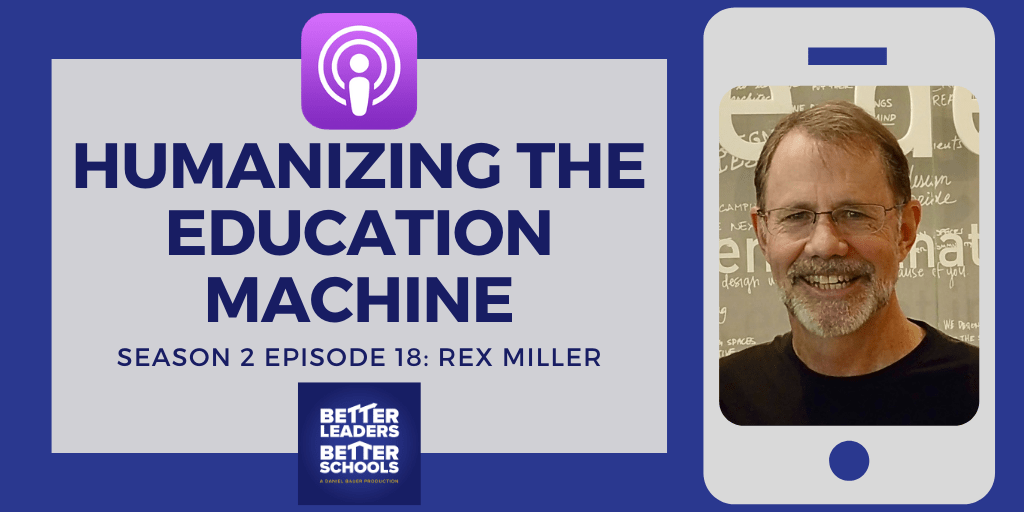 "It amazes me that we don't take better care of our teachers and lay the foundation of our nation. Close to 50% of teachers burn out before 5 years.
"WICKED" problem if a superintendent spends $1 on teachers it is seen as taking $1 away from kids."
– Rex Miller
Rex's Resources & Contact Info:
Looking for more?
SHOW SPONSORS:
Organized Binder is an evidence-based RTI2 Tier 1 universal level solution

Focuses on improving executive functioning and noncognitive skills

Is in direct alignment with the Universal Design for Learning (UDL) framework

Is an integral component for ensuring Least Restrictive Environments (LRE)
You can learn more and improve your student's success at https://organizedbinder.com/
School leaders know that productive student talk drives student learning, but the average teacher talks 75% of class time! TeachFX is changing that with a "Fitbit for teachers" that automatically measures student engagement and gives teachers feedback about what they could do differently. 
Learn more about the TeachFX app and get a special 20% discount for your school or district by visiting teachfx.com/blbs.
Copyright © 2020 Twelve Practices LLC
(Visited 315 times, 1 visits today)