Julie Stern is a global consultant and author: Julie has nearly two decades experience facilitating adult learning, and feels lucky to partner with educators to take their practice to the next level. She is a four-time, best-selling author of Learning That Transfers, Visible Learning for Social Studies, The On-Your-Feet-Guide to Learning Transfer, and Tools for Teaching Conceptual Understanding, Elementary and Secondary.
[fusebox_track_player url="https://traffic.libsyn.com/secure/better/Learning_that_transfers.mp3" color="#5956A5" title="Learning that Transfers" social_twitter="true" social_facebook="true" social_linkedin="true" ]
Show Highlights
✔ Tips to move beyond capacity and dig deep into the reserves.
✔ Ideas to honor educators,students and leader's wellbeing and still improve their craft.
✔ How to find the intersection of professional development and well being?
✔ Say Goodbye to being overwhelmed with a 7-day reset and Time Audit for Teachers
✔ Stop dividing equally to move past topical level learning in your school.
✔ Find your most essential elements in 3 words
✔ Build excitement and momentum for your staff by asking 2 questions.
✔ ACT, to transfer and facilitate learning that is contagious.
✔ Solution surveys to eliminate time constraints for teachers in your building.
"How many of us have thought I got nothing left? Many of us have broken and many teachers are leaving the profession. Many leaders are leaving the profession, which breaks my heart. My passion is the intersection of how do we get better while not maintaining our well being, our own personal well being. My life's work is: how do we update teaching and learning to prepare kids for an ever-changing world while we still are healthy."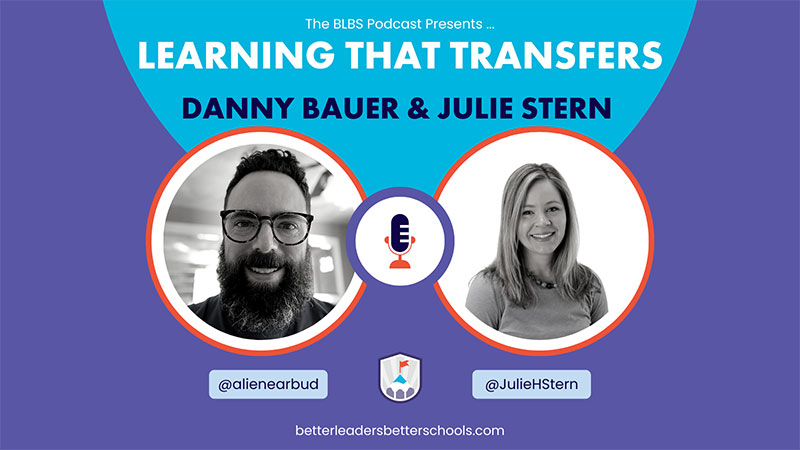 Julie Stern's Resources & Contact Info:
SHOW SPONSORS:
HARVARD GRADUATE SCHOOL OF EDUCATION
Transform how you lead to become a resilient and empowered change agent with Harvard's online Certificate in School Management and Leadership. Grow your professional network with a global cohort of fellow school leaders as you collaborate in case studies bridging the fields of education and business. Apply today at http://hgse.me/leader.
School leaders know that productive student talk drives student learning, but the average teacher talks 75% of class time! TeachFX is changing that with a "Fitbit for teachers" that automatically measures student engagement and gives teachers feedback about what they could do differently.
Learn more about the TeachFX app and get a special 20% discount for your school or district by visiting teachfx.com/blbs
Organized Binder is the missing piece in many classrooms. Many teachers are great with the main content of the lesson. Organized Binder helps with powerful introductions, savvy transitions, and memorable lesson closings. Your students will grow their executive functioning skills (and as a bonus), your teachers will become more organized too. Help your students and staff level up with Organized Binder
Copyright © 2022 Twelve Practices LLC
(Visited 325 times, 1 visits today)