Tracey A. Benson, Ed.L.D., is an Assistant Professor of Educational Leadership at the University of North Carolina-Charlotte. He is a former public school teacher, middle school assistant principal, and high school principal. Dr. Benson received his Ed.L.D. in Education Leadership from the Harvard Graduate School of Education, and Masters of School Administration from UNC-Chapel Hill.
He is the co-author of Unconscious Bias in Schools. Tracey is the also the Founder of the Anti-Racist Leadership Institute.
[fusebox_track_player url="https://traffic.libsyn.com/secure/better/Introducing_the_Anti-Racist_Leadership_Institute.mp3″ artist="Tracey Benson" title="Introducing the Anti-Racist Leadership Institute" social_twitter="true" social_facebook="true" social_linkedin="true" social_pinterest="true" social_email="true" ]
[fusebox_transcript]
Show Highlights
Interrupt racial biases in school districts with substantive change.

Racism is really inspiring. A Global Awakening of Consciousness

The secret sauce to the Anti-Racist Leadership Institute 

Address phobias and separate the concept of bad white people

Climb the ladder to get over anti-racism phobias

You are the right person to implement change if you can say "racism"

We are so afraid to talk about racism that we actually never talk about it.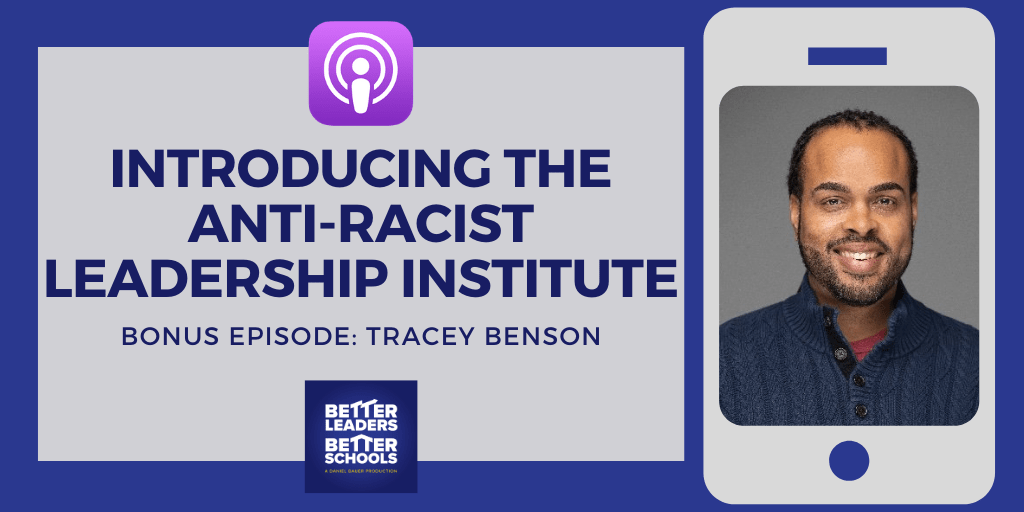 "They realize that there's a lot of barriers that they have and hurdles they have to overcome in order to implement their plan. I am there side by side, coaching individuals, to the cognitive aspects, meaning that getting over the fear and trepidation about actually implementing things and saying the word, race and racism within the school district, and then also adjusting their client as they implement so that they can realize change." 
— Dr. Tracey A. Benson
Tracey Benson's Resources & Contact Info:
Looking for more?
SHOW SPONSORS:
Organized Binder is an evidence-based RTI2 Tier 1 universal level solution

Focuses on improving executive functioning and noncognitive skills

Is in direct alignment with the Universal Design for Learning (UDL) framework

Is an integral component for ensuring Least Restrictive Environments (LRE)
You can learn more and improve your student's success at https://organizedbinder.com/
School leaders know that productive student talk drives student learning, but the average teacher talks 75% of class time! TeachFX is changing that with a "Fitbit for teachers" that automatically measures student engagement and gives teachers feedback about what they could do differently. 
Learn more about the TeachFX app and get a special 20% discount for your school or district by visiting teachfx.com/blbs.
Copyright © 2020 Twelve Practices LLC
(Visited 456 times, 1 visits today)