Welcome to the Better Leaders Better Schools podcast.  This is a weekly show for ruckus makers — What is a ruckus maker?  A leader who has found freedom from the status quo. A leader looking to escape the old routine. A leader who never, ever gives up.
In today's episode, our guest Orly Friedman is one of our ruckus makers who will share her experience with you. She is the founder of a new K-8 school with a focus on developing a sense of agency in all students.
We hope you enjoy the podcast. All the highlights, resources, and next steps can be found below. Listen to the full episode here and learn more at betterleadersbetterschools.com
Key Talking Points
Introduction to Orly Friedman

The story of Orly

Building of efficient system for teachers

Red bridge vs traditional schools

Importance of grades

Training of staff with OKRs

Top three priorities

Advice for Ruckus makers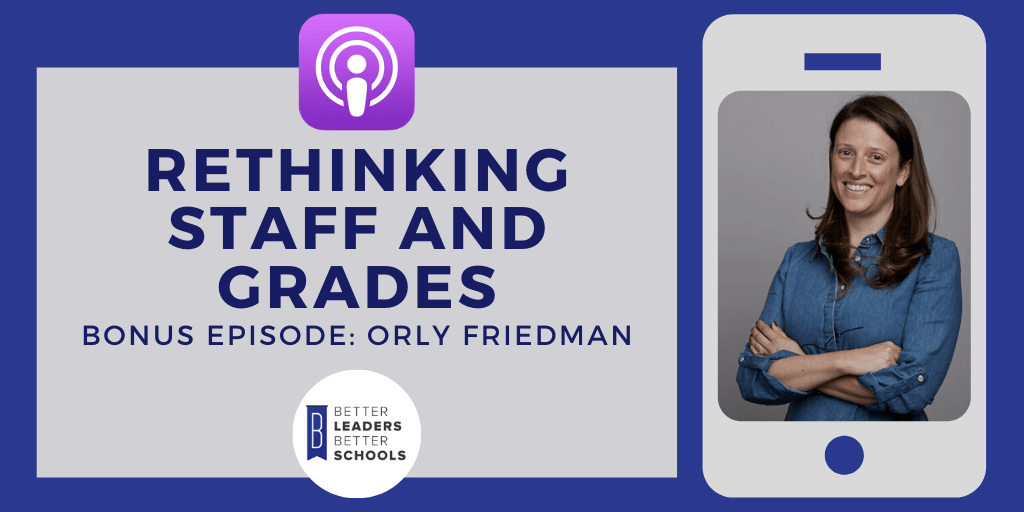 Key Milestones of the Episodes
[00:14] Introduction of Orly Friedman
[04:14] Orly's Story
[05:29] Making of school 
[12:20] Utilizing staff in different ways
[15:51] How do grades put a stop to learning?
[20:47] Orly's learning
[23:25] Example of a student or teacher's goal
[26:10] Training staff with OKRs
[27:42] Top three priorities for building and school
[29:59] Advice from Orly
Key Quotes
"Once you are like the coach Mentor role the way that their day is scheduled is one-on-one meetings students."

"In traditional schools all of the structures and systems are really designed to reward compliance."

"We know what motivates the adults and the same thing is true for kids, so you can give students mastery, autonomy, purpose and meaningful relationship.  They are going to love coming to school and that's true for students and teachers."
About Our Guest
Orly Friedman is the founder of Red bridge, a new K-8 school marching in San Francisco in September 2020. The focus of the school is developing a sense of agency in all students previously or they spent five years teaching Elementary School in Washington DC. She moved to California to get her MBA at Stanford after which she joined the founding team of Khan Lab School and work there for 4 years as head of lower school.
Resources 
SHOW SPONSORS:
Organized Binder is an evidence-based RTI2 Tier 1 universal level solution

Focuses on improving executive functioning and noncognitive skills

Is in direct alignment with the Universal Design for Learning (UDL) framework

Is an integral component for ensuring Least Restrictive Environments (LRE)
You can learn more and improve your student's success at https://organizedbinder.com/
Copyright © 2018 Better Leaders Better Schools
[bctt tweet="Building of Efficient System for Teachers. Listen to the full podcast here. #blbs #podcasts #OrlyFriedman" username="alienearbud"]
(Visited 575 times, 1 visits today)