It all started when…
The Conrad Foundation honors the legacy of Apollo 12 astronaut, Charles "Pete" Conrad, and his four-decade passion for innovation and entrepreneurship. Pete spent 20 years as a U.S. Navy Test Pilot and NASA Astronaut. In November 1969, he became the third man to walk on the Moon. After many years as an aerospace explorer, Pete's entrepreneurial spirit took flight. He founded four companies devoted to the commercialization of space travel. Unfortunately, Pete's pursuits were cut short with his passing in 1999.
Nancy Conrad, Pete's wife, shared his passion for inspiring future explorers, often working hand-in-hand with him prior to his death to launch his numerous commercial space businesses. In his passing, Nancy knew she wanted to keep Pete's spirit for innovation and entrepreneurship alive, but targeted to the next generation of explorers. 15 years ago, this former high school teacher launched the Conrad Foundation and its flagship program, the Conrad Challenge, encouraging students to Get Your Genius On™. Since then, she has become a recognized leader in transformative education, testifying before the U.S. Congress and speaking at global conferences. She is dedicated to energizing and engaging students in STEM fields through unique entrepreneurial opportunities.
[fusebox_track_player url="https://traffic.libsyn.com/secure/better/An_invitation_to_design_the_future.mp3″ artist="Nancy Conrad" title="An Invitation to Design the Future" social_twitter="true" social_facebook="true" social_linkedin="true" social_pinterest="true" social_email="true" ]
[fusebox_transcript]
Going into our 15th year, the Conrad Foundation continues to be the only organization of its kind whose programs combine science and technology-based education, innovation and entrepreneurship to inspire solutions for achieving global sustainability.
Show Highlights
Give your students an invitation to design the future

The "No box"  toolbox organic framework of innovation and entrepreneurship 

The Conrad Challenge will change the direction of lives

How education can become diplomacy promoting peace 

"Pull Education" changes the way students learn

Create authentic humans with opportunities for Geeky to Chic stardom

Opportunity to create commercially viable products that solve global & local challenges for students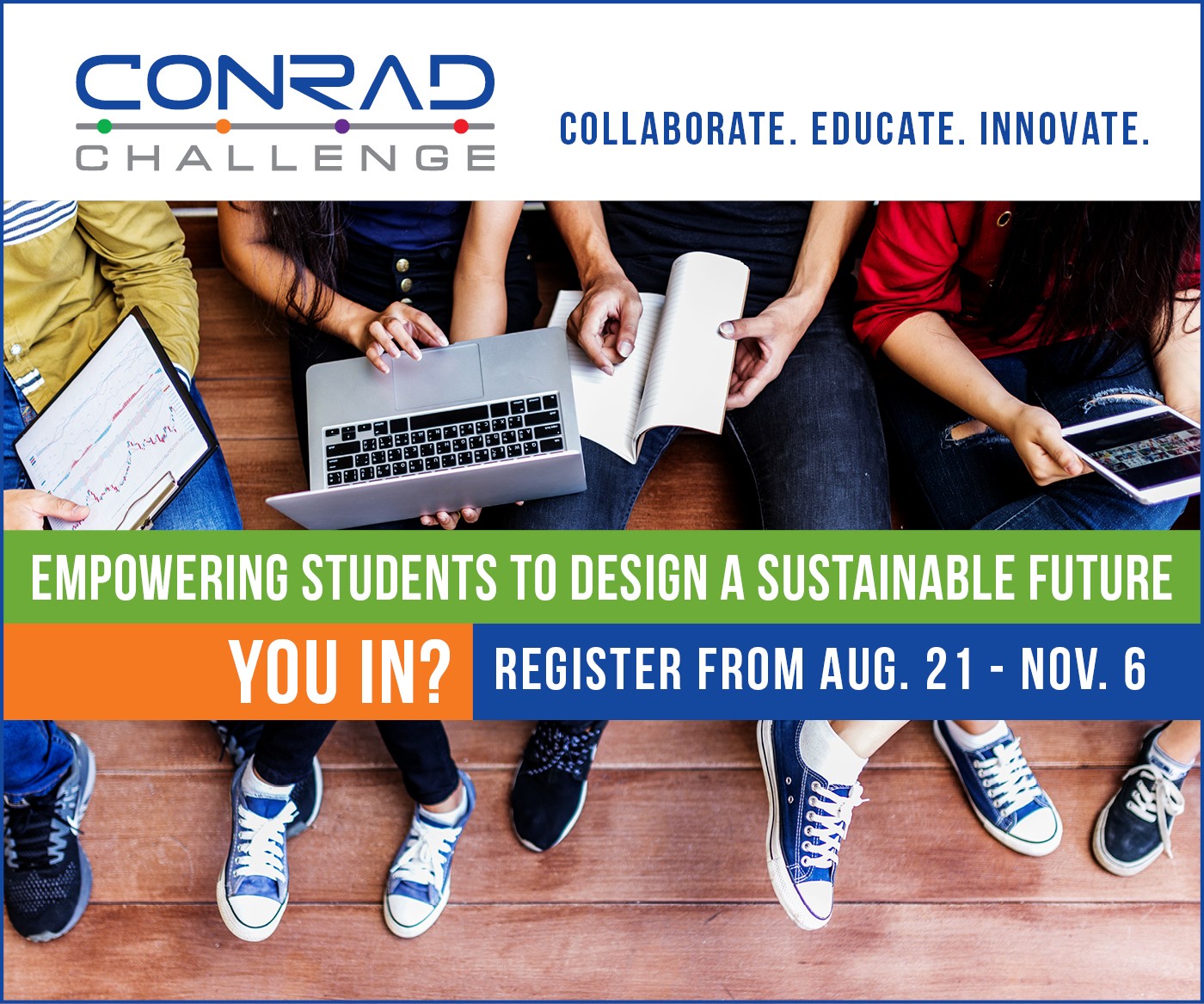 "My belief is that they see the world very much like the astronauts did when, when the astronauts went back to earth and saw this fragile blue planet. This blue marble suspended in a black velvet sky, there were no borders. There were no boundaries and it's fragile. These young people that work with us from around the world. It has been from Australia to Zimbabwe and everything in between. They see the world that same way. They connect with each other across countries, cities, states, socioeconomic levels, genders. They are a community of young humans that are very much tuned into the fragility of the planet."
– Nancy Conrad
Nancy Conrad's Resources & Contact Info:
Looking for more?
SHOW SPONSORS:
Organized Binder is an evidence-based RTI2 Tier 1 universal level solution

Focuses on improving executive functioning and noncognitive skills

Is in direct alignment with the Universal Design for Learning (UDL) framework

Is an integral component for ensuring Least Restrictive Environments (LRE)
You can learn more and improve your student's success at https://organizedbinder.com/
School leaders know that productive student talk drives student learning, but the average teacher talks 75% of class time! TeachFX is changing that with a "Fitbit for teachers" that automatically measures student engagement and gives teachers feedback about what they could do differently. 
Learn more about the TeachFX app and get a special 20% discount for your school or district by visiting teachfx.com/blbs.
Copyright © 2020 Twelve Practices LLC
(Visited 168 times, 1 visits today)