Jeff Becker's an award-winning school counselor and teacher with a Master's in Secondary Counseling and a second degree in communications- so he's a boots-on-the-ground leader and entrepreneur. Jeff is also an adjunct professor at National University for their Master's program in Social and Emotional Learning. He's the founder of two revolutionary products that help principals to deliver much-needed SEL to their kids without taxing their teachers. And it looks like something from Netflix, so kids love it.
[fusebox_track_player url="https://traffic.libsyn.com/secure/better/A_scalable_SEL_solution_for_schools.mp3″ artist="Jeff Becker" title="A scalable SEL solution for schools" social_twitter="true" social_facebook="true" social_linkedin="true" social_pinterest="true" social_email="true" ]
[fusebox_transcript]
Show Highlights
Solving the SEL need with 5 minute videos

How to Multiply yourself 

Build tension before you unpack solutions

Resources to help students build self-discipline 

What it's like to have a principal that trusts you

Archaic communication promotes the thing you're going against

As a school leader, you're the biggest bottleneck

Avoid 60 plus hour work weeks for your best year ever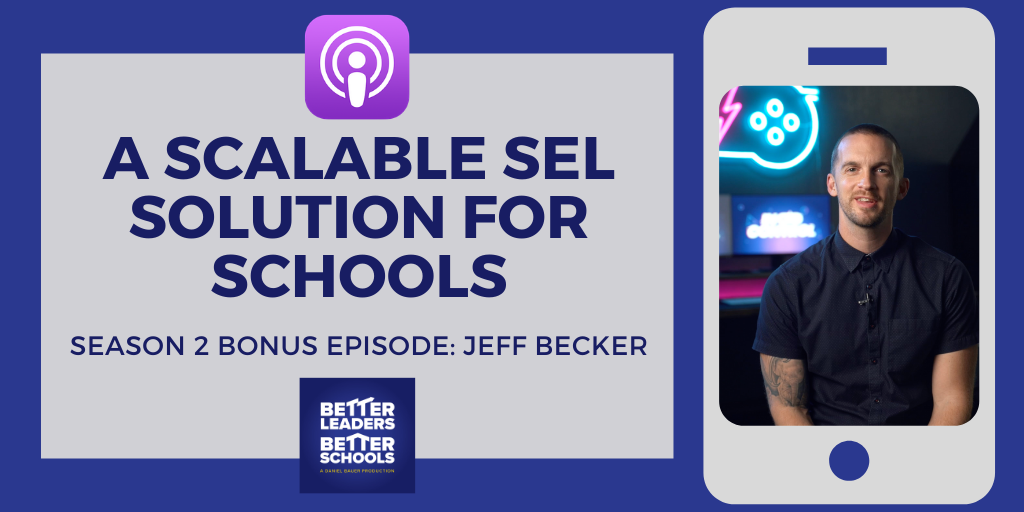 "The thing that keeps me up at night is all of these fires that we're constantly putting out as ed leaders. The more fires we're putting out and jumping around and being reactive, the less we're proactive about the skills that we're given to our children."
– Jeff Becker 
Jeff Becker's Resources & Contact Info:
Looking for more?
SHOW SPONSORS:
HARVARD GRADUATE SCHOOL OF EDUCATION
Transform how you lead to become a resilient and empowered change agent with Harvard's online Certificate in School Management and Leadership. Grow your professional network with a global cohort of fellow school leaders as you collaborate in case studies bridging the fields of education and business. Apply today at http://hgse.me/leader.
School leaders know that productive student talk drives student learning, but the average teacher talks 75% of class time! TeachFX is changing that with a "Fitbit for teachers" that automatically measures student engagement and gives teachers feedback about what they could do differently. 
Learn more about the TeachFX app and get a special 20% discount for your school or district by visiting teachfx.com/blbs.
Organized Binder is the missing piece in many classrooms. Many teachers are great with the main content of the lesson. Organized Binder helps with powerful introductions, savvy transitions, and memorable lesson closings. Your students will grow their executive functioning skills (and as a bonus), your teachers will become more organized too. Help your students and staff level up with Organized Binder.
Copyright © 2021 Twelve Practices LLC
(Visited 182 times, 1 visits today)