Clement Townsend is a former journalist who spent 17 years on TV and told more than 1,000 stories. He now teaches youth how to use their voice and video to tell impactful stories with authenticity and creativity. He has a proven record of teaching youth with a fun and robust program. In addition to learning journalism participants develop in demand skills that can benefit them in any career field they choose.
Now more than ever youth need 21st century skills that can set them up for success in life. If you can click a mouse you can teach your students video journalism. Enrollment is limited so he can ensure teacher satisfaction and student success.
Show Highlights
Be an "Inform impactor" with this framework.

Tips for becoming a broadcasting star.

Meaningful media to inform, inspire, and impact student's lives.

Everybody needs these communication skills.

How to take a relevant idea and create tangible outcomes?

Valuable, employable, life skills that unlock doors of opportunity.

Master the predominant form of communication.

Bridge the gap to establish student voice with a FREE download.

Broadcasting Career Mentor Program.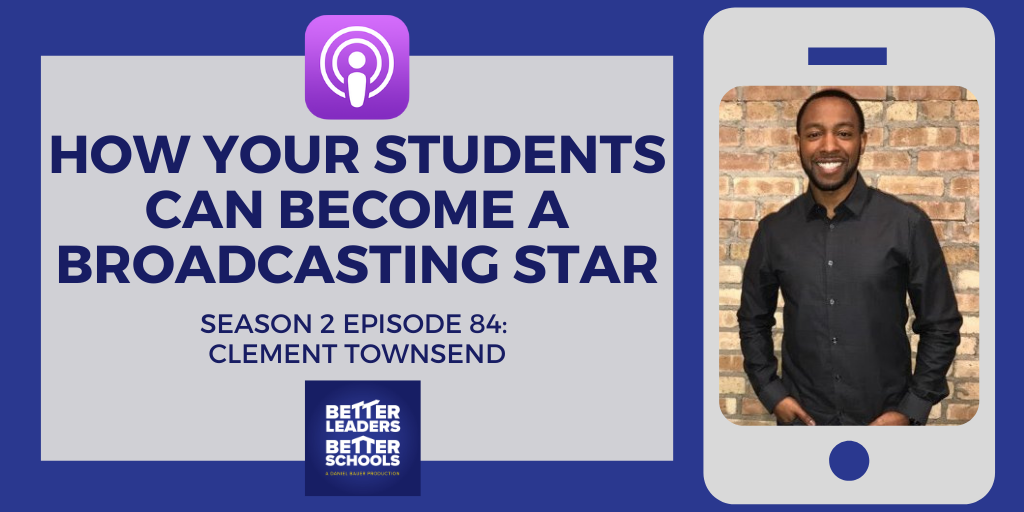 "Having students understand the creativity aspect, the outlet to express themselves, to talk about the positive things they see happening in their community or specifically for your audience. Allowing students to showcase the positive things happening in their school with video. It's about really allowing students to connect with their learning, to their everyday life, really trying to bridge the gap."
-Clement Townsend
Clement Townsend's Resources & Contact Info:
Looking for more?
Oops! We could not locate your form.
SHOW SPONSORS:
HARVARD GRADUATE SCHOOL OF EDUCATION
Transform how you lead to become a resilient and empowered change agent with Harvard's online Certificate in School Management and Leadership. Grow your professional network with a global cohort of fellow school leaders as you collaborate in case studies bridging the fields of education and business. Apply today at http://hgse.me/leader.
School leaders know that productive student talk drives student learning, but the average teacher talks 75% of class time! TeachFX is changing that with a "Fitbit for teachers" that automatically measures student engagement and gives teachers feedback about what they could do differently. 
Learn more about the TeachFX app and get a special 20% discount for your school or district by visiting teachfx.com/blbs.
Organized Binder is the missing piece in many classrooms. Many teachers are great with the main content of the lesson. Organized Binder helps with powerful introductions, savvy transitions, and memorable lesson closings. Your students will grow their executive functioning skills (and as a bonus), your teachers will become more organized too. Help your students and staff level up with Organized Binder.
Copyright © 2021 Twelve Practices LLC
(Visited 168 times, 1 visits today)