Welcome to the Better Leaders Better Schools podcast.  This is a weekly show for ruckus makers — What is a ruckus maker?  A leader who has found freedom from the status quo. A leader looking to escape the old routine. A leader who never, ever gives up.
Do you have a dream of writing and publishing a book, but you do not go how to about it?  Everyone has a book inside them. The problem is how to transform it into reality.   
In today's episode, our guest Caleb is one of our ruckus makers who thinks he has a book inside him. Danny coaches Caleb on how to find the book within and the process of how to write and publish his book.
We hope you enjoy the podcast. All the highlights, resources, and next steps can be found below. Listen to the full episode here and learn more at betterleadersbetterschools.com
Key Talking Points 
Introduction to Caleb

Finding the time to write

Brainstorming your book topic

Dealing with Imposter Syndrome

Developing your audience and identity

Finding a publisher and presenting your book

Understanding self-publishing

Caleb's next step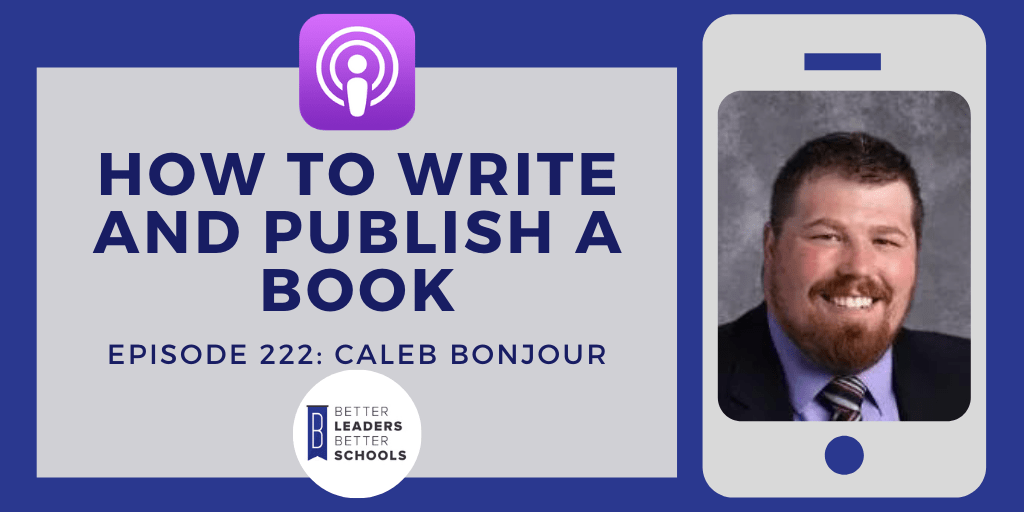 Key Milestones of the Episodes
[00:35] Introduction to Caleb Bonjour
[07:27] Committing and setting time aside for writing
[11:35] Brainstorming your book topic
[17:43] imposter syndrome and how to deal with it
[20:48] Developing your audience and identity
[25:11] Pitching a publisher
[28:20] Understanding self-publishing
[31:46] Caleb's next step
Key Quotes
"You can't please everyone."

"Humans are imperfect beings, so we do make mistakes."

"Amazing educators take the opportunity to write a book and tell their story or shared some of their knowledge and wisdom."

"You need to write a bunch of garbage to get to the goal."

"Your job is to create the content."

"What sets successful people apart from others – even though we all have that inner critic – is that they act professionally…"

"You get more creative control if you're self-publish."
Key Resources
About Our Guest
Caleb Bonjour is a fun loving educator that strives to be a lifelong learner. He has an amazing, supportive wife Amanda, a talkative and rambunctious five-year-old son Lincoln, and a 3 year old daughter McKinley. They also have three great dogs, Milo (an American Bulldog), Willow (a Cocker Spaniel), and Rosie (A Fox Red Labrador that is training to be a therapy dog for schools). Caleb loves being with his family, watching and playing sports, listening to many varieties of music, and learning more and more leadership and education on a daily basis.
Caleb strives to be the best educator he can be through studying best practices and constantly changing or adapting his practices to reach all students and staff. He has taught and coached with Pella Community Schools and Grundy Center Community Schools and is in his second administrative position as Principal of Cardinal Elementary in the Maquoketa Community School District.
Tip of the Week
Loosen up: Stop taking yourself too seriously. Humans are imperfect beings, so we do make mistakes. Sometimes we trip, we might spill our coffee on ourselves. You need to laugh at yourself and tell people those kind of stories.
SHOW SPONSORS:
Organized Binder is an evidence-based RTI2 Tier 1 universal level solution

Focuses on improving executive functioning and noncognitive skills

Is in direct alignment with the Universal Design for Learning (UDL) framework

Is an integral component for ensuring Least Restrictive Environments (LRE)
You can learn more and improve your student's success at https://organizedbinder.com/
Copyright © 2018 Better Leaders Better Schools
(Visited 62 times, 1 visits today)