Welcome to the Better Leaders Better Schools podcast.  This is a weekly show for ruckus makers — What is a ruckus maker?  A leader who has found freedom from the status quo. A leader looking to escape the old routine. A leader who never, ever gives up.
We all know there a times when we have to "tell like it is" in a conversation. Yet, there is no roadmap to having these conversations. How you do give clear feedback without sounding rude or inconsiderate? How do we create environments where staff can move from "being nice" to telling us the truth when it matters?
These are the questions (and more) that Joseph and TJ cover in this episode
We hope you enjoy the podcast. All the highlights, resources, and next steps can be found below. Listen to the full episode here and learn more at betterleadersbetterschools.com
Key Talking Points 
    The need for authentic feedback and criticism

    Why candor is more about being specific vs just being honest

    Why clear expectations should be the foundation of every relationship you build

    How to give conversation with candor and clear expectations

    Ensuring accountability within yourself

    Creating an environment where candid conversations can really happen
Key Milestones of the Episodes
[7:20] How do we break out a culture of trying to be nice all the time
[9:00] What are some common misperceptions people have about having candid conversations?
[17:35] What should we do if our best practices and strategies aren't working?
[24:22] Being candid with yourself
[26:50] How to encourage candid conversations with staff
[29:17] How do we empower teachers to be more candid leaders?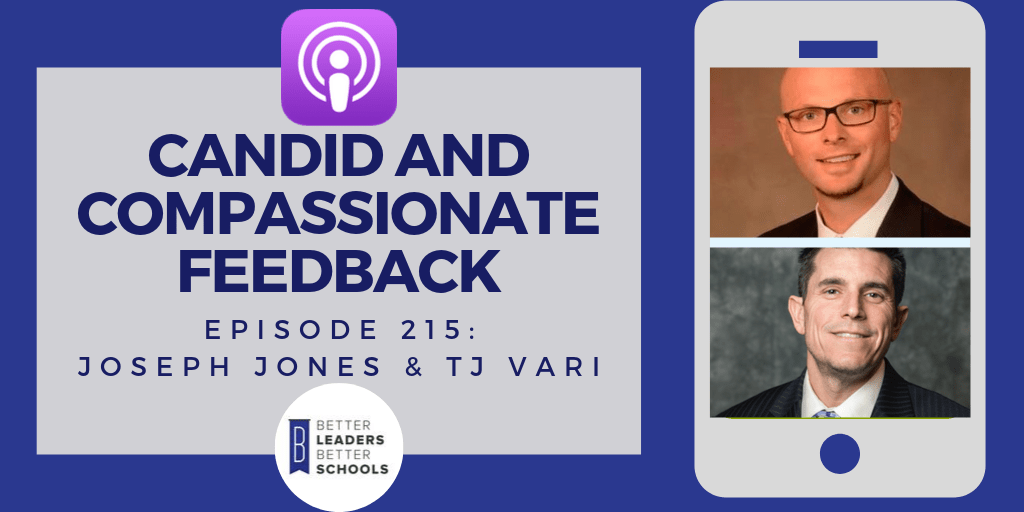 Key Quotes
"Very often when we talk about candor,it's associated with being rude.."
"Unfortunately, we often miss the mark in order to help people…because we sugarcoat things."
"The relationship is far better when we have a firm ground on which to start it."
"With precision, you can go faster."
Key Resources
Candid and Compassionate Feedback by Joseph Jones & Dr. TJ Vari
Nuance: Why Some Leaders Succeed and Others Fail by Michael Fullen
About Our Guests
Both of our guests are school administrators and educators.
 Dr. Joseph Jones is the Director of Assessment and Accountability in the New Castle County Vocational-Technical School District. Dr. T.J. Vari is the Assistant Superintendent of Secondary Schools and District Operations in the Appoquinimink School District. Dr. Jones and Dr. Vari are co-authors of the new book: Candid and Compassionate Feedback: Transforming Everyday Practice in Schools.
Dr. TJ Vari LinkedIn
Dr. Joseph Jones LinkedIn
Tip of the Week
The Angry Parent: Always direct the angry parent back to the teacher.  The parent should always go to the teacher first as they are in the trenches and may have information the parent needs to possibly solve the issue at hand,  This is an important step as 99% of the time the issue will be handled at the teacher level and empowers the teacher and adds respect and trust.
SHOW SPONSORS:
Organized Binder is an evidence-based RTI2 Tier 1 universal level solution

Focuses on improving executive functioning and noncognitive skills

Is in direct alignment with the Universal Design for Learning (UDL) framework

Is an integral component for ensuring Least Restrictive Environments (LRE)
You can learn more and improve your student's success at https://organizedbinder.com/
Empowers teachers with feedback on student engagement

A fitbit for teachers that measures student engagement

Research shows that the more students speak in class, the more they learn, and the better they perform on standardized tests.

Use your phone or laptop to analyze your class, and the app's artificial intelligence (AI) algorithm tracks your talk ratio automatically, with no extra work from you or an instructional coach.

The idea is to give teachers a useful barometer of student engagement you can check every day!
You can learn more and improve your student's success at https://teachfx.com/
Copyright © 2018 Better Leaders Better Schools
(Visited 212 times, 1 visits today)