Welcome to the Better Leaders Better Schools podcast.  This is a weekly show for ruckus makers — What is a ruckus maker?  A leader who has found freedom from the status quo. A leader looking to escape the old routine. A leader who never, ever gives up.
Emotions are something we carry around with us 24/7, yet we only let them out for a few hours at home.
Why?
Why do we limit our emotions to such a small part of our day when they can have such a big impact on our life?
Christie Mann, author, leadership coach, and spiritual psychologist explores these questions through her own story as a 13-year old with a father in jail and mistaken belief that suppressing emotions was the best way forward.
We hope you enjoy the podcast. All the highlights, resources, and next steps can be found below. Listen to the full episode here and learn more at betterleadersbetterschools.com
Key Talking Points 
Christie's origin story of emotional recovery

Why Christie feels children and adults need to have emotional wellness

How to get started with expressing your emotions in a healthy way

The power of transforming challenges into your life into lessons and gifts

The "Cape On!" message Christie has for children and adults

Different ways that adults can (accidentally) teach kids to suppress emotions

Including emotional wellness in the curriculum for stronger kids and adults
Key Milestones of the Episodes
[7:00] Christie's origin story
[9:10] Addressing emotional intelligence in children & adults
[11:40] How would you start learning how to work with your emotions, instead of suppressing them?
[16:07] How do you reframe challenges as gifts?
[20:23] What is the bigger "Why" behind your mission?
[24:05] The bad things we say as adults that emotionally harm our children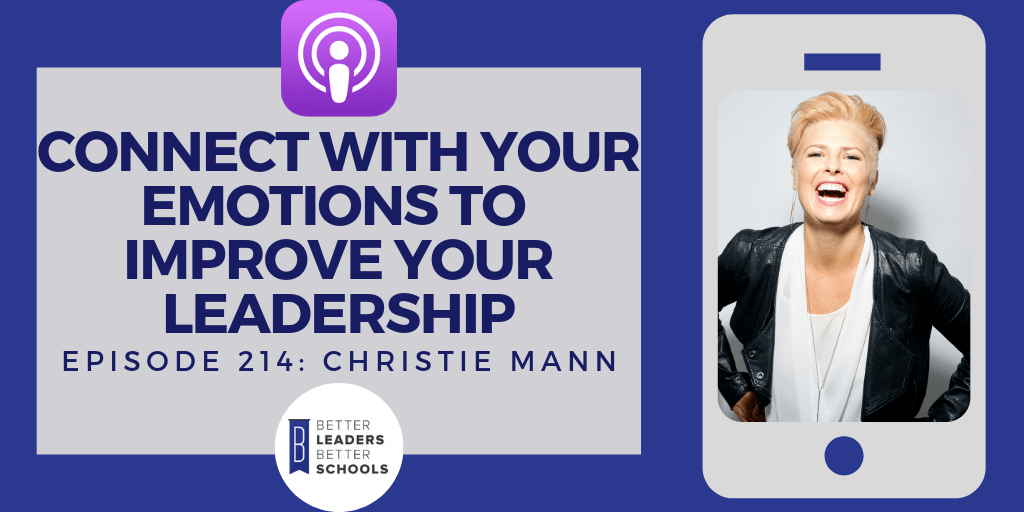 Key Quotes
"Part of the story was 'I can't feel emotions because there's no time for it and there's no space to be sad."
"There is…much more demand for people to bring their full self to work."
"I like to think about how much energy we put into suppressing our emotions."
"I had to train myself how to allow emotions to come up in a healthy and responsible way because I've suppressed them for so long…."
"When we tell children in our world not to have the emotion…that is actually shutting down the emotion."
Key Resources
Adventures of Little Sass by Christie Mann
The Obstacle is the Way by Ryan Holiday
About Our Guest
Christie Mann has made it her mission to fulfill her purpose of being a leader who develops leaders. Christie is a best-selling author, spiritual psychologist, leadership coach, speaker and Kundalini Yoga & Meditation teacher who designs and facilitates transformational content that make our world a healthier place to be. A proud member of CTI's Faculty and Organizational Coaching teams and the creator of The Adventures of Lil' Sass, a series of emotional wellness books for young people. 
Join the Adventure here: www.lilsass.com 
@adventuresoflilsass 
Tip of the Week
Don't change anything as a first year principal: As a first year principal you need to take the time to develop relationships.  Know your people and observe what is what and how everything meshes together. Change is difficult and is much easier when trust has been built with your employees.  Be an active listener and focus on building strong relationships with your staff prior to making any changes.
SHOW SPONSORS:
Organized Binder is an evidence-based RTI2 Tier 1 universal level solution

Focuses on improving executive functioning and noncognitive skills

Is in direct alignment with the Universal Design for Learning (UDL) framework

Is an integral component for ensuring Least Restrictive Environments (LRE)
You can learn more and improve your student's success at https://organizedbinder.com/
Empowers teachers with feedback on student engagement

A fitbit for teachers that measures student engagement

Research shows that the more students speak in class, the more they learn, and the better they perform on standardized tests.

Use your phone or laptop to analyze your class, and the app's artificial intelligence (AI) algorithm tracks your talk ratio automatically, with no extra work from you or an instructional coach.

The idea is to give teachers a useful barometer of student engagement you can check every day!
You can learn more and improve your student's success at https://teachfx.com/
Copyright © 2018 Better Leaders Better Schools
(Visited 104 times, 1 visits today)