Welcome to the Better Leaders Better Schools podcast.  This is a weekly show for ruckus makers — What is a ruckus maker?  A leader who has found freedom from the status quo. A leader looking to escape the old routine. A leader who never, ever gives up.
If education is about the future, why do we spend more time checking boxes versus innovating?
Why do we highlight innovative educational programs only to repeat the same things we do every year in school?
These are the questions Dr. Elizabeth Micci tackles in this episode of Better Leaders, Better School. Dr. Micci shares with us her practices (like getting up at 5:45 to hike) and her experiences that led her to reflect and make a dramatic change to help create authentic and fun learning experiences for her students.
We hope you enjoy the podcast. All the highlights, resources, and next steps can be found below. Listen to the full episode here and learn more at betterleadersbetterschools.com
Key Talking Points 
Why she gets up at 5:45 to hike with others

Her graduate experience at Harvard and research on making powerful school change

How to create unique and real-world experiences, even on a small "this is all we have from the county" budget

The importance and practice of reflection
Key Milestones of the Episodes
[6:00] So…you get up before 5:45 …to hike?
[7:33] What are some tips on improving your willpower to get up early and exercise?
[11:14] Dr. Micci's experience and research at the Harvard University Graduate School of Education
[14:00] How did your experiences at the graduate school impact you?
[19:00] What are some examples of school projects that used unique, real-world experiences?
[25:25] How would you respond to critics of your real-world experience approach?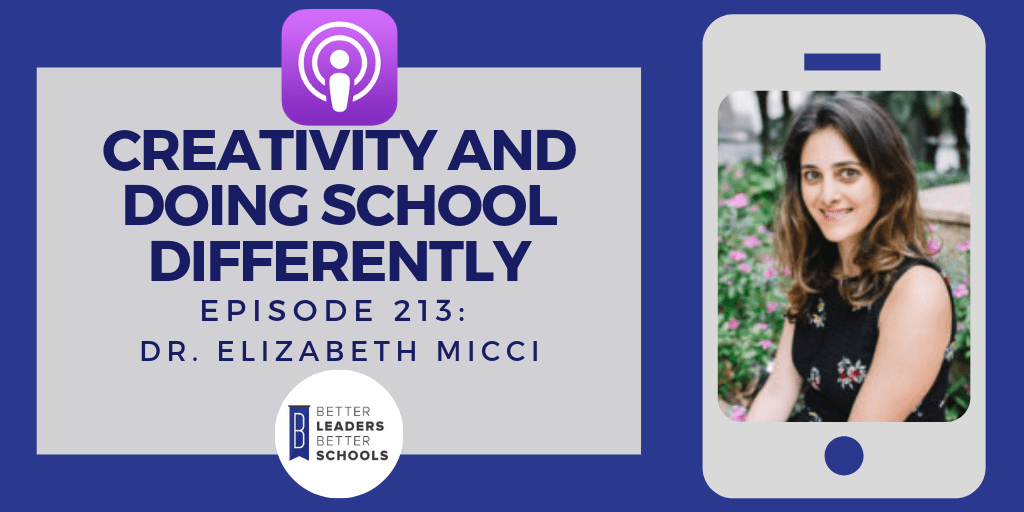 Key Quotes
"Getting up and getting that workout in before the day start adds a level of energy to out day that we didn't have before."

"Content, in the real world, is always integrated."

 "We always say things in education like 'Design with the end in mind', but if you look at how operate, this infrequently happens."

"It's about asking yourself 'What are you really trying to do, teach this student that's right in front of you or check a box."

"…look at the broader world as your classroom."
Key Resources
This is Marketing by Seth Godin
Don't forget to catch more episodes and resources at the Better Leaders Better Schools website.
About Our Guest
Beginning her career in education with Teach For America, Elizabeth taught secondary English before going on to co-found and administrate a college preparatory academy in Houston, TX. She returned to graduate school for her Doctor of Education Leadership degree from the Harvard Graduate School of Education, joining The Harbour School in 2017 as a researcher and member of the high school humanities faculty. Elizabeth was named High School Principal at THS in July 2018.
Dr. Elizabeth Micci's Contact Info
Tip of the Week
Do No Be a Workaholic: Make sure you are balancing your life and no spending all of your time a school.  Leaders need downtime and time to reflect. Take that time whenever you can. Don't stay at school late at night in your office.  Go home, find a new routine to help balance your personal and professional life. Model this for your teachers as well. They cannot be workaholics either!
SHOW SPONSORS:
Organized Binder is an evidence-based RTI2 Tier 1 universal level solution

Focuses on improving executive functioning and noncognitive skills

Is in direct alignment with the Universal Design for Learning (UDL) framework

Is an integral component for ensuring Least Restrictive Environments (LRE)
You can learn more and improve your student's success at https://organizedbinder.com/
Empowers teachers with feedback on student engagement

A fitbit for teachers that measures student engagement

Research shows that the more students speak in class, the more they learn, and the better they perform on standardized tests.

Use your phone or laptop to analyze your class, and the app's artificial intelligence (AI) algorithm tracks your talk ratio automatically, with no extra work from you or an instructional coach.

The idea is to give teachers a useful barometer of student engagement you can check every day!
You can learn more and improve your student's success at https://teachfx.com/
Copyright © 2018 Better Leaders Better Schools
(Visited 381 times, 1 visits today)