Welcome to the Better Leaders Better Schools podcast.  This is a weekly show for ruckus makers — What is a ruckus maker?  A leader who has found freedom from the status quo. A leader looking to escape the old routine. A leader who never, ever gives up.
Up next you can hear Daniel Bauer's interview with Dan Pink. In today's conversation he speaks with NY Times BestSelling Author Daniel Pink and discusses his new book: When: The Scientific Secrets of Perfect Timing.
We hope you enjoy the podcast. All the highlights, resources, and next steps can be found below. Listen to the full episode here and learn more at betterleadersbetterschools.com
Getting to know Dan Pink
Daniel H. Pink is the author of six provocative books — including his newest, When: The Scientific Secrets of Perfect Timing, which spent four months on the New York Times bestseller list and was named a best book of 2018 by Amazon, iBooks, Goodreads, and several more outlets. His other books include the long-running New York Times bestseller A Whole New Mind and the #1 New York Times bestsellers Drive and To Sell is Human. His books have won multiple awards and have been translated into 39 languages. He lives in Washington, DC with his family.
Why When
Dan wrote his latest book When to distinguish between the times when he should be doing certain things to ensure that they were done.  He was making decisions haphazardly and looked for guidance which did not exist at the time. Dan started researching timing and discovered that there is an abundance of research around timing in a multitude of disciplines.  They all shared a commonality and Dan focused on that part of the research.
"How does the rhythm of the day affect how we feel, how we perform, how do new beginnings affect us, how do midpoints affect us and shape our behavior, what do ending do for us and how do groups synchronize time." – Dan Pink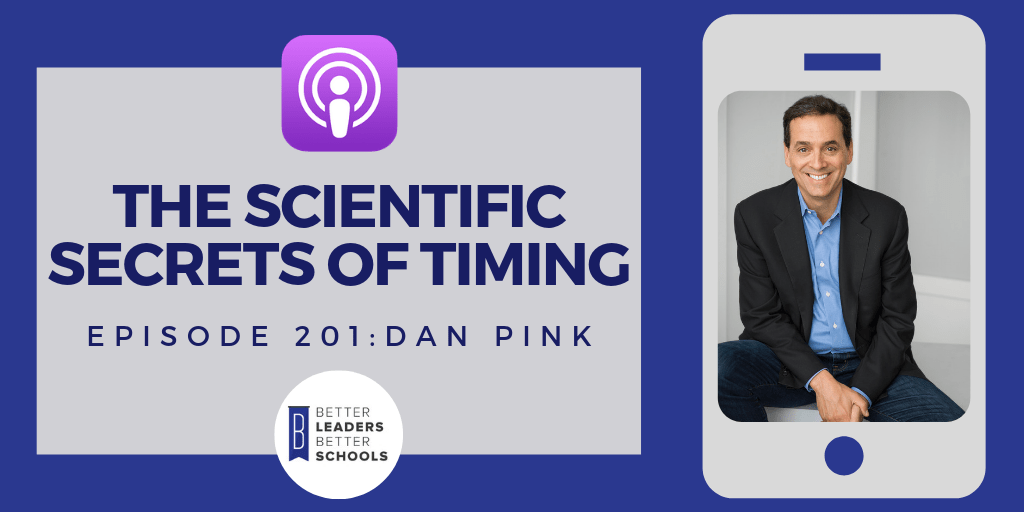 Moving Through the Day
Dan explains that we tend to move through the day in three stages.  We begin with peak then move to trough then recover. Most of us move through the day in this order with the exception of night owls.  They do not and are much more complicated. 20% of the population has an evening chronotype causing them to naturally stay up late and wake up late.  Peak is in the morning, trough is in the afternoon and recover is in the evening. Peak is the time of the day where we should be doing our analytical work.
"Trough is a very bad time of day for most people.  This is when you should do your administrative work." – Dan Pink
Impact
Dan wrote this book because he wanted to read it.  There was nothing else out there like this and it impacted how he arranged his daily schedule.  He was glad that he wrote it because he learned a lot, it had the most impact in his day to day life, and it changed how he does things.
"I think I have written six books and of the six books I have written this one has probably had the most impact on my day to day life." – Dan Pink
Leveraging the Power of Endings
Dan explains that endings have multiple effects on our behavior.  One of those is that it energizes us when we see the end in sight so we kick a bit harder.  Endings help us encode experiences, which is they play a disproportionate role in how we remember and evaluate entire experiences.  Some endings are meaning makers and that means that we may not get to the end of something so we start searching for a rise in sequences instead of a decline.
"Interim deadlines can be effective for students with long term projects will help the students move a little bit faster." – Dan Pink
SHOW SPONSORS:
Organized Binder is an evidence-based RTI2 Tier 1 universal level solution

Focuses on improving executive functioning and noncognitive skills

Is in direct alignment with the Universal Design for Learning (UDL) framework

Is an integral component for ensuring Least Restrictive Environments (LRE)
You can learn more and improve your student's success at https://organizedbinder.com/
Empowers teachers with feedback on student engagement

A fitbit for teachers that measures student engagement

Research shows that the more students speak in class, the more they learn, and the better they perform on standardized tests.

Use your phone or laptop to analyze your class, and the app's artificial intelligence (AI) algorithm tracks your talk ratio automatically, with no extra work from you or an instructional coach.

The idea is to give teachers a useful barometer of student engagement you can check every day!
You can learn more and improve your student's success at https://teachfx.com/
Copyright © 2018 Better Leaders Better Schools
(Visited 304 times, 1 visits today)