Welcome to the Better Leaders Better Schools podcast.  This is a weekly show is for ruckus makers — What is a ruckus maker?  A leader who has found freedom from the status quo. A leader looking to escape the old routine. A leader who never, ever gives up.
Up next you can hear Daniel Bauer's interview with David Domena. They discuss creating memorable learning experiences.
We hope you enjoy the podcast. All the highlights, resources, and next steps can be found below. Listen to the full episode here and learn more at betterleadersbetterschools.com
Getting to know David
David is a fourth-grade elementary teacher in southern California but is transitioning to third-grade. David came to education as a second year as he managed retail warehouses for 12 years, this gives him a different perspective on education. David is passionate about teaching the whole student, establishing meaningful relationships with the students, and creating memorable experiences for the students.
David is known for his honesty, enthusiasm, and strategically speaking his mind. David loves being present with his family and doing random acts of kindness.
Creating Memorable Experiences
David talks about how on the first day of class he took his students out to the volleyball court and did a cookie challenge. He told the students that this is all about trying something new and being open-minded. To get into the classroom, students just had to try this but did not have to be successful. David said this helped set the tone that everything is earned throughout the year.
Breaking things down into small steps can create clarity and help create a connection with the community that you are working within.
"This is all about trying things and not being worried about what others are thinking about you." – David Domena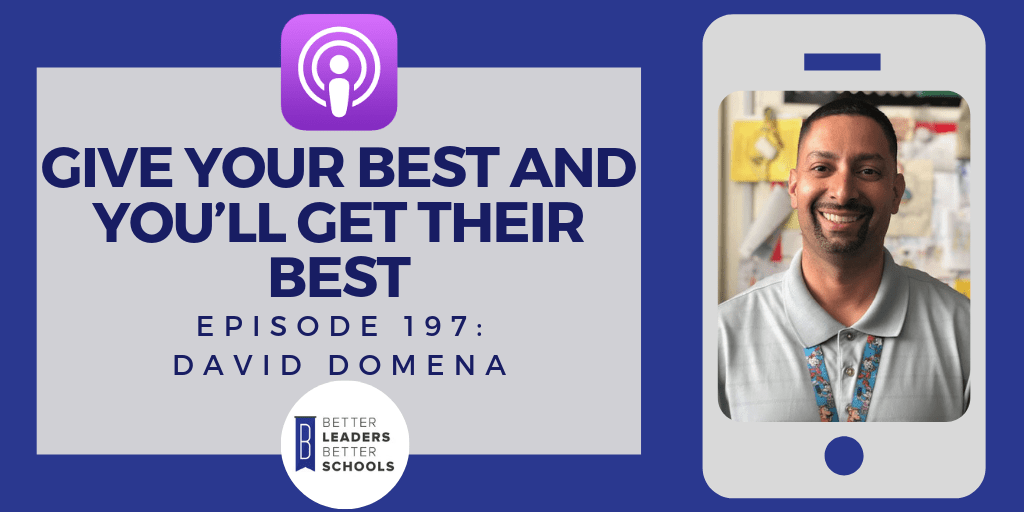 Anonymous Acts of Kindness
David says this is much more powerful when people do not know where it is coming from. The reward comes from people acknowledging the gift of kindness but not knowing who it actually comes from.
David's most significant act of kindness is setting up a Kindness Club at school and seeing the students giving help. This help goes out to all the staff around the building.
Daniel reminds us that meeting with everyone in your community helps the overall goals of education. Everyone can have a great idea and hearing input from others can help create unity and a better learning environment.  
What is your why?
David shares that his why is getting rewards beyond a paycheck such as seeing students grasping a new concept or installing academic confidence. An example was when a student improved his score by 8 points and having the student realize that this was a great accomplishment and allowing them to take that small gain.
"Turning around someone's day or witnessing a student's growth shows that I'm doing the right thing." – David
Biggest Leadership Mistakes
Was when David was back in the warehouse and the company was starting to plan his exit. David says that he was clueless about this and regretted not being able to prepare them for this. He wasn't able to help them set up an exit plan, and he carried this with him for a while.
Some people do not want to take ownership of their mistakes which creates problems with not learning from their mistakes.
"I do call and responses for my students and have them move around a lot to get them to be comfortable with their mistakes. The students can acknowledge this and be okay with it." David
Routines and Rituals
David starts his day off early and gets a mild workout in before his wife and kids are up. David then sets his intention for the day.
Daniel reminds us to think where we need to be perfect and where can we give 70-80% effort. People get to leadership roles and want to give their best to certain projects and really diving into them to make them perfect.
How would you build your dream school?
Market it as a leadership academy and focus on foundational skills, leadership, kindness, and service. Academics would emerge from teacher passion and not force into what they need to teach.
3 priorities
  

Enthusiastic educators

  

Flexible curriculum

  

Huge massive budget
SHOW SPONSORS:
Organized Binder is an evidence-based RTI2 Tier 1 universal level solution

Focuses on improving executive functioning and noncognitive skills

Is in direct alignment with the Universal Design for Learning (UDL) framework

Is an integral component for ensuring Least Restrictive Environments (LRE)
You can learn more and improve your student's success at https://organizedbinder.com/
Empowers teachers with feedback on student engagement

A fitbit for teachers that measures student engagement

Research shows that the more students speak in class, the more they learn, and the better they perform on standardized tests.

Use your phone or laptop to analyze your class, and the app's artificial intelligence (AI) algorithm tracks your talk ratio automatically, with no extra work from you or an instructional coach.

The idea is to give teachers a useful barometer of student engagement you can check every day!
You can learn more and improve your student's success at https://teachfx.com/
Copyright © 2018 Better Leaders Better Schools
(Visited 49 times, 1 visits today)