Welcome to the Better Leaders Better Schools  podcast. This is a weekly show is for ruckus makers — What is a ruckus maker?  A leader who has found freedom from the status quo. A leader looking to escape the old routine. A leader who never, ever gives up.
Up next you can hear Daniel Bauer's interview with Afika Afeni Mills they explore 3 skills all leaders need, going deep with equity and eradicating blind spots.
We hope you enjoy the podcast. All the highlights, resources, and next steps can be found below. Listen to the full episode here and learn more at betterleadersbetterschools.com
Getting to know Afrika
Afrika Afeni Mills is the Manager of Culturally Responsive Teaching and Learning and an Instructional Coach with BetterLesson. She works with teachers, coaches and administrators to transform instructional practices and empower all students to thrive. A former teacher, administrator and prominent thought leader, she has been featured on podcasts discussing the school-to-prison pipeline and white fragility and co-presented Required Reading Reconsidered and Interrogating the Curriculum at conferences across the U.S.

Afrika holds a master's degree in elementary teaching from Boston College's Lynch School of Education, where she graduated first in her class. Afrika believes that all teachers can be motivated, engaged, dynamic educators and leaders when provided with the support needed to create student-centered, culturally responsive learning environments that inspire wonder and creativity and nurture diversity, equity and inclusion.
Three Skills Leaders Need
Afrika credits Paul Gorski of the Equity Literacy Institute for these three skills after a conference she attended.  
These really resonated with her.
Having Good Will

A depth of knowledge and curiosity

The will to change
"When it comes to some of the inequitable practices and policies that exist in schools and even thinking about curriculum being inclusive and things like that, we also need to have a depth of knowledge about that history and the curiosity about that and what students most need and then the will to change those things to make sure we're always serving students the best. So I think those three, those three qualities are really important for a leader." – Afrika Afeni Mills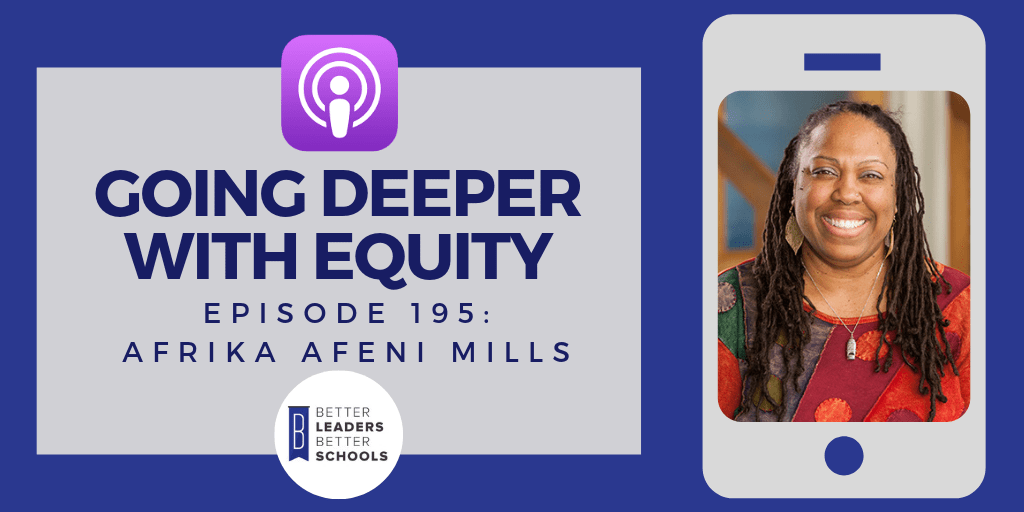 Going Deep with Equity
Afrika talks about the conference she recently attended and how just serving others makes them more comfortable but really doesn't solve or end the issue at hand.  She talks about this experience being eye opening.
"Paul Gorski said that those things absent of really thinking about why the inequities exist in the first place, it's not going to end anything.  So we really have to have that will to dismantle inequitable practices in our schools. And that just really was like, wow.  And I didn't really think about it that way." – Afrika Afeni Mills
Eradicating Blind Spots
Afrika talks about the idea that if we are not experiencing some of the inequitable practices personally, then we have blind spots.  She says it's not because we are terrible people, it just doesn't occur to us to think about it.
"When I became a teacher, I'm just like, I grew up in Brooklyn, you know, I grew up in Flatbush, I know what it's like to have some challenges.  So when I became a teacher, I made the wrong assumption that I'm already culturally responsible because I'm a black woman who grew up in an urban setting. Right.  And then I started teaching and I'm like, oh man, was I wrong!" – Afrika Afeni Mills
AFRIKA AFENI MILLS Resources:
 AFRIKA AFENI MILLS Contact Info:
SHOW SPONSORS:
Organized Binder is an evidence-based RTI2 Tier 1 universal level solution

Focuses on improving executive functioning and noncognitive skills

Is in direct alignment with the Universal Design for Learning (UDL) framework

Is an integral component for ensuring Least Restrictive Environments (LRE)
You can learn more and improve your student's success at https://organizedbinder.com/
Empowers teachers with feedback on student engagement

A fitbit for teachers that measures student engagement

Research shows that the more students speak in class, the more they learn, and the better they perform on standardized tests.

Use your phone or laptop to analyze your class, and the app's artificial intelligence (AI) algorithm tracks your talk ratio automatically, with no extra work from you or an instructional coach.

The idea is to give teachers a useful barometer of student engagement you can check every day!
You can learn more and improve your student's success at https://teachfx.com/
Copyright © 2018 Better Leaders Better Schools
(Visited 582 times, 1 visits today)