Cory L. Cain was raised amongst the vast palm trees of  Fort Lauderdale, Florida. He has served as a teacher, lead teacher, dean, department chair, assistant principal, and principal.  In these positions,  he has focused on communicative approaches to teacher-led professional development, cooperative learning, and data-driven instructional practices and has led the STEM department to record standardized test scores. Previously, he led a teacher-led hiring initiative that he created, based on behavior-based interviewing; developed Yale-based, social-emotional training classes for teachers; and has spent the last year helping eradicate educational inequity by becoming a leader in working with educators to envision a new story where the power of personal relationships nurtures academic, social and emotional growth for young people at Wendell Phillips High School in Bronzeville. After spending nearly twenty years working in urban education, focusing on communicative approaches to teacher-led professional development; cooperative learning; data-driven instructional practices; behavior-based interviewing; and Yale-based, social-emotional training classes for teachers, he aspires to serve as a coach that focuses on creating inclusive communities where all people are treated with respect and dignity, where multiple perspectives and experiences are welcome, and where students from all cultures and backgrounds can succeed.  
Cory holds a BS in biology; minor in Spanish;  and an MBA in marketing from the University of Miami;  a Masters of Science in Organizational Leadership from Columbia University, a Certificate in School Management & Leadership from Harvard Business School, a Certificate in School Discipline Reform from Loyola's Law School, and just recently finished his law degree  at Northwestern University's Pritzker School of Law.
In his free time, he enjoys reading, dancing, cooking, music, getting trapped in new TV series, and thinking about what new degree to acquire.  
Show Highlights
Rethinking student data in a very data-driven system.

Grab the reins of data to be data-informed and not data-driven.

Implement the student experience to be a data-informed leader.  

Book recommendations for building solution-oriented thinking and e

quity.

"Street-level", "Map" and "Satellite" data create flexibility to change direction towards your goals. 

Nobel's strategy on deciding to become "Antiracist." 

The first step for principals who want to decenter whiteness.

Create an invitation to talk in circles. 

An easy way to stop jumping to judgment and be a better observer.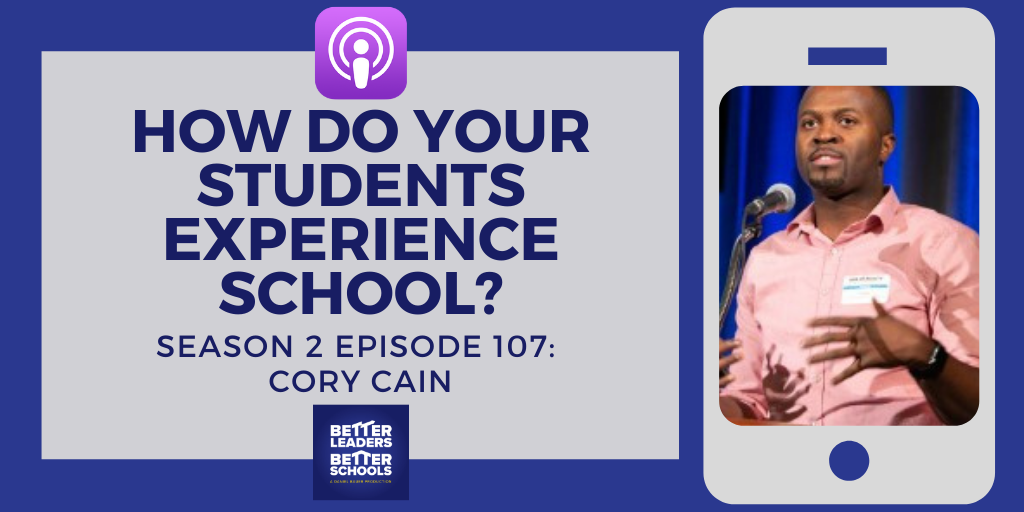 "Data isn't the issue, it's what we do with it."
-Cory Cain 
"I'm not saying we're perfect. We're doing a really good job of teaching ourselves and helping to develop teachers and leaders to use that type of data to make more informed choices when it comes to our staff and students in our community."
-Cory Cain 
Cory Cain's Resources & Contact Info:
Looking for more?
Download the podcast transcript here!
Oops! We could not locate your form.
SHOW SPONSORS:
HARVARD GRADUATE SCHOOL OF EDUCATION
Transform how you lead to become a resilient and empowered change agent with Harvard's online Certificate in School Management and Leadership. Grow your professional network with a global cohort of fellow school leaders as you collaborate in case studies bridging the fields of education and business. Apply today at http://hgse.me/leader.
School leaders know that productive student talk drives student learning, but the average teacher talks 75% of class time! TeachFX is changing that with a "Fitbit for teachers" that automatically measures student engagement and gives teachers feedback about what they could do differently. 
Learn more about the TeachFX app and get a special 20% discount for your school or district by visiting teachfx.com/blbs.
Organized Binder is the missing piece in many classrooms. Many teachers are great with the main content of the lesson. Organized Binder helps with powerful introductions, savvy transitions, and memorable lesson closings. Your students will grow their executive functioning skills (and as a bonus), your teachers will become more organized too. Help your students and staff level up with Organized Binder.
Copyright © 2022 Twelve Practices LLC
(Visited 193 times, 1 visits today)