Dr. Roseann is a mental health trailblazer, founder of The Global Institute of Children's Mental Health and Dr. Roseann Capanna-Hodge, LLC, who is, "Changing the way we view and treat children's mental health". FORBES magazine called her, "A thought leader in children's mental health". Her work has helped thousands improve the most challenging conditions, such as ADHD, anxiety, OCD, mood, autism, learning disability, Lyme, and PANS/PANDAS using PROVEN holistic therapies such as neurofeedback, biofeedback, and psychotherapy.
She is the author of the first ever book on teletherapy activities for child and adolescent therapists, "Teletherapy Toolkit™" and It's Gonna be OK!™ book and The Get Unstuck Program™, which are resources for parents to improve their child's symptoms with science-backed solutions.
She is a media personality who has been in/on hundreds of television shows, podcasts, and major publications including Fox, CBS, NBC, Scripps, FORBES, PARENTS, Healthline, BBC, The Washington Post, and New York Times.
She is sought after keynote speaker, corporate trainer, and works with brands to support employee, parent and children's mental health and educate on solutions to reduce stress and increase resiliency.
Dr. Roseann is a Connecticut Certified School Psychologist, a Licensed Professional Counselor (LPC), Certified Integrative Medicine Mental Health Provider (CMHIMP), and a Board Certified Neurofeedback Provider (BCN). She is a member of the International Lyme and Associated Disease Society (ILADS). Dr. Roseann serves on the boards of the Northeast Regional Biofeedback Society and is a Lyme Connection Task Force Professional Advisor.
Show Highlights
Advice for parents and educators who need to have tough conversations with kids

Teach about the limits of healing

Managing the good stress and the bad stress to see beyond the surface

Shape behaviors with brain based, holistic therapies

Solutions focused on how kids learn and process in the brain

Coping skills to control your stress response to be stress resilient 

Mindfulness based activities to regulate our nervous system

Get kids out of  fight, flight, or freeze by preparing their nervous system to learn, pay attention, and take action

 Stop working backwards in your schools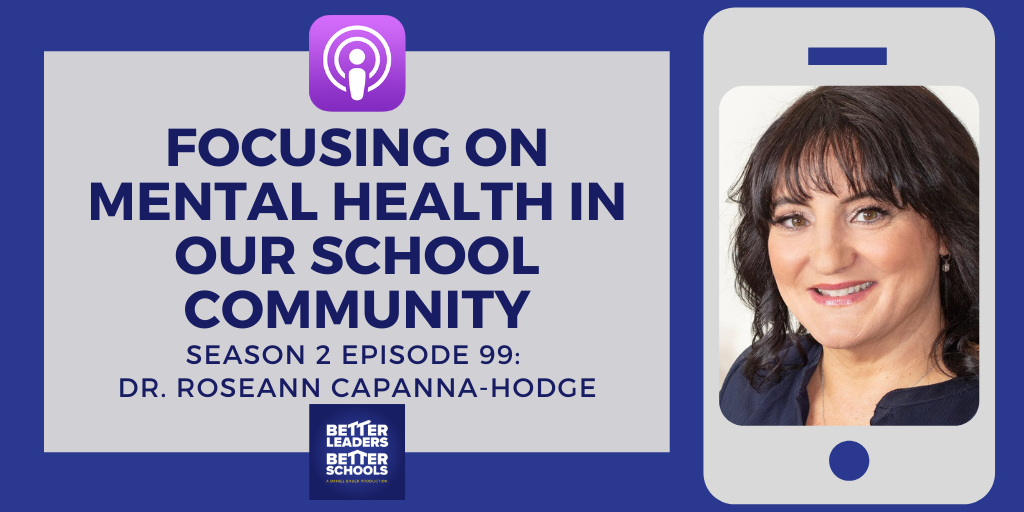 "We've a community of consciousness, of people that are stressed in a way I've never seen before and they're bringing that to school. Somehow schools have become the fix all for everything, and it shouldn't be. We are a community and you can't over rely on one part in the community. All members have to do their part. 
– Dr. Roseann Capanna-Hodge
Dr. Roseann Capanna-Hodge's Resources & Contact Info:
Looking for more?
Oops! We could not locate your form.
SHOW SPONSORS:
HARVARD GRADUATE SCHOOL OF EDUCATION
Transform how you lead to become a resilient and empowered change agent with Harvard's online Certificate in School Management and Leadership. Grow your professional network with a global cohort of fellow school leaders as you collaborate in case studies bridging the fields of education and business. Apply today at http://hgse.me/leader.
School leaders know that productive student talk drives student learning, but the average teacher talks 75% of class time! TeachFX is changing that with a "Fitbit for teachers" that automatically measures student engagement and gives teachers feedback about what they could do differently. 
Learn more about the TeachFX app and get a special 20% discount for your school or district by visiting teachfx.com/blbs.
Organized Binder is the missing piece in many classrooms. Many teachers are great with the main content of the lesson. Organized Binder helps with powerful introductions, savvy transitions, and memorable lesson closings. Your students will grow their executive functioning skills (and as a bonus), your teachers will become more organized too. Help your students and staff level up with Organized Binder.
Copyright © 2022 Twelve Practices LLC
(Visited 159 times, 1 visits today)