Sasha Lipskaia helps her powerful clients get clarity on who they really are, become magnetic to what they desire, and embody their purpose by getting out of their minds and into the truth of their hearts so that they can feel aligned and worthy in their relationships, and their mission in the world.
Over the past 20 years, Sasha's work has integrated a variety of healing modalities, mystical traditions, de-colonial practices, theatrical and movement-based therapeutic art, yogic philosophy, mindset coaching, and sacred sexuality with a focus on guiding her clients' to re-wire their nervous systems while helping them reconnect to the wisdom of their body, and intuition.
Show Highlights
The body is the missing piece of most leadership

Radically trust yourself to be guided by intuition

Feel into the truth of your heart to direct your leadership 

Destruction creates an environment you can plant seeds in

Integrate your finding of the Holy Grail on your "hero's journey"

The path will appear when you choose to honor the mission in your heart 

The scariest thing to do is usually the truest.

Find the truth to serve what the moment calling for

Be the tree to live as the leader you're looking for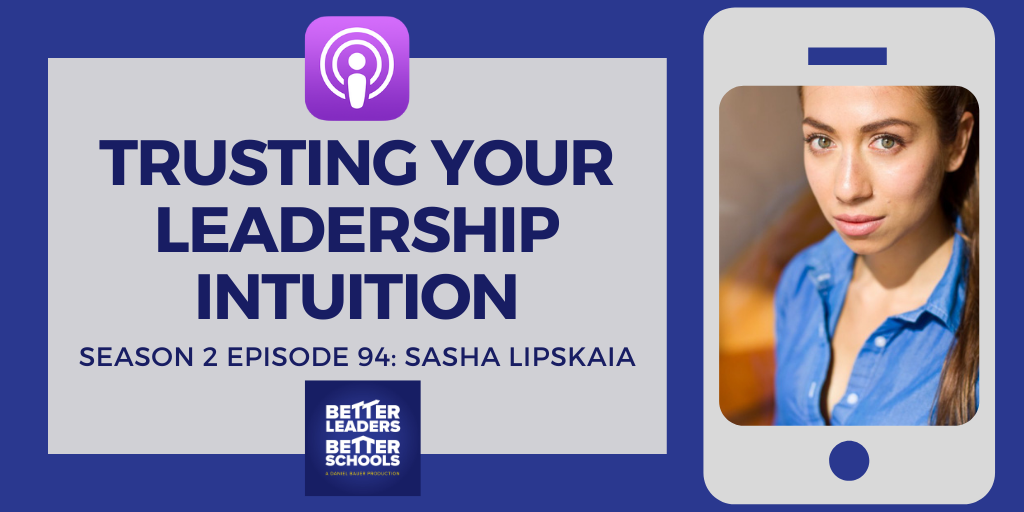 "Your job, my job, the reason we're trained to do it, the reason we practice it is because knowing what question to ask and how to create space for someone to witness their truth, not only witness it, but to allow it to come into the body so they can embody it. To actually trust what it's asking of them."
– Sasha Lipskaia
Sasha Lipskaia's Resources & Contact Info:
Looking for more?
Oops! We could not locate your form.
SHOW SPONSORS:
HARVARD GRADUATE SCHOOL OF EDUCATION
Transform how you lead to become a resilient and empowered change agent with Harvard's online Certificate in School Management and Leadership. Grow your professional network with a global cohort of fellow school leaders as you collaborate in case studies bridging the fields of education and business. Apply today at http://hgse.me/leader.
School leaders know that productive student talk drives student learning, but the average teacher talks 75% of class time! TeachFX is changing that with a "Fitbit for teachers" that automatically measures student engagement and gives teachers feedback about what they could do differently. 
Learn more about the TeachFX app and get a special 20% discount for your school or district by visiting teachfx.com/blbs.
Organized Binder is the missing piece in many classrooms. Many teachers are great with the main content of the lesson. Organized Binder helps with powerful introductions, savvy transitions, and memorable lesson closings. Your students will grow their executive functioning skills (and as a bonus), your teachers will become more organized too. Help your students and staff level up with Organized Binder.
Copyright © 2022 Twelve Practices LLC
(Visited 211 times, 1 visits today)