Jason Dropik is an educational leader serving diverse communities with his just cause in creating meaningful and lasting relationships. He has served both Public and Private Schools in and near Milwaukee Wisconsin for over 20 years. Mr. Dropik currently serves as the Head of School at the Indian Community School in Franklin, WI. Dropik believes in the power of diverse collaboration and is also serving as the President of the National Indian Education Association, Wisconsin Association of Environmental Education Board Member, and various professional and community organizations. He is committed to building community, expanding collaborations, and creating student leadership opportunities.
Show Highlights
Build connections amidst challenging times

Frame a sense of gratitude to create positive impact

Tips to lift your staff to watch amazing things happening EVERY day

Pivotal and foundational acknowledgements required to practice education

Raise capacity within students and communities to acknowledge cultures 

Flatten walls to expand your perspective and understanding

 Step out of a previous leader's shadow into your own leadership

Honest and challenging conversations to navigate a path forward with perspectives outside of your own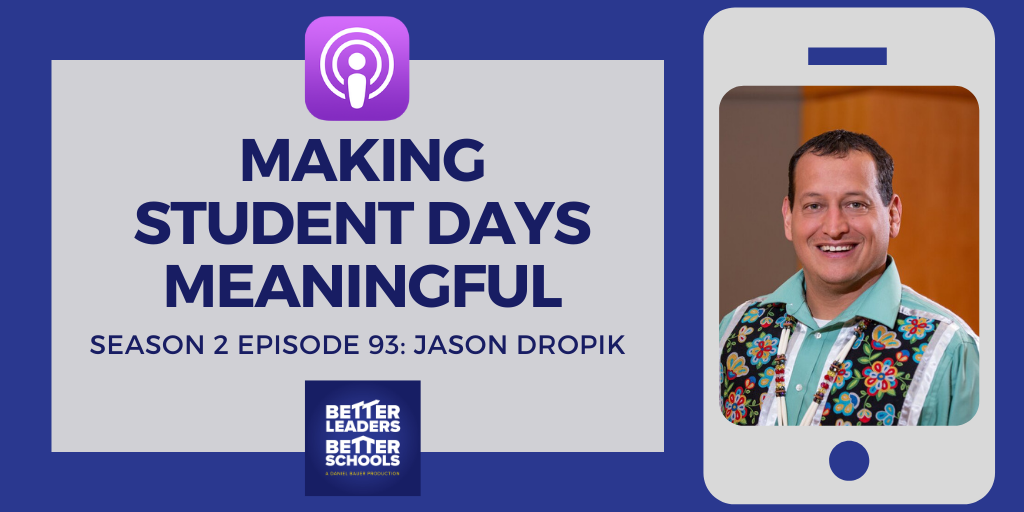 "The ancestors, those that came before us, talked about living, balance and living in harmony with all of creation, everything around us. How do we slow down enough to be observant of all the gifts that are in front of us? A sense of gratitude has been really helpful through pandemic and changes that exist in schools and communities. Thankfulness and gratitude, it's hard to be upset and to not think about it."
-Jason Dropik
"There are so many teachings and experiences that American Indian History has provided that were either erased, moved or taken away." 
-Jason Dropik
Jason Dropik's Resources & Contact Info:
Looking for more?
Oops! We could not locate your form.
SHOW SPONSORS:
HARVARD GRADUATE SCHOOL OF EDUCATION
Transform how you lead to become a resilient and empowered change agent with Harvard's online Certificate in School Management and Leadership. Grow your professional network with a global cohort of fellow school leaders as you collaborate in case studies bridging the fields of education and business. Apply today at http://hgse.me/leader.
School leaders know that productive student talk drives student learning, but the average teacher talks 75% of class time! TeachFX is changing that with a "Fitbit for teachers" that automatically measures student engagement and gives teachers feedback about what they could do differently. 
Learn more about the TeachFX app and get a special 20% discount for your school or district by visiting teachfx.com/blbs.
Organized Binder is the missing piece in many classrooms. Many teachers are great with the main content of the lesson. Organized Binder helps with powerful introductions, savvy transitions, and memorable lesson closings. Your students will grow their executive functioning skills (and as a bonus), your teachers will become more organized too. Help your students and staff level up with Organized Binder.
Copyright © 2022 Twelve Practices LLC
(Visited 124 times, 1 visits today)