David Bott is a sought-after speaker, author and education consultant who works with government organisations and some of the world's leading schools to help guide wellbeing vision and strategy. As an expert in applied wellbeing science, David has supported thousands of educators from hundreds of schools around the world in designing and implementing system-level approaches to wellbeing and cultural change.
David sits on the UAE Government's Dubai Future Council for Education, is a Director on the PESA (Positive Education Schools Association) board, and has published in academic journals and industry periodicals. David's bestselling book, 10 Things Schools Get Wrong: And How We Can Get Them Right was published in 2020.
David has led significant projects, partnering with government and non-government organisations, to help support the embedding of wellbeing science in school and community systems in Australia, UAE, and Hong Kong.
David's current work is informed by his five years as Associate Director at the Institute of Positive Education and his 15 years of practical teaching experience in Australia and the UK where he held senior pastoral and academic leadership positions.
Jared Cooney Horvath (PhD, MEd) is a neuroscientist, educator, and author of Stop Talking, Start Influencing: 12 Insights from Brain Science to Make Your Message Stick. At the crossroads between the laboratory and the classroom, Jared spends most of his time working directly with schools or helping companies, schools and organizations to improve training, education, impact, and engagement.
[fusebox_track_player url="https://traffic.libsyn.com/secure/better/Education_is_not_broken.mp3″ artist="David Bott and Jared Cooney Horvath" title="Education Is Not Broken" social_twitter="true" social_facebook="true" social_linkedin="true" social_pinterest="true" social_email="true" ]
[fusebox_transcript]
Show Highlights
"See" the expertise of educators to elevate education.

Adopt Skunkworks and operate at the fringes.

True Moments in teaching distinguish the visible from invisible.

The magic of elite teaching occurs at this intersection.

Education isn't broken but needs these tweaks on the edges.

What grades say about the world?

The bigger question to ask to truly serve your school.

Accept the mess of education to move forward with respect of the system.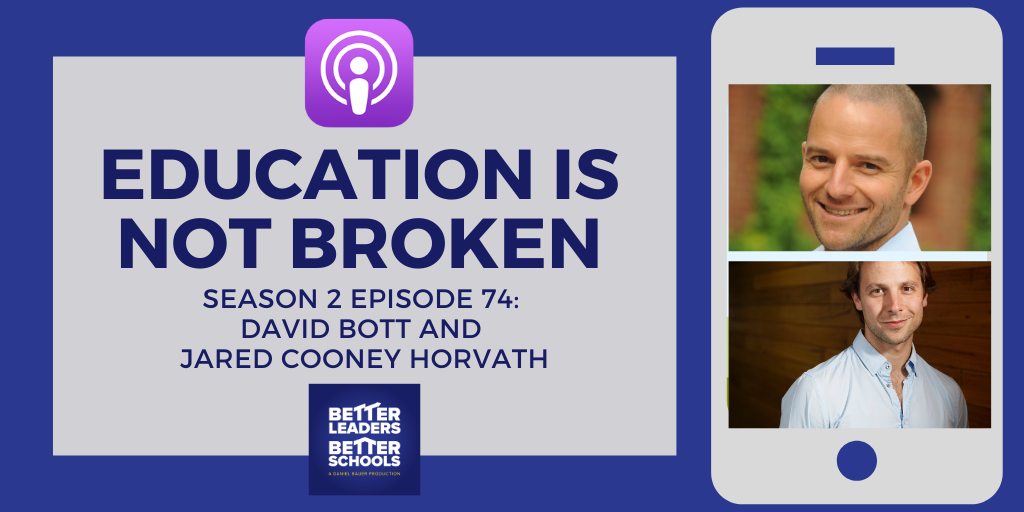 "Let me start by saying, the book is called, 10 Things Schools Get Wrong and How We Can Get Them Right. This is not a book about just criticizing education. It is providing an alternate view and a way to move forward."
– David Bott
David Bott and Jared Cooney Horvath's Resources & Contact Info:
Looking for more?
SHOW SPONSORS:
HARVARD GRADUATE SCHOOL OF EDUCATION
Transform how you lead to become a resilient and empowered change agent with Harvard's online Certificate in School Management and Leadership. Grow your professional network with a global cohort of fellow school leaders as you collaborate in case studies bridging the fields of education and business. Apply today at http://hgse.me/leader.
School leaders know that productive student talk drives student learning, but the average teacher talks 75% of class time! TeachFX is changing that with a "Fitbit for teachers" that automatically measures student engagement and gives teachers feedback about what they could do differently. 
Learn more about the TeachFX app and get a special 20% discount for your school or district by visiting teachfx.com/blbs.
Organized Binder is the missing piece in many classrooms. Many teachers are great with the main content of the lesson. Organized Binder helps with powerful introductions, savvy transitions, and memorable lesson closings. Your students will grow their executive functioning skills (and as a bonus), your teachers will become more organized too. Help your students and staff level up with Organized Binder.
Copyright © 2021 Twelve Practices LLC
(Visited 315 times, 1 visits today)