Christine Voigt is a secondary educator and award-winning author from Dallas, Texas. Her background is in English, geography, and life sciences and her specialty is infusing technology across the curriculum. She currently serves as the Director of Curriculum and Instructional Technology at Bishop Dunne Catholic School. She has been recognized at the state and national levels for her contribution to geographic education and has received multiple honors for the books Mapping Our World: GIS in Education and the Our World book series. She holds a Master of Education degree in Educational Leadership from Southern Methodist University and a Master of Science in Computer Education and Cognitive Systems from the University of North Texas.
[fusebox_track_player url="https://traffic.libsyn.com/secure/better/Going_paperless_at_school_over_a_decade_ago.mp3″ artist="Christine Voigt" title="Going Paperless At School Over A Decade Ago" social_twitter="true" social_facebook="true" social_linkedin="true" social_pinterest="true" social_email="true" ]
[fusebox_transcript]
Show Highlights
Tech as a meaningful tool to authenticate personalized learning. Incorporating technology every day despite economical disadvantages and different experiences in the classroom. 

Successful shift going paperless or implementing Teach FX with this approach. 

A bottom up approach to prepare kids for the future with these tools.

Tips to determine meaningful technology for your teachers and students. 

Select technology as methodology and not hardware and software for instruction. 

Assert an integrated approach to leadership to make radical changes. 

A different approach to learning through typical constraints in education.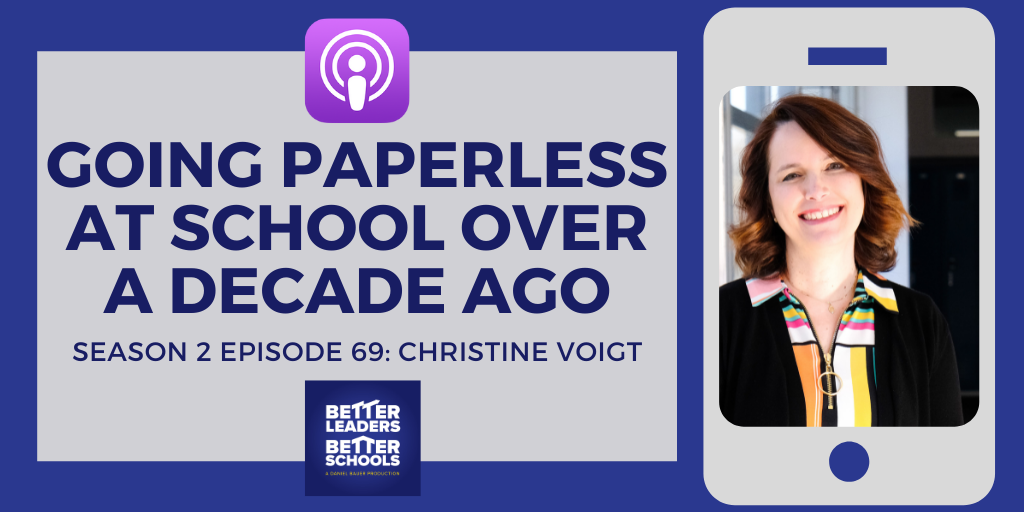 "We didn't want technology to drive the curriculum. We wanted what was best to teach the kids. We wanted the curriculum to drive the technology. A lot of times people were like, 'We have to go and incorporate all this tech stuff', but it's not about the technology. It's about what is best for teaching and learning."
– Christine Voigt
Christine Voigt's Resources & Contact Info:
Looking for more?
SHOW SPONSORS:
HARVARD GRADUATE SCHOOL OF EDUCATION
Transform how you lead to become a resilient and empowered change agent with Harvard's online Certificate in School Management and Leadership. Grow your professional network with a global cohort of fellow school leaders as you collaborate in case studies bridging the fields of education and business. Apply today at http://hgse.me/leader.
School leaders know that productive student talk drives student learning, but the average teacher talks 75% of class time! TeachFX is changing that with a "Fitbit for teachers" that automatically measures student engagement and gives teachers feedback about what they could do differently. 
Learn more about the TeachFX app and get a special 20% discount for your school or district by visiting teachfx.com/blbs.
Organized Binder is the missing piece in many classrooms. Many teachers are great with the main content of the lesson. Organized Binder helps with powerful introductions, savvy transitions, and memorable lesson closings. Your students will grow their executive functioning skills (and as a bonus), your teachers will become more organized too. Help your students and staff level up with Organized Binder.
Copyright © 2021 Twelve Practices LLC
(Visited 220 times, 1 visits today)