Ann Marie Luce is a proud scholar practitioner who believes that our moral imperative as leaders is to build the capacity of others through service, strengths-based support and coaching.  As an educator and school principal Ann Marie has served a variety of communities in Canada, China and the United States.  Currently Ann Marie is  the Head of School at Kehoe-France Southshore in New Orleans, LA.  She has recently completed her  Educational Doctorate at Gonzaga University where her research focused on how leaders develop their cultural intelligence to lead in a global context.
Ann Marie believes in pushing yourself outside of your comfort zone and taking risks as demonstrated by her decision to leave a stable career in Ontario to take on the challenge of leading a Canadian International School in Beijing, China. 
Having taught and led in diverse school communities in Ontario, China and the USA Ann Marie believes that trust, transparency and collaboration are the keys to success for school leadership.  As a leader building relationships and developing people are the highest calling of leadership and offer the greatest impact on student learning. 
[fusebox_track_player url="https://traffic.libsyn.com/secure/better/Developing_culturual_intelligence.mp3″ artist="Ann Marie Luce" title="Developing cultural intelligence" social_twitter="true" social_facebook="true" social_linkedin="true" social_pinterest="true" social_email="true" ]
[fusebox_transcript]
Show Highlights
Expand opportunities to control burn out, whack-a-mole, and traumatic leadership experiences.

The leadership skill that gets lost in translation. 

How to improve the gap in Leadership Cultural Intelligence?

Navigate impact and develop the ability to culturally code switch. 

Key components, knowledge, strategy, and action to improve relationships.

Avoid approaching leadership from a deficit lens.

Develop Asset-based thinking, as opposed to deficit-based thinking. 

Understand how to lead in a different culture or how culture impacts leadership.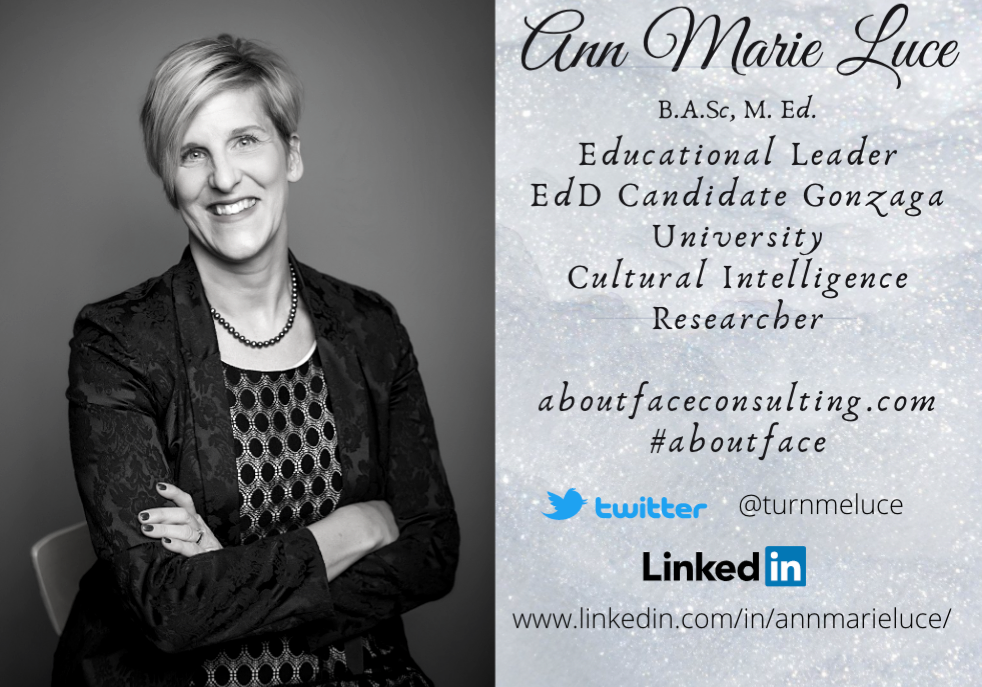 "It's your job to adapt and change and be flexible based on what their cultural norms are, not necessarily what yours are. Those are pieces I learned along the way through my research and experience. How to be a better leader, how to have a deeper understanding of culture, and its impact on my leadership."
– Dr. Ann Marie Luce
Ann Marie Luce's Resources & Contact Info:
Looking for more?
SHOW SPONSORS:
HARVARD GRADUATE SCHOOL OF EDUCATION
Transform how you lead to become a resilient and empowered change agent with Harvard's online Certificate in School Management and Leadership. Grow your professional network with a global cohort of fellow school leaders as you collaborate in case studies bridging the fields of education and business. Apply today at http://hgse.me/leader.
School leaders know that productive student talk drives student learning, but the average teacher talks 75% of class time! TeachFX is changing that with a "Fitbit for teachers" that automatically measures student engagement and gives teachers feedback about what they could do differently. 
Learn more about the TeachFX app and get a special 20% discount for your school or district by visiting teachfx.com/blbs.
Organized Binder is the missing piece in many classrooms. Many teachers are great with the main content of the lesson. Organized Binder helps with powerful introductions, savvy transitions, and memorable lesson closings. Your students will grow their executive functioning skills (and as a bonus), your teachers will become more organized too. Help your students and staff level up with Organized Binder.
Copyright © 2021 Twelve Practices LLC
(Visited 455 times, 1 visits today)