Jean Latting, DrPH, LMSW-IPR, is a diversity, equity and inclusion consultant with over 20 years of consulting experience in private and public multicultural organizations. Hundreds of clients in leadership roles have benefitted from her practical solutions for building more rewarding, fulfilled lives at work and home.
Over the last few years, an increased emphasis has been placed on building inclusive organizations. Leaders within fifteen industries have aligned with her to develop quantifiable solutions for addressing "elephant-in-the-room issues."
Jean gained over 35 years of research and teaching experience at the University of Houston Graduate College of Social Work (GCSW). Upon retirement, she began consulting and coaching full-time. As President and Founder of Leading Consciously, she challenges her clients to rethink assumptions preventing them from becoming the best they can be as organizations, leaders and individuals.
[fusebox_track_player url="https://traffic.libsyn.com/secure/better/Leading_for_Social_and_Racial_Justice.mp3″ artist="Dr. Jean Latting" title="Leading for Social and Racial Justice" social_twitter="true" social_facebook="true" social_linkedin="true" social_pinterest="true" social_email="true" ]
[fusebox_transcript]
She grew up on stories of generations of family members rising above adversity and supporting their communities. As a result, her career has followed a similar path toward helping others gain greater insight into the value of an empowered life, agile and resilient leadership, and culturally competent relationships with others.
Jean's personal philosophy: "Helping people 'level up' by maximizing their potential in the workplace, community, and home through self-discovery and by building supportive environments."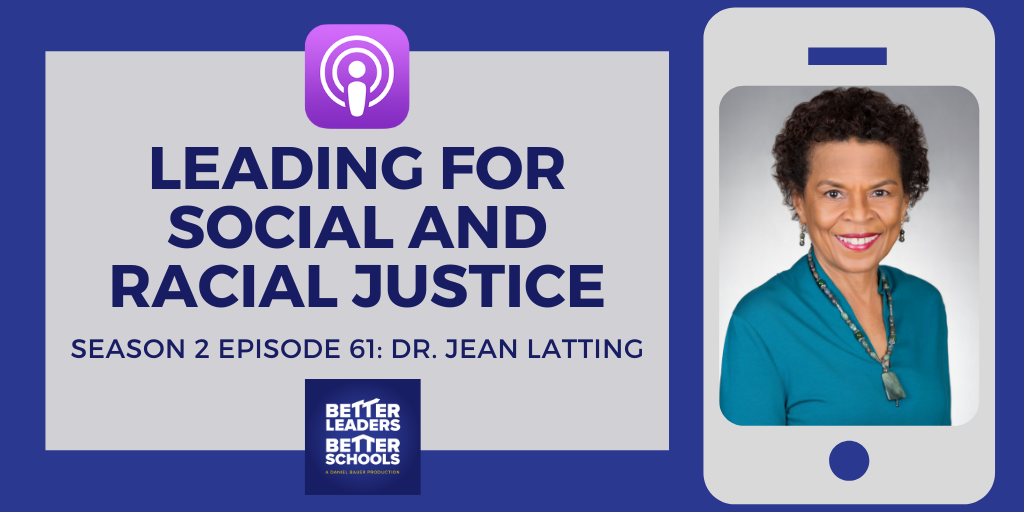 Show Highlights
Living with a hole in the floor teaches empathize.

Advocate for the underserved by challenging mindsets and beliefs of our faculty.

Find the strength to "play chicken" in a room.

Learn "You can't scare me into silence" when presenting valuable information.

How leaders learn to live out the metaphor and walk a mile leadership

The question that unblocks the skill of empathy. 

Tips to get comfortable in uncomfortable conversations about race.

The school of hard knocks helps develop courage to touch the snake.

Actionable tips to get people to change without isolating anyone.

Eliminate systematic barriers that kept parents from coming to the school with a simple knock.
"Everybody needs to know that it's uncomfortable and it's okay. If we want the students to grow and learn, as teachers and educators, if we stay in our comfort zone, we're not role modeling to kids how to do something that's hard. Let's conquer this thing. Let's be role models to kids that even though it's hard work, we can do this thing. It's okay to be uncomfortable. Step one is to acknowledge that and to be willing to bear the discomfort. Step two is to have a rule of non-shaming. If it's an uncomfortable situation, somebody's going to say something horribly offensive and stupid. Those who know that are going to sit around snickering to themselves or cutting eyes at one another. Those who don't know it are going to be oblivious. To praise calling out, I object to. I say, call them into the community."  
– Dr Jean Letting
"Some people literally cannot leave themselves and put themselves in somebody else's shoes."  
–Dr Jean Letting
Dr Jean Latting's Resources & Contact Info:
Looking for more?
SHOW SPONSORS:
HARVARD GRADUATE SCHOOL OF EDUCATION
Transform how you lead to become a resilient and empowered change agent with Harvard's online Certificate in School Management and Leadership. Grow your professional network with a global cohort of fellow school leaders as you collaborate in case studies bridging the fields of education and business. Apply today at http://hgse.me/leader.
School leaders know that productive student talk drives student learning, but the average teacher talks 75% of class time! TeachFX is changing that with a "Fitbit for teachers" that automatically measures student engagement and gives teachers feedback about what they could do differently. 
Learn more about the TeachFX app and get a special 20% discount for your school or district by visiting teachfx.com/blbs.
Organized Binder is the missing piece in many classrooms. Many teachers are great with the main content of the lesson. Organized Binder helps with powerful introductions, savvy transitions, and memorable lesson closings. Your students will grow their executive functioning skills (and as a bonus), your teachers will become more organized too. Help your students and staff level up with Organized Binder.
Copyright © 2021 Twelve Practices LLC
(Visited 170 times, 1 visits today)