Dr. Jen O'Ryan is the founder of Double Tall Consulting, specializing in Inclusion and Diversity. Leveraging two decades of experience in change management and organizational behavior, she understands the challenges leaders can face in developing a culture of inclusiveness for employees, clients, and consumers.
She is also the author of Inclusive AF: A Field Guide for Accidental Diversity Experts. Designed for anyone thinking about inclusion and diversity, IAF explains how to cultivate a workplace more welcoming for LGBTQ+ individuals – and for everyone else.
[fusebox_track_player url="https://traffic.libsyn.com/secure/better/Creating_safe_spaces_in_your_school_for_LGBTQ_humans.mp3″ artist="Dr. Jen O'Ryan" title="Creating Safe Spaces in your School for LGBTQ+ Humans" social_twitter="true" social_facebook="true" social_linkedin="true" social_pinterest="true" social_email="true" ]
[fusebox_transcript]
Show Highlights
Talk about inclusion and making space safes for your community.

Actionable for the listeners on how you engage in emotional conversations.

Mental hacks and scripts you can do now to spark conversations on gender identity

Think about people in a more progressive lens. 

practical tips on how  to cultivate a workplace more welcoming for LGBTQ + and hear everyone in your community. 

Peel back the fear and initial instincts to get the work done.

 Gender is a social construct. Understand the misconceptions.

Helpful feedback for when you put your foot in your mouth.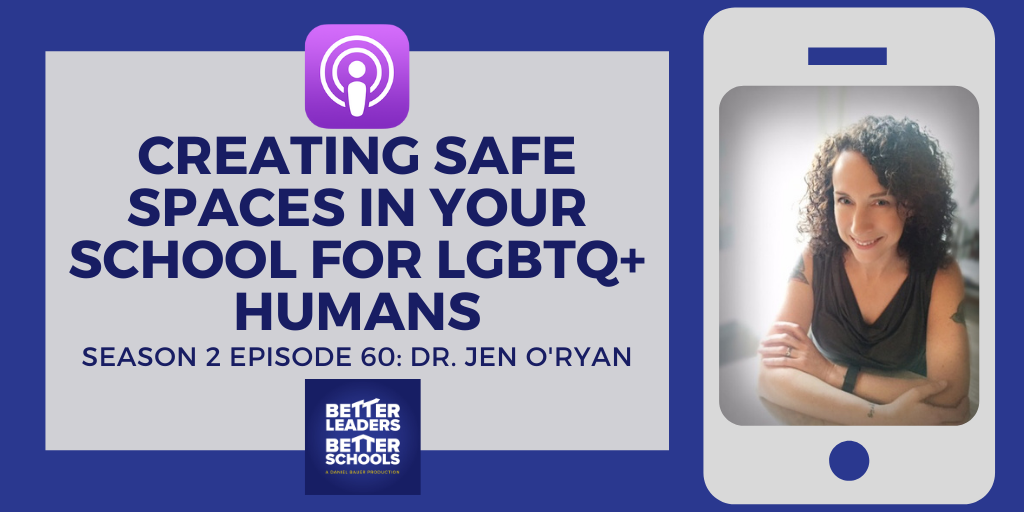 "The reason that I wrote the book is because there's so many people out there that individually can make a huge difference. They have that spark inside and they want to make the world a better place. The bystander effect is very real. How do you actually interrupt that in a way that's safe in a way that doesn't put somebody in harm?" 
– Dr. Jen O'Ryan
Dr Jen O'Ryan's Resources & Contact Info:
Looking for more?
SHOW SPONSORS:
HARVARD GRADUATE SCHOOL OF EDUCATION
Transform how you lead to become a resilient and empowered change agent with Harvard's online Certificate in School Management and Leadership. Grow your professional network with a global cohort of fellow school leaders as you collaborate in case studies bridging the fields of education and business. Apply today at http://hgse.me/leader.
School leaders know that productive student talk drives student learning, but the average teacher talks 75% of class time! TeachFX is changing that with a "Fitbit for teachers" that automatically measures student engagement and gives teachers feedback about what they could do differently. 
Learn more about the TeachFX app and get a special 20% discount for your school or district by visiting teachfx.com/blbs.
Organized Binder is the missing piece in many classrooms. Many teachers are great with the main content of the lesson. Organized Binder helps with powerful introductions, savvy transitions, and memorable lesson closings. Your students will grow their executive functioning skills (and as a bonus), your teachers will become more organized too. Help your students and staff level up with Organized Binder.
Copyright © 2021 Twelve Practices LLC
(Visited 62 times, 1 visits today)