Tom Woelper, Founding Head of School
New England Innovation Academy
Tom has had a distinguished 31-year career in independent education, most recently serving as the Head of School of Far Hills Country Day School in Far Hills, New Jersey. Prior to his tenure at Far Hills, Tom served as the Assistant Head of School and Dean of Academic Life and taught history during his 14 years at The Hotchkiss School. Tom began his career in independent school education as a teaching intern at Groton School and then as a history teacher and Class Dean at The Taft School. Following a sabbatical year from Taft, Tom served as the Head of the Ake Panya International School in Chiang Mai, Thailand. He also has served on the Board of Trustees of the New Jersey Association of Independent Schools, where he co-chaired the Accreditation Committee.
[fusebox_track_player url="https://traffic.libsyn.com/secure/better/Tom_is_building_his_dream_school.mp3″ artist="Tom Woelper" title="Tom is building his dream school" social_twitter="true" social_facebook="true" social_linkedin="true" social_pinterest="true" social_email="true" ]
[fusebox_transcript]
Show Highlights
Our future is characterized by disruptive technologies

Break the Cellblock Gold Watch model in education to prepare students for the changing world

Human-Centered Design school, iterate, fail fast, and fail forward

Empathy is knowing that socks are more valuable than boots

Putting into practice diversity, equity, and inclusion as cornerstones of your vision

IDEAS will create action and connection

Manage both the stress and the opportunity

Position every member of the school as an educator

Use your campus as a textbook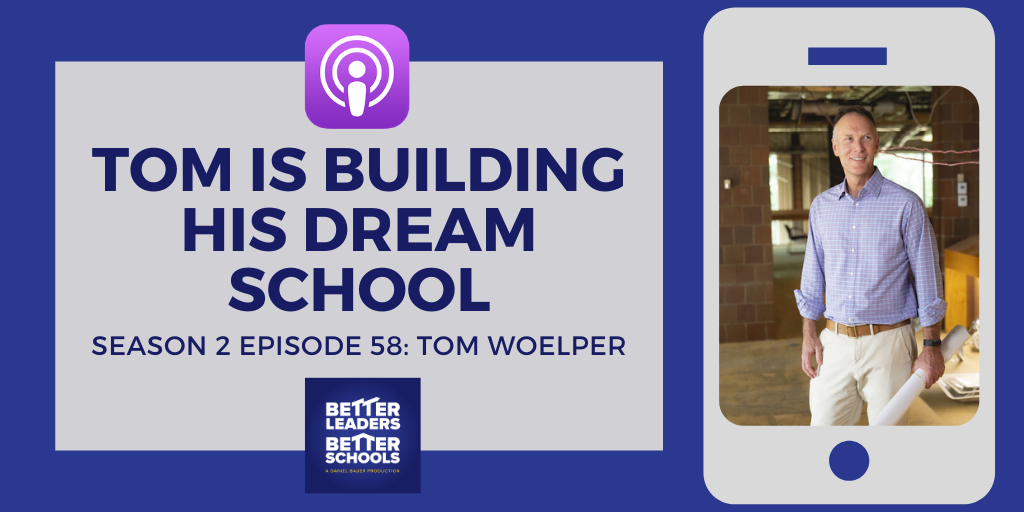 "To develop an innovator, you need to have a group of people who have diverse backgrounds, experience, and thinking, and by extension, you're looking at diversity in all of its forms. It's visible and it's invisible forms. We know that diverse groups outperform homogenous groups all the time. For us to be successful in our mission and our educational mission, we have to be a diverse school, both in terms of the students and the faculty. Essential to what we're all about, but  you can't stop there. Even in our acronym, Inclusion, Diversity, Equity, Action. Action is the A in social justice. Many schools or institutions stop short of the action, you have to actively dismantle the existing racism. You have to actively examine your own bias. You have to actively think about how you develop a community of diverse learners." 
– Tom Woelper
Tom Woelper's Resources & Contact Info:
Looking for more?
SHOW SPONSORS:
HARVARD GRADUATE SCHOOL OF EDUCATION
Transform how you lead to become a resilient and empowered change agent with Harvard's online Certificate in School Management and Leadership. Grow your professional network with a global cohort of fellow school leaders as you collaborate in case studies bridging the fields of education and business. Apply today at http://hgse.me/leader.
School leaders know that productive student talk drives student learning, but the average teacher talks 75% of class time! TeachFX is changing that with a "Fitbit for teachers" that automatically measures student engagement and gives teachers feedback about what they could do differently. 
Learn more about the TeachFX app and get a special 20% discount for your school or district by visiting teachfx.com/blbs.
Organized Binder is the missing piece in many classrooms. Many teachers are great with the main content of the lesson. Organized Binder helps with powerful introductions, savvy transitions, and memorable lesson closings. Your students will grow their executive functioning skills (and as a bonus), your teachers will become more organized too. Help your students and staff level up with Organized Binder.
Copyright © 2021 Twelve Practices LLC
(Visited 166 times, 1 visits today)