Dr. Joseph Jones is the Superintendent in the New Castle County Vocational-Technical School District. A passion to provide all students an incredible and valuable learning experience Dr. Jones started teaching World and US History in 1996. A few short years later he found himself within the ranks of school administration hoping to make a difference on a larger scale. That desire and pursuit continued as he worked as a principal for seven years striving to reach two major goals: One, give teachers the best scenario to perfect and practice their craft; Two, provide students every opportunity to learn in a secure, enriching environment. As a school they made great strides and received various awards and accolades that enabled them to grow even stronger as a school community. Being the first high school in Delaware to receive the academic achievement award for closing the achievement gap was a hallmark of their relentless pursuit. His efforts continue now in a central office role as he oversees assessment and accountability. The combination of precision, best practices, and passion forges his educational ideals and provides  a clear path to reaching our goals. Educationally, he believes time spent within the walls of schools has been his best teacher. 
[fusebox_track_player url="https://traffic.libsyn.com/secure/better/Attractig_and_retaining_the_best_educators.mp3″ artist="Dr. Joseph Jones and Dr. TJ Vari" title="Attracting and retaining the best educators" social_twitter="true" social_facebook="true" social_linkedin="true" social_pinterest="true" social_email="true" ]
[fusebox_transcript]
Dr. T.J. Vari is the Assistant Superintendent of Secondary Schools and District Operations in the Appoquinimink School District. Dr. Vari is an experienced school administrator and adjunct faculty with a demonstrated history of working in schools and in higher education. Skilled in K-12 education, online learning, literacy, classroom culture, curriculum & instruction, district operations, human resources, change management, and education reform. Strong education professional with an Ed.D focused in Leadership and Innovation from Wilmington University.
Dr. Jones and Dr. Vari, along with Salome Thomas-El are co-authors of the new book: Retention for a Change: Motivate, Inspire, and Energize Your School Culture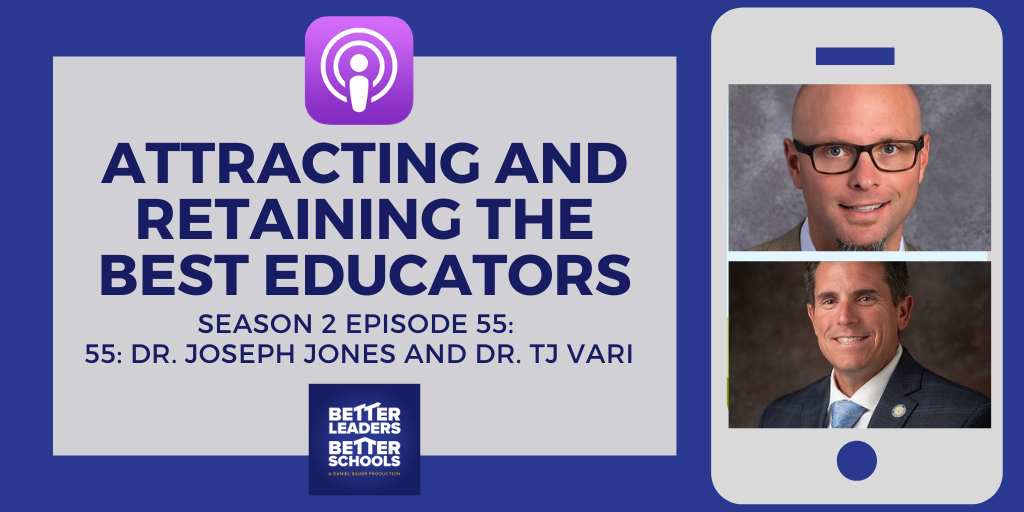 Show Highlights
Profit Activators for a Ruckus Maker mindset 

The BDA R3 Model will transform for processes 

Holistic approach to hiring built on your reputation

Leverage and embrace the easiest tool schools have 

3 Simple solutions for retention accelerators

Avoid being actively disengaged at work

Stop haphazardly hiringLeaders 

Shift from the employee mindset towards a membership mindset 

Onboarding is critical aspect and a major fail

Technical Tips and quality mentoring
"As a leader, we sometimes become more and more distant from the ground floor and all the work going on. You have to build mechanisms so that you have opportunities to really know what's going on. The last thing you want is to be disenfranchised from the actual work. The distance between the position and the person sometimes is too great and that is what builds disconnect within." 
– Dr Joseph Jones
"We believe deeply in the educational system. We want leaders to have the tools that  will build a culture in every school that can make it the best that it can be. It's a 'law of the lid', nothing rises above the capacity of the leader. When you build a leader's capacity to do great things, we're going to have great cultures in schools, and that goes down at the student level."
– Dr TJ Vari
Dr Joseph Jones and Dr TJ Varia's Resources & Contact Info:
Looking for more?
SHOW SPONSORS:
HARVARD GRADUATE SCHOOL OF EDUCATION
Transform how you lead to become a resilient and empowered change agent with Harvard's online Certificate in School Management and Leadership. Grow your professional network with a global cohort of fellow school leaders as you collaborate in case studies bridging the fields of education and business. Apply today at http://hgse.me/leader.
School leaders know that productive student talk drives student learning, but the average teacher talks 75% of class time! TeachFX is changing that with a "Fitbit for teachers" that automatically measures student engagement and gives teachers feedback about what they could do differently. 
Learn more about the TeachFX app and get a special 20% discount for your school or district by visiting teachfx.com/blbs.
Organized Binder is the missing piece in many classrooms. Many teachers are great with the main content of the lesson. Organized Binder helps with powerful introductions, savvy transitions, and memorable lesson closings. Your students will grow their executive functioning skills (and as a bonus), your teachers will become more organized too. Help your students and staff level up with Organized Binder.
Copyright © 2021 Twelve Practices LLC
(Visited 173 times, 1 visits today)