Mary Grassa O'Neill
Founding co-lead faculty for the HGSE/HBS Certificate in School Management and Leadership powered by HBS Online. 

HGSE Director of the Principals' Center and Managing Director of Programs in Professional Education

First layperson Secretary of Education and Superintendent of Schools in the Archdiocese of Boston (led second-largest school district in Massachusetts – 120 schools and 42,000 students) 

Superintendent of Milton, MA Public Schools for 10 years

Earned national recognition as the entrepreneurial turnaround principal of the James P. Timilty Middle School (Roxbury, MA)

Founding member of Massachusetts School Building Authority Board
Monique Burns Thompson:
Co-founder and President of Teach Plus, a national nonprofit that trains excellent, experienced teachers to take leadership over key policy and practice issues (30,000+ teacher leaders trained) – https://teachplus.org/

Co-founder, President, Chief Curriculum Officer of New Leaders for New Schools, the largest recruiter and trainer of school leaders in the United States. – https://www.newleaders.org/

Consultant with The McKenzie Group (Washington, D.C.)

Special Assistant to the Superintendent of the Philadelphia Public School District

Leadership coach and consultant for 14 Massachusetts charter schools

Marketing and brand management for Quaker Oats Co.
[fusebox_track_player url="https://traffic.libsyn.com/secure/better/Colliding_two_worlds-_bringing_together_the_best_of_business_and_education.mp3″ artist="Mary Grassa O'Neill and Monique Burns Thompson" title="Colliding two worlds: Bringing Together the Best of Business and Education" social_twitter="true" social_facebook="true" social_linkedin="true" social_pinterest="true" social_email="true" ]
[fusebox_transcript]
Show Highlights
Destroy what we expect from kids and what they should be learning

A "North Star" will navigate you out of any feelings of failure

Unlock the secret to success for their students with this

Beautiful arranged marriages are needed in every professional toolkit 

Importance of inspection to determine the impact of your programs

CSML program merges content and context

Participate in problems of practice to bridge the gap from ideas to real  execution

Schools struggle to meet the potential embedded in their organization

Half of all principals have no access to professional development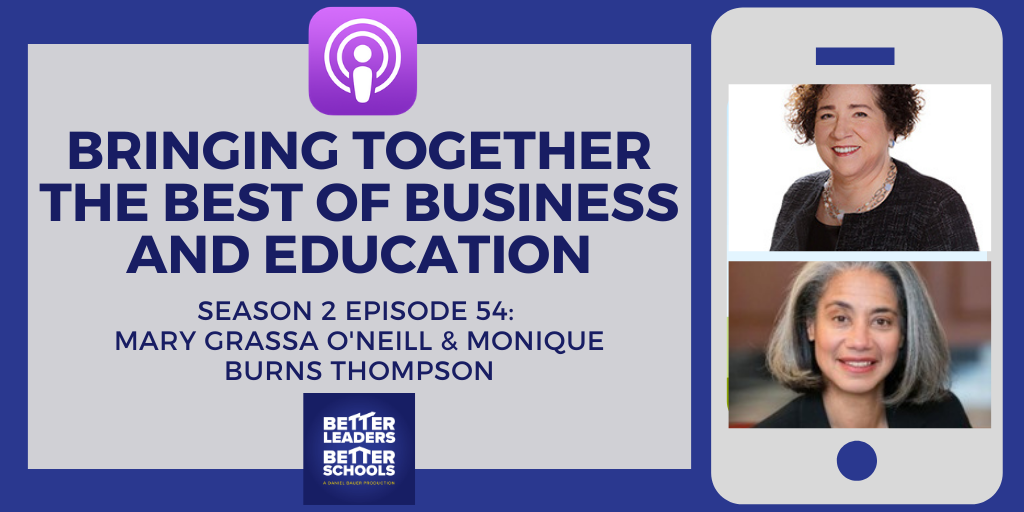 "Our experience is very different and our wisdom and our super powers are very different. And because of that, we are continually molding and pushing and adding perspective, um, to this work. And that diversity also expands into the team that we've put together of incredible people, lots of skills and all the other faculty that we bring into the dialogue."
– Monique Burns Thompson
"Leadership is joyful work, empowering others to do their best work. Principals do that with teachers and teachers do that with students and empowering others to educate themselves or to be educated is just one of the most important things we can do in this world. We're building people, we're building the next generation of leaders and educators."
– Mary Grassa O'Neill
Mary Grassa O'Neill and Monique Burns Thompson's Resources & Contact Info:
Looking for more?
SHOW SPONSORS:
Transform how you lead to become a resilient and empowered change agent with Harvard's online Certificate in School Management and Leadership. Grow your professional network with a global cohort of fellow school leaders as you collaborate in case studies bridging the fields of education and business. Apply today at http://hgse.me/leader.
School leaders know that productive student talk drives student learning, but the average teacher talks 75% of class time! TeachFX is changing that with a "Fitbit for teachers" that automatically measures student engagement and gives teachers feedback about what they could do differently. 
Learn more about the TeachFX app and get a special 20% discount for your school or district by visiting teachfx.com/blbs.
Organized Binder is the missing piece in many classrooms. Many teachers are great with the main content of the lesson. Organized Binder helps with powerful introductions, savvy transitions, and memorable lesson closings. Your students will grow their executive functioning skills (and as a bonus), your teachers will become more organized too. Help your students and staff level up with Organized Binder.
Copyright © 2021 Twelve Practices LLC
(Visited 977 times, 1 visits today)