Judith W. Umlas is Sr. Vice President, author and trainer at International Institute for Learning, Inc. (IIL), a global corporate training company. She wrote the ground-breaking books including: The Power of Acknowledgment,  Grateful Leadership, Using the Power of Acknowledgment to Engage All Your People and Achieve Superior Results, and You're Totally Awesome! The Power of Acknowledgment for Kids. In 2016 she founded the Center for Grateful Leadership whose members from around the world are committed to practicing and implementing the Grateful Leadership initiative in their organizations. 
[fusebox_track_player url="https://traffic.libsyn.com/secure/better/The_importance_of_grateful_leadership.mp3″ artist="Judy Ulmas" title="The importance of grateful leadership" social_twitter="true" social_facebook="true" social_linkedin="true" social_pinterest="true" social_email="true" ]
[fusebox_transcript]
Show Highlights
The power of the written word & How

Not to Talk to a Pregnant Business Woman

Why feedback matters so much

Avoid the feedback sandwich and establish a strong culture of appreciation instead 

Psychological safety engages people in growing the culture

Five Cs framework and tools for every leader

97.6 chance that you will not do it if you say this

The difference between recognition versus acknowledgement

Celebrating failure and successful mistakes

Acknowledgement is the antidote to bullying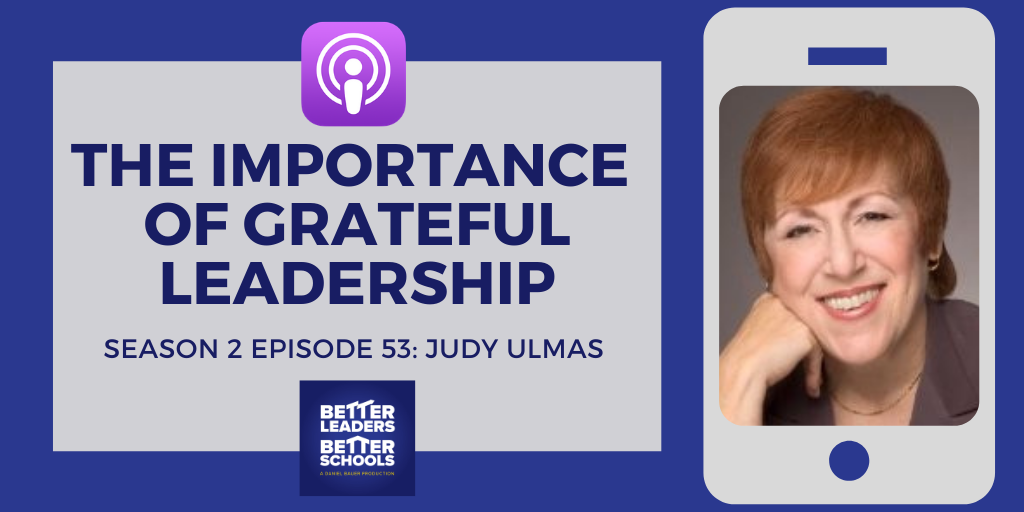 "Make our corporate culture be a culture of appreciation so people feel visible, noticed, appreciated and approved. They know that they exist. They know that they can make a difference."
– Judy Ulmas
Judy Ulmas' Resources & Contact Info:
Looking for more?
SHOW SPONSORS:
HARVARD GRADUATE SCHOOL OF EDUCATION
Transform how you lead to become a resilient and empowered change agent with Harvard's online Certificate in School Management and Leadership. Grow your professional network with a global cohort of fellow school leaders as you collaborate in case studies bridging the fields of education and business. Apply today at http://hgse.me/leader.
School leaders know that productive student talk drives student learning, but the average teacher talks 75% of class time! TeachFX is changing that with a "Fitbit for teachers" that automatically measures student engagement and gives teachers feedback about what they could do differently. 
Learn more about the TeachFX app and get a special 20% discount for your school or district by visiting teachfx.com/blbs.
Organized Binder is the missing piece in many classrooms. Many teachers are great with the main content of the lesson. Organized Binder helps with powerful introductions, savvy transitions, and memorable lesson closings. Your students will grow their executive functioning skills (and as a bonus), your teachers will become more organized too. Help your students and staff level up with Organized Binder.
Copyright © 2021 Twelve Practices LLC
(Visited 170 times, 1 visits today)