Susie Harder, M.A., CCC-SLP is an experienced clinician who devotes much of her passion to working with children, teens, and adults who stutter. She works in private practice and the school setting to help support children who stutter, trains speech-language pathologists to work more effectively with students who stutter, provides various fluency trainings to school districts across the state, and is also directing the Junior Authors Program platform.
Susie grew up in Central California and completed her Bachelor's Degree at Fresno State. She earned her Master's Degree at Northwestern University, rated #2 in the nation for their program. While there, she met Kristin Chmela, M.A., CCC-SLP, BCS-F, an internationally recognized fluency specialist who had a true passion for helping kids who stutter. After graduating, Kristin and Susie have continued to work closely. Susie credits her passion and knowledge for working with people who stutter to Kristin Chmela, her mentor.
[fusebox_track_player url="https://traffic.libsyn.com/secure/better/Promoting_student_voice.mp3″ artist="Susie Harder" title="Promoting student voice" social_twitter="true" social_facebook="true" social_linkedin="true" social_pinterest="true" social_email="true" ]
[fusebox_transcript]
Susie has a history of designing and building successful programs. During her time in Fresno Unified School District (2011-2015), Susie designed and piloted a successful framework for a Fluency Consultant role to utilize specialty skills and support SLPs. In 2016, Susie created a private practice focused on supporting children, teens, and adults who stutter. Within her practice, she built a mentoring program for children and teens who stutter to help guide younger children who are experiencing similar challenges. Most recently (2020), following the devastation of the Central California Creek Fire, she decided to write a book to help children who lost homes in the fire. During the process of writing the book, she created a unique platform to reinvent how children connect with literacy and books. Through the Junior Authors Program, children are involved in ongoing votes to help build the book from rough draft to published book on Amazon.
Susie's love of working with children is evident from the first time you meet her. She cares for each one of the families she works with. She is full of positive energy, encouragement, and is an invaluable resource for anyone she works with.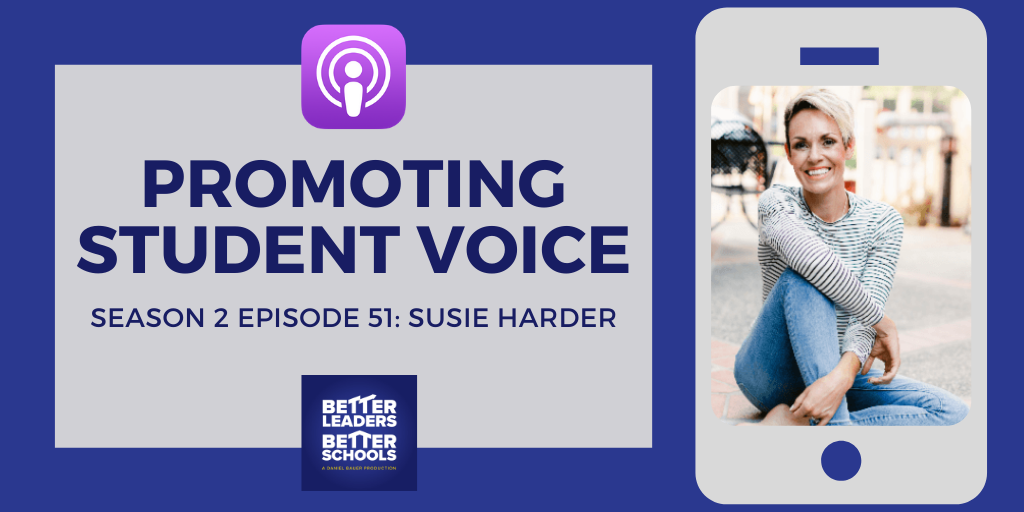 "If we can, for ourselves and for our kids, find that Thing that gives us that real inspiration and that true, genuine, 'I am excited about today because I get to do blank, not I have to do blank, but I get to do blank.' That really can shift so much of  pulling back from the day and kind of move into the launch forward into the day."
– Susie Harder
Show Highlights
Hometown was on fire and out of the ashes a purposeful way to build connection emerged

Tips and tricks to give more voice to your staff 

Junior Authors creates an excitement for learning and the ability to cope during life's crises 

How we pass along compliments can be empowering or meaningless

Taking massive action quickly can accomplish more than planning for action

Be a recovering perfectionist for progress 

Create opportunities to celebrate 

Life feels like the hundred pieces puzzle
Susie Harder's Resources & Contact Info:
SHOW SPONSORS:
HARVARD GRADUATE SCHOOL OF EDUCATION
Transform how you lead to become a resilient and empowered change agent with Harvard's online Certificate in School Management and Leadership. Grow your professional network with a global cohort of fellow school leaders as you collaborate in case studies bridging the fields of education and business. Apply today at http://hgse.me/leader.
School leaders know that productive student talk drives student learning, but the average teacher talks 75% of class time! TeachFX is changing that with a "Fitbit for teachers" that automatically measures student engagement and gives teachers feedback about what they could do differently. 
Learn more about the TeachFX app and get a special 20% discount for your school or district by visiting teachfx.com/blbs.
Organized Binder is the missing piece in many classrooms. Many teachers are great with the main content of the lesson. Organized Binder helps with powerful introductions, savvy transitions, and memorable lesson closings. Your students will grow their executive functioning skills (and as a bonus), your teachers will become more organized too. Help your students and staff level up with Organized Binder.
Copyright © 2021 Twelve Practices LLC
(Visited 206 times, 1 visits today)