Dr. Mike Stacy is currently the superintendent at Beechwood Independent Schools in northern Kentucky. (This is his sixth year in this position). During his educational career, he's had the opportunity to be an administrator at the building level (elementary, middle school, high school) and the district office. During his 20 years as an administrator, he's enjoyed a lot of different aspects of his work, but coaching principals is what he loves most.
[fusebox_track_player url="https://traffic.libsyn.com/secure/better/1st_generation_college_student_becomes_superintendent.mp3″ artist="Dr. Mike Stacy" title="1st generation college student becomes superintendent" social_twitter="true" social_facebook="true" social_linkedin="true" social_pinterest="true" social_email="true" ]
[fusebox_transcript]
Show Highlights
3 lessons being a 1st generation college student teaches about leading an entire district  

Systematic principal development within the district

How we will get learning get caught up

The right formula of leadership  

Getting your students and staff to let their true selves be seen

An underestimated tool in our profession to  build relationships

Interview questions that bring out personalities to be able to put into a job. 

How to lean into challenge and support new principal growth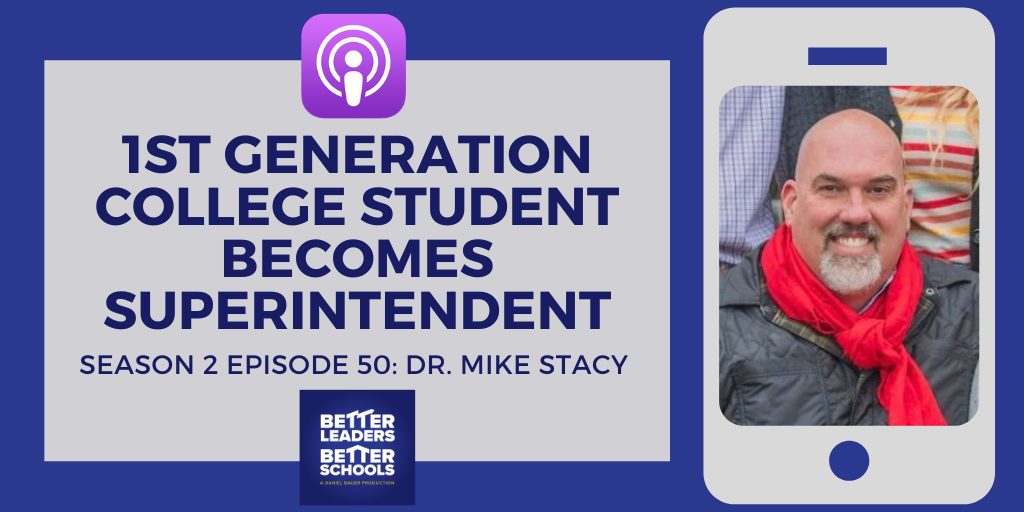 "The number one job in all of education, the most important job in all of education is the building level principal. There's no doubt that a teacher impacts a kid more than anyone, but a building level principal impacts every teacher, every student directly." 
– Dr. Mike Stacy
Dr Mike Stacy Resources & Contact Info:
Looking for more?
SHOW SPONSORS:
HARVARD GRADUATE SCHOOL OF EDUCATION
Transform how you lead to become a resilient and empowered change agent with Harvard's online Certificate in School Management and Leadership. Grow your professional network with a global cohort of fellow school leaders as you collaborate in case studies bridging the fields of education and business. Apply today at http://hgse.me/leader.
School leaders know that productive student talk drives student learning, but the average teacher talks 75% of class time! TeachFX is changing that with a "Fitbit for teachers" that automatically measures student engagement and gives teachers feedback about what they could do differently. 
Learn more about the TeachFX app and get a special 20% discount for your school or district by visiting teachfx.com/blbs.
Organized Binder is the missing piece in many classrooms. Many teachers are great with the main content of the lesson. Organized Binder helps with powerful introductions, savvy transitions, and memorable lesson closings. Your students will grow their executive functioning skills (and as a bonus), your teachers will become more organized too. Help your students and staff level up with Organized Binder.
Copyright © 2021 Twelve Practices LLC
(Visited 197 times, 1 visits today)