Dr. Andrew B. Campbell (Dr. ABC) is a graduate of the University of Toronto, with a PhD. in Educational Leadership, Policy, and Diversity. He is presently a Faculty member in the Master of Teaching (MT) Program at the University of Toronto and an Adjunct Assistant Professor at Queens University (online). He is an Ontario Certified Teacher (OCT) and has been an educator for over 25 years in Jamaica, The Bahamas and Canada.
 He has authored two books, "Teachable Moments with DR.ABC: A Spoonful for the Journey, in 2015" and "The Invisible Student in the Jamaican Classroom in 2018.His research and scholarship focus on issues of Equity, Diversity, Inclusion, Cultural Competency, Education Leadership, 2SLGBTQ+ issues, and Teacher Performance Evaluation. Dr. Campbell continues to present at various peer-reviewed academic conferences across North America and the Caribbean.
He is a workshop facilitator, a motivational speaker and has delivered several Keynotes. Dr. Campbell appreciates fashion, enjoys travelling and meeting new people, and equally finds pleasure in bringing his community together to share a good meal.
[fusebox_track_player url="https://traffic.libsyn.com/secure/better/Creating_belonging_and_championing_equity_in_school.mp3″ artist="Dr. ABC" title="Creating belonging and championing equity in school" social_twitter="true" social_facebook="true" social_linkedin="true" social_pinterest="true" social_email="true" ]
[fusebox_transcript]
Show Highlights
Simple spaces of belonging in schools

Where the magic happens in teaching and learning

Wooden ramps and murals have no place in schools

Lesson that create intruders and not students

Drop the mic moments aren't as powerful as this next move 

The art of storytelling as a pedagogy

Know your power on your journey with including equity, diversity, and inclusion 

Your every day, 365 days a year speaker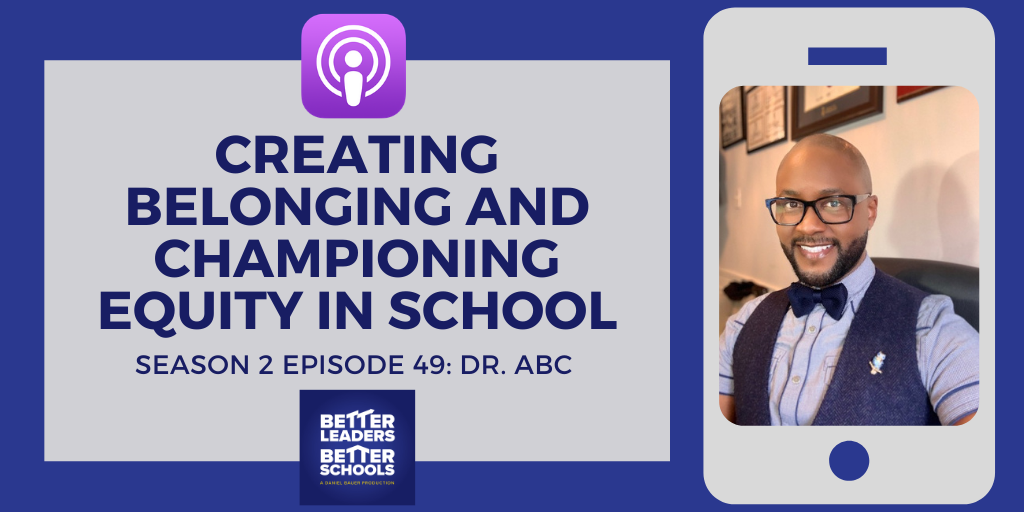 "Educational leaders have the moral courage to create belonging in our schools and I think that is lacking in a lot of our schools. We don't have leaders who have the moral courage, because guess what, if you're going to create something different, create belonging for people who the system is not created for. You're going to have pushback. A lot of educational leaders need to understand that when they get pushed back you are creating space for people who the institution did not create space for."
– Dr ABC
Dr. Andrew B. Campbell's Resources & Contact Info:
Looking for more?
SHOW SPONSORS:
HARVARD GRADUATE SCHOOL OF EDUCATION
Transform how you lead to become a resilient and empowered change agent with Harvard's online Certificate in School Management and Leadership. Grow your professional network with a global cohort of fellow school leaders as you collaborate in case studies bridging the fields of education and business. Apply today at http://hgse.me/leader.
School leaders know that productive student talk drives student learning, but the average teacher talks 75% of class time! TeachFX is changing that with a "Fitbit for teachers" that automatically measures student engagement and gives teachers feedback about what they could do differently. 
Learn more about the TeachFX app and get a special 20% discount for your school or district by visiting teachfx.com/blbs.
Organized Binder is the missing piece in many classrooms. Many teachers are great with the main content of the lesson. Organized Binder helps with powerful introductions, savvy transitions, and memorable lesson closings. Your students will grow their executive functioning skills (and as a bonus), your teachers will become more organized too. Help your students and staff level up with Organized Binder.
Copyright © 2021 Twelve Practices LLC
(Visited 469 times, 1 visits today)