SANDRA‌ ‌NAGY‌ ‌is‌ ‌a‌ ‌sought‌ ‌after‌ ‌advisor‌ ‌to‌ ‌school‌ ‌leaders‌ ‌around‌ ‌the‌ ‌world.‌ ‌Renowned‌ ‌for‌ ‌her‌ ‌deep‌ ‌expertise‌ ‌in‌ ‌strategic‌ ‌development‌ ‌and‌ ‌education;‌ ‌she‌ ‌works‌ ‌with‌ ‌organizations‌ ‌looking‌ ‌to‌ ‌transform‌ ‌learning.‌ ‌A creative, passionate, and experienced senior professional in the Education technology industry with leadership, change management, product development, learning strategy and execution proficiency.
A driver of innovation who is able to build, motivate and develop high performing strategic teams that deliver outstanding results in changing environments. Her‌ ‌20‌ ‌year‌ ‌career‌ ‌includes‌ ‌leadership‌ ‌roles‌ ‌at‌ ‌Pearson‌ ‌Education,‌ ‌The‌ ‌Learning‌ ‌Partnership‌ ‌and‌ ‌Accenture.‌ ‌She‌ ‌has‌ ‌a‌ ‌M.‌ ‌Ed.‌ ‌from‌ ‌Harvard‌ ‌University‌ ‌and‌ ‌a‌ ‌B.‌ ‌Comm.‌ ‌from‌ ‌McGill‌ ‌University.‌ ‌She‌ ‌is‌ ‌currently‌ ‌the‌ ‌Managing‌ ‌Director‌ ‌at‌ ‌Future‌ ‌Design‌ ‌School‌. ‌
[fusebox_track_player url="https://traffic.libsyn.com/secure/better/The_future_of_education-_5_trends_were_seeing.mp3″ artist="Sandra Nagy" title="The future of education: 5 trends we're seeing" social_twitter="true" social_facebook="true" social_linkedin="true" social_pinterest="true" social_email="true" ]
[fusebox_transcript]
Show Highlights
5 trends leaders must address 

Entrepreneurial thinking is essential for student's future success 

Moment of incubation. Rethink timetables, scheduling, and assessment 

Address mental wellness crisis in schools

What am I going to do with my leadership going forward

What are your takeaways from the pandemic?

Rethink pedagogical approaches in the classroom

Transform education and leverage pandemic learning

Impetus on leaders to think about unconscious bias and create opportunities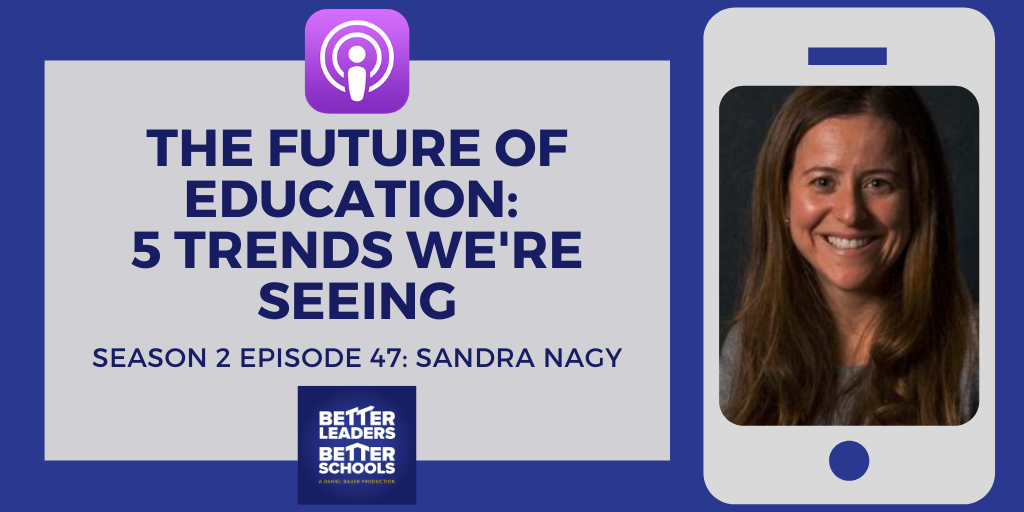 "At the core of Future Design School is this notion of developing and cultivating problem solvers, kids who have a flexible, adaptable skill set, and the creative confidence really to tackle whatever comes their way. That's the essence of the entrepreneurial spirit. What you want is kids who look at the world's obstacles as opportunities that they can roll up their sleeves and solve, and that they don't need to wait until they're adults to wrestle with real issues."
– Sandra Nagy
"If we've seen anything that should be an inspiration for these kids in the last year, it's the fact that we got a vaccine out in eight months. If you don't believe in the power of human ingenuity and what we can do together, collaboratively working to solve a real problem. We don't take that moment to showcase that to kids and what might be possible, then we've missed the moment."
– Sandra Nagy
Sandra Nagy's Resources & Contact Info:
Looking for more?
SHOW SPONSORS:
HARVARD GRADUATE SCHOOL OF EDUCATION
Transform how you lead to become a resilient and empowered change agent with Harvard's online Certificate in School Management and Leadership. Grow your professional network with a global cohort of fellow school leaders as you collaborate in case studies bridging the fields of education and business. Apply today at http://hgse.me/leader.
School leaders know that productive student talk drives student learning, but the average teacher talks 75% of class time! TeachFX is changing that with a "Fitbit for teachers" that automatically measures student engagement and gives teachers feedback about what they could do differently. 
Learn more about the TeachFX app and get a special 20% discount for your school or district by visiting teachfx.com/blbs.
Organized Binder is the missing piece in many classrooms. Many teachers are great with the main content of the lesson. Organized Binder helps with powerful introductions, savvy transitions, and memorable lesson closings. Your students will grow their executive functioning skills (and as a bonus), your teachers will become more organized too. Help your students and staff level up with Organized Binder.
Copyright © 2021 Twelve Practices LLC
(Visited 371 times, 1 visits today)